Lewis Hine caption: Mrs. Finkelstein, 127 Monroe St. Bessie (age 13), Sophie (age 7). Girls attend school. Making garters for Liberty Garter works, 413 Broadway. Mother, a widow, earns 75 cents a day by working all day until 12 at night. Bessie works until 10 P.M. Sophie until 9 P.M. They expected to work until 10 P.M. to finish the job, although they did not know when more work would come in. Witness Mrs. Hosford. Location: New York, New York (State), January 1908.
"No trades are so overcrowded as the sewing-trades; for the needle has ever been the refuge of the unskilled woman. The wages paid throughout the manufacture of clothing are less than those in any other trade. The residents of Hull House have carefully investigated many cases, and are ready to assert that the Italian widow who finishes the cheapest goods, although she sews from six in the morning until eleven at night, can only get enough to keep her children clothed and fed; while for her rent and fuel she must always depend upon charity or the hospitality of her countrymen."
"The Hebrew tailor, the man with a family to support, who, but for this competition of unskilled women and girls, might earn a wage upon which a family could subsist, is obliged, in order to support them at all, to put his little children at work as soon as they can sew buttons." -Jane Addams, Hull House Maps and Papers (1895)
In 1881, Alexander II, Emperor of Russia, was assassinated. He had been responsible for many social and governmental reforms, including the emancipation of serfs and the promotion of local self-government. After his demise, there was a wave of pogroms in southern Russia against the Jewish community, forcing many Jews to flee to the United States, mostly to New York, Boston and Chicago. Largely unskilled, they had to accept low-wage jobs in the "sweat shops" of the garment industry.
A great deal of the work was done at home, in crowded, poorly ventilated tenements in New York. In January of 1908, Lewis Hine took his first four pictures for the National Child Labor Committee, documenting what he called "home work," a situation he would revisit many times in the city.
The Liberty Garter Works, the company for which the Finkelstein family worked, was owned and operated by Morris Mayper and his family. Like the Finkelsteins, they were Jewish immigrants from Russia. According to an article in the New York Times, the company filed for bankruptcy in 1911.
That same year, one of the deadliest factory fires in the history of New York City, at the Triangle Shirtwaist Factory in Manhattan, resulted in the deaths of 146 garment workers. Most of the victims were recent Jewish and Italian immigrant women in their late teens and early twenties. Because the owners had locked the doors to the stairwells and exits, a common security practice at the time, many of the workers could not escape, and died after hurling themselves out of upper story windows. The event led to legislation requiring better occupational safety standards, and helped spur the growth of the International Ladies' Garment Workers Union.
After more than two months of research, I found considerable information about the family, indicating that they led a life typical of Jewish immigrants from Russia that settled in the Lower East Side of New York in the late 1800s and early 1900s. But what I did not find were any living descendants. Not a single one.
Below is what I know so far.
I found the Finkelsteins in the 1900 census. Samuel and Yetta were living at 186 Henry Street (Lower East Side), with five children: Moses, Ida, Annie, Isador and Rose, but none called Bessie (who appears in Hine photo). Samuel was a tailor. According to a variety of government records, Shmuel (Samuel) David Finkelstein and Yetta Feinstein married in New York City on December 28, 1891, after coming separately to the US from Russia in about 1887 or 1888. Their first child was born in 1891.
On August 22, 1904, Samuel died of consumption in Denver, Colorado. He may have been working for the railroad or the mining industry, and sending money home. He was buried at Rose Hill, a Jewish cemetery in Commerce City, Colorado.
By 1905, Yetta was living at 127 Monroe Street (the address given in Hine's caption), very near the future site of the Manhattan Bridge. In the 1960s, the tenement building and much of the neighborhood was demolished, and a public housing development called Rutgers Houses was built. Yetta had seven children in the home: Moses, Betty (probably Bessie), Annie, Isidor, Rose, Sophie and Henry. All attended school except young Sophie (also in Hine photo) and three-year-old Henry.
According to the records of the New York Hebrew Orphan Asylum, in November of 1905, Yetta placed Rose, Annie and Moses in the Asylum, and four years later, placed Isidor in the Asylum. She also applied to place Bessie in the Asylum in November 1905, but records indicate that Yetta did not follow through. Rose stayed for 10 years, Annie for six, Moses for brief time, and Isidor for four years.
The Asylum served struggling Jewish families, usually those with a widowed parent who could not support the children for periods of time. Few children were adopted; most returned home. Girls were taught domestic skills, while boys were taught shoemaking and printing. It was located at 77 East Street, near Central Park.
In 1910, two years after Hine photographed her, Yetta had four children living with her at the same address: Moses, Bessie, Sophie and Henry. Yetta worked at home for an "industry," and Moses was a silver plater.
In 1915, still at 127 Monroe Street, Yetta was apparently not employed, Moses (now listed as Morris) was a diamond polisher, Bessie (incorrectly listed as Betta) was a colorer (most likely a cloth colorer), Annie was a bookkeeper, Isidor was a cloak cutter; and Rose, Sophie and Henry were attending school.
In 1920, at the same address, Yetta was unemployed, Morris (or Moses) was a plater for a jeweler, Bessie was a sales clerk in a cigar store, Irving (probably Isidor) was a cloth cutter, and so was Henry.
In 1925, still at 127 Monroe, Yetta was a homemaker, Morris worked in a factory, Bessie was still at the cigar store, Isidor was a still cloth cutter (his first name was not listed), Ruth was an artist (I have no idea who she was), Sophie worked for a curtain store, and Henry was unemployed.
In 1930, the family was living at 819 W. 180th Street, near the site of the George Washington Bridge, which was being built at the time. Bessie was a sales clerk, Ruth was also sales clerk, and Henry was a printer. Another child (female), oddly spelled Selvian, was also a sales clerk, but I have no idea who she was.
Up to his point, none of the children listed as living with Yetta were married. And none of the children that were no longer living with Yetta appeared in the census residing elsewhere in the city.
Yetta died in New York on September 14, 1933. I could not find an obituary. In the 1940 census, I found only one of the children, Henry. He was still a printer, and lived with his wife Ruth, and two children, Daniel (5) and Alan (1). They were living at 819 W. 180th Street, where he and his mother and siblings had lived in 1930. Henry was listed as a high school graduate. But I was unable to locate a death record for Henry, Ruth, or either of their two sons. It is quite possible that the sons are still alive. This year (2014), they would be about 79 and 75 years old. But I could not find an address or phone number for either one.
Why has it been so difficult to find living descendants? For one thing, the children's first names were spelled various ways in the census over the course of 30 years. Some of the names were even completely different, such as Moses later becoming Morris, and Isidor apparently becoming Irving. And some names appeared infrequently, such as Ruth, Ida and Selvian. Were they known by other names? And their years of birth seemed to change from census to census. This is a common problem facing researchers and genealogists.
I could find no death records for any of the children. The most common sources of death records are the Social Security Death Index, or state death records, sometimes posted online. Perhaps some of the children died before acquiring a Social Security number; thus they would not have been listed in the Social Security Death Index. For the most part, New York State death records are not available to the general public, only to close relatives. And in order to find death records for the daughters, I need to know who they married (if they did), in order to know what last name they died with. I found death records for several persons named Isidor Finkelstein, who were born about the same year, but there was no information about who the parents were.
Finally, because many of the children may have died in New York City, it is unlikely that their full obituaries would have appeared in the newspapers, unless they were notable. And so, there are probably living descendants out there who have never seen the Hine photograph, and who have important information about Yetta and her children.
I don't want this family to be forgotten. If you think you are related to the Finkelsteins, or if you know someone who is, please email me at the address below.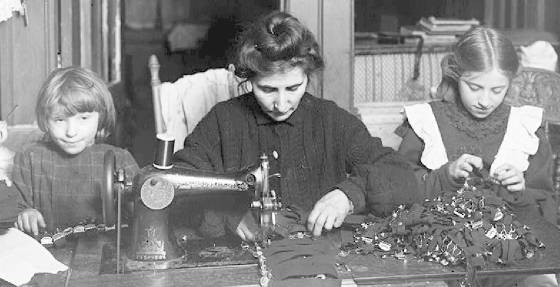 *Story published in 2014.