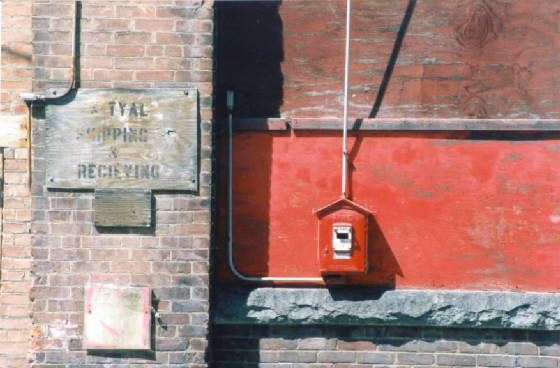 A few weeks ago, I went to an interesting event at Mass MoCA. There was a presentation by Michael Govan, who is director of the DIA Center for the Arts, a contemporary art museum that will open next year in a former factory building in Beacon, New York. Michael showed slides and talked about art that is made with industrial materials or is inspired by industrial spaces.
There was something personally reassuring about this presentation. You see, back in 1963, I had an experience that opened my eyes to the beauty of industrial objects and materials, things that were hardly regarded as beautiful then.
I was a medical corpsman stationed at Dover Air Force Base in Delaware. About once a month, I would make the three-hour drive to my parent's home in Maryland, when I got a long weekend. I would always start back to Dover after dinner on Sunday. On one of the quiet two-lane roads on Maryland's Eastern Shore, I would drive by a small sand and gravel company near the Delaware line. There was a flood light that illuminated the big metal equipment, including what looked like some sort of conveyor.
I found it interesting to look at, so I would usually stop and stare at it for a few minutes. The light and shadows seemed to accentuate the geometric patterns of the equipment. I thought it was quite beautiful, but my friends greeted me with blank stares when I told them about it.
When I discovered North Adams, I started taking lots of pictures. I saw beauty in the old mills, the railroad bridges, even the multi-colored walls hidden in the alleys behind the buildings on Main Street.
I have taken at least 2,000 photos of the city, and they seem to have a personal style about them. I see many photos of factory windows and doors, some with contrasting red fire boxes or yellow fire hydrants nearby, rows of angled rooftops, old tenements and storefronts, smokestacks, even a half-demolished building.
The mountains, the steeples, and the fall foliage are in there, too, but I enjoy looking for and photographing things that I find beautiful in a different way, things that are too commonplace to be noticed. Michael Govan's presentation showed me that there are many contemporary artists who look at these commonplace things the way I do. Maybe my tastes aren't that weird after all.
I still love to look at sand and gravel pits. They have all kinds of neat things that look like rides in some kind of weird amusement park. Perhaps it's time for Six Flags Over Sand and Gravel.