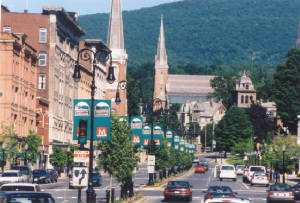 Since 1998, I have been conducting tours of North Adams, and making formal and informal presentations about the city. My tours and presentations are somewhat different from the traditional ones where guides or lecturers just point out a few historical buildings, or talk about major events and well-known people. I'll cover some of those things a little, but I like to focus on the places and folklore that give North Adams its unique appearance and flavor.
I have countless anecdotes and stories committed to memory, because I have interviewed hundreds of residents and former residents, and engaged in thousands of little conversations with people in coffee shops and on the street. Having walked so many miles in the city, I am able, on the tours, to show the curious details and color of the landscape and streetscape.
I also have some stunning "then and now" photographs, which help to illustrate the changes the city has gone through in the past hundred years — from the glory days of Main Street, to the sad remnants of an urban renewal project, to the revival of the city through art and cultural tourism.
I can take you for a walk, a bus tour (you have to provide the bus), or a combination of the two. I can walk one hour, two hours, whatever you like. I can do a short tour or a long one.
In my presentations, I can talk formally or informally about the city, answer questions, even facilitate a discussion with the audience. If you can provide a room or hall, a computer, a projector, and a screen, I can show plenty of historical and more recent photographs.
Below are some of the groups and institutions for which I have provided tours and presentations:
Elderhostel
Massachusetts Museum of Contemporary Art (Mass MoCA)
Williams College
Massachusetts College of Liberal Arts
North Adams and Williamstown public schools
Private tour groups
My fees are reasonable and negotiable. Please email me at the address below.