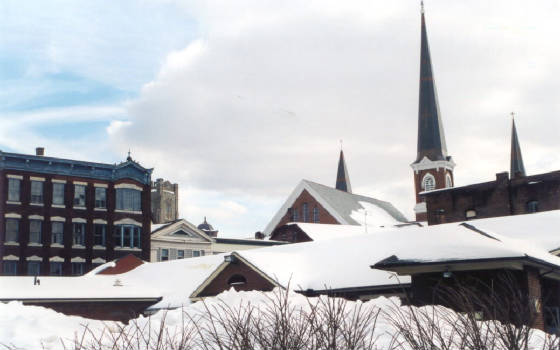 "All big men are dreamers. They see things in the soft haze of a spring day or in the red fire of a long winter's evening." -Woodrow Wilson
Winter brings its special gifts, though we must sometimes look thoughtfully to realize and appreciate them. One of those special gifts is the warm shelter of our favorite places, where we can enjoy the comfort of friends and loved ones or sit in a familiar chair by the window, sip hot tea, and stare out at the snow.
A couple of winters ago, after a long day of working on my new book, I headed home (then Connecticut) and stopped at the Miss Adams Diner for supper. The diner had been long a favorite of mine, even though I was able to make the trip up to Adams only several times a year. The story goes that my wife and I made a deal. She got to spend the afternoon at the Berkshire Mall with me tagging along, as long as we could drive up the extra few miles and have lunch first at the Miss Adams.
When I started writing about North Adams, the diner seemed like a natural place to stop on my way back home down Route 8 in the late afternoon. I got to know Nancy Garton, the owner, and young Michelle, who quickly became my favorite counter server. The first time I ordered fish and chips, Michelle complained to me, "I hate fish." How can you resist an honest comment like that?
Nancy impressed me as the perfect small-town diner owner. She seemed to know everyone, and she made sure that each customer felt welcome and at home. We often had a chance to chat, and I found out that we had a lot in common.
So there I was on that winter night, nibbling on my fish and chips and talking to Michelle. She was telling me that she was going to get married to a guy in the Navy soon and would probably be moving south. Nancy mentioned that she had some fresh coconut cream pie, so I ordered a slice. I sat there at the counter and savored every bite. A Billie Holiday CD was playing in the background.
Suddenly, I felt like Humphrey Bogart in one of those film noir movies in the '40s. Nancy interrupted my fantasy: "You look like you're in some kind of dream world."
I replied, "I'm just so thankful for this moment. I had a great day and met some nice people. It's cold outside, but I'm safe and warm in my favorite diner. I've got a great slice of pie and a fork in my hand. And Billie Holiday is singing just for me. What more could you ask for?"
A year later, Nancy sold the Miss Adams.
That's why I'm so happy that she and her husband Barry opened Brewhaha in North Adams last fall. The café has become my regular suppertime hangout on my long days in the city as I put the final touches on Disappearing Into North Adams. Breakfast and lunch at the Bean, and supper at Brewhaha are always a special part of my visit.
Several days ago, I enjoyed a tuna and cheddar wrap while I stared out at a surprise snow squall just before dark. From my little table by the front window, I could see the top of the Mass MoCA clock tower peeking over the Route 2 bypass in front of me; and to my left, that big brown house on High Street that overlooks City Hall and the railroad tracks.
Earlier, after working several hours on the book in Keith Bona's little storefront office on Eagle Street, I had walked out into blinding swirls of wet snowflakes and carried a large binder and a box of photographs back to my car in the Kmart lot. It was the kind of storm where you have to walk backwards to keep the snow out of your face.
As a visitor, I always have to seek out places to go in this sort of weather, and Mass MoCA seemed like a good idea. So I braved the cold journey down Marshall Street. I could have driven over there, but the prospect of toughing it out seemed appealing to me. I got a cup of coffee at the museum café and watched the snow through those large brick-framed windows. The day was dark and gloomy, but I felt blessed by the beautiful bleakness of it all. It enhanced the ambiance of the old mill, adding richness to the red brick and a sense of antiquity to the strange geometry of buildings and elevated walkways.
Best of all, it was warm in there. The forbidding presence of the winter outside made it all the more cozy. I was thankful for the privilege of being able to experience the space, not as a loom fixer, or a capacitor roller, or even a dot-com worker, but just as an observer.
Later at Brewhaha, after finishing my sandwich, I was looking for an excuse to linger a while, so I checked out the desserts and picked out an apricot-lemon scone. Nancy smiled and asked, "Do you want me to warm it up for you?" As I munched on it between sips of peppermint tea, Nancy put on a Billie Holiday CD, and I was back in that dream world again.
In about two weeks, the new book will be off to the printer, and I will wait anxiously for the boxes to arrive. It is already time to start thinking about a new project. Somewhere underneath all that snow and ice, nature is hard at work creating new wonders for us to behold. On a January evening at Brewhaha, I took comfort in knowing that some of the best ideas are born in the cold hard ground of winter.
The Creative Mind, poem by Joe Manning

The creative mind
never lets you rest.
It goes on and on
like an all-night diner,
Neon sign flashing,
"Idea…Idea…Idea!