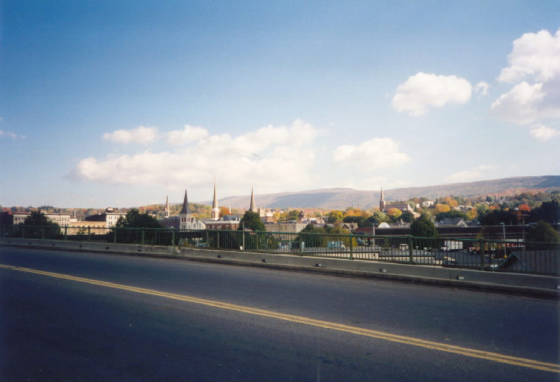 "I'm looking so hard for a place to land/I almost forgot how to fly." -from "Lopin' Along Thru The Cosmos," a song by the late singer/songwriter Judee Sill
Most of us remember our first taste of ice cream, the first time we drove a new car home from the dealer, that first kiss, and the first time we fell in love. I know I do. I also remember the first time I saw North Adams. I drove over the Hadley Overpass on Sunday, July 21, 1996. The view was incredible. I felt like I was entering some kind of mythical kingdom. I turned right on Main Street, parked in front of the Radio Shack, and stared up at the tall Romanesque buildings on the north side, and the strange gathering of steeples to the east. I had no idea how that discovery would change my life.
For the past three and a half years, I have devoted almost all my waking hours to my new book Disappearing Into North Adams. On my frequent visits, I always brought a schedule of appointments and a list of other things I had to do. As I got further and further into the book, my schedule became busier and busier, giving me little time to simply discover the city as I first did nearly five years ago.
I began that discovery again a few days ago, inspired by James, a young man who is in the seventh grade at Conte Middle School. He was absent when I took his classmates on their field trips downtown in April. He was disappointed and asked his teacher if he could go on a special trip with me. I was delighted when teacher Deborah Bullett called, and I eagerly said yes.
As James and I started walking downtown from East Main Street, I pointed here and there and launched into my usual monologue about steeples and arched windows and urban renewal. I've done this three years now, and I felt a little like the comedian who is still dishing out his well-worn routine after 200 dates on the road.
But something different happened this time. My bright-eyed young friend kept pointing at things I hadn't noticed before. "I like the way that looks," James said several times while examining carved decorations on a building. Touching a granite block from the Hoosac Bank, he remarked, "I like to feel the roughness of it. I don't like the ones that are smooth and polished."
Even when we noticed the same things, he would tell me about it before I had a chance to speak. Truthfully, I was the one tagging along. James was giving the tour. When we climbed up the hill to Conte from Colegrove Park, he motioned toward the sidewalk and said, "I like that smashed bottle there."
"What? I don't understand," I replied.
"See the way the pieces of green glass look in the sunlight. It's really cool. It's kind of like art."
James reminded me of me. He reminded me of how I used to stroll all day on the steep roads north of River Street, and admire all the hybrid styles of architecture. I recalled how I used to wander into alleys to see what was there, or up long flights of stairs in tall buildings to find the surprises that awaited me at the top. I thought of the time I took pictures of the light coming through the railroad trestle that crosses Roberts Drive, or when I sat in front of the Blackinton Union Church for almost an hour and just watched the cars go by. Thanks to James, my tour guide, my eyes are getting accustomed to the light again. Who knows what I'll see next time?
Now that Disappearing Into North Adams has finally appeared in 102 boxes in my basement and in your local bookstore and library, I no longer need to find "a place to land," as the song lyrics say above. I want to fly again. And so I will reappear in North Adams as an observer with no particular schedule, until my next project knocks on the door one day and says, "I'm here. Let's get started."
"The pearl's just around the bend/Beautiful pearl, when will you reappear/Mysteries unfurl and become so clear/When I feel you near/I find a way outside myself/To make my spirit climb/I was looking all around/When I felt it there inside me/And I see the possibility/That it's been there all the time." -from "The Pearl," by Judee Sill