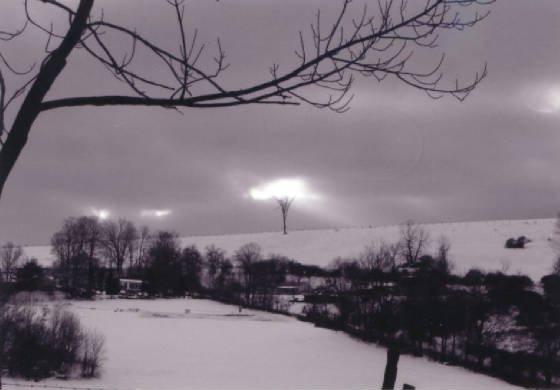 It was about two years ago. I was headed home to Florence. As I turned left off East Road in Adams, I noticed that elm tree, the one which stands alone on the hill above Bucklin Road. I always notice it, but this time, I could see a strange low cloud moving toward the top of the tree in the strong afternoon wind. Right behind the tree, a dim sun looked on, as if waiting eagerly to catch the cloud in its rays. I stopped, scrambled out of the car, and got my camera ready. Photographers live for moments like these. When it reached a spot directly behind the top of the tree, the cloud burst into a celestial glow, and I clicked.
I thought about that event the other day while I was quietly listening to a new CD called Live at the Jazz Standard, by jazz pianist (and world-renowned conductor) Andre Previn. As I started to doze off, I heard a melody so strangely haunting, that I thought I was dreaming. I had played the CD several times in my car, but I did not remember this tune. When I awakened a few minutes later, I searched the CD until I found it on the playlist. It's called "Bye Bye Sky," and it was composed by Previn's 17-year-old son Lukas. I played it again, repeated it, then played it yet another time. It's only three minutes long. No matter how many times I listened, its beauty nearly made me cry, but I had trouble remembering even one short melodic phrase.
Life is like that. There are many times when we are confronted suddenly with a special moment that lasts for only a short time, and yet we are unable to fully recreate it in our mind. A first kiss, vows said at the altar, a baby's first step; these are events that come and go too quickly for us to savor them. Unfortunately, there are no instant replays.
Those moments happen to me so often when I visit North Adams. That's why I always have my camera sitting on the front seat beside me. Driving over the road by the Gulf Farm in Cheshire in the early morning, I notice an endless variety of scenes depending on the weather, the angle of the sun, and the season. But it's the sky that I especially watch for. The ordinary things that receive only casual glances every day can look extraordinary when framed by an unusual sky, if one is observant enough and fast enough to catch them before they are gone.
Bye Bye Sky, poem by Joe Manning

The fragile melody drops in
like the sun burning a hole in a cloud.
And then it is gone,
only to appear once again,
luring me into the elegance
of its soft, drip-drop notes,
before slipping off
into a shadowy corner of my memory.
I hear it once again now,
as I sit in the glow of a fading sunset,
the camera returned to its case,
the last purple cloud lost somewhere
in the bye bye sky.