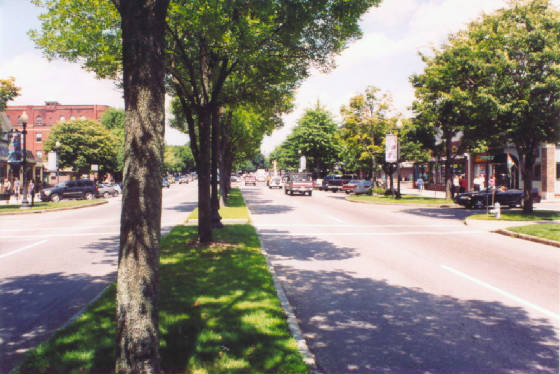 Last month's annual Downtown Celebration was once again a lively display of community spirit and togetherness. For more than four hours, Main and Eagle Streets became the ultimate public space, a relatively sizeable area enclosed by tall, familiar buildings and the comforting mountains of the Berkshires. The food, the music, and the children's events, appealing attractions on their own, were upstaged by the warm feeling of just being there, undisturbed by auto traffic and unburdened by the hustle of daily living.
But 10 hours later, the rising sun found that same area functioning primarily as a way for cars to get from one place to another. With the exception of a few persons sitting at tables in front of the Bean, and the folks without wheels clustering around the bus shelter, there were no public spaces to soften the urban landscape.
William H. Whyte, an important city planner who died in 1999, is known for his studies of human behavior in urban settings. Assisted by a squadron of camera-toting research assistants, he observed the movements and habits of pedestrians in New York and other cities for a 16-year period.
According to the Project for Public Spaces (http://www.pps.org/), Whyte "believed in the perseverance and sanctity of public spaces. For him, small urban places are 'priceless,' and the city street is 'the river of life…where we come together, the pathway to the center. It is the primary place.'"
One of the most precious examples of the value of public spaces lies along the four-block downtown center of Keene, New Hampshire. About 15 miles east of Brattleboro, Vermont, this former factory city of 22,000 residents is a fine example of how the creation and maintenance of public spaces can fashion an urban landscape so appealing and pedestrian-friendly, that the recent development of a large, generic shopping district on the edge of town has failed to seduce shoppers into forsaking its Main Street.
As one approaches the city center from the south, the first thing that catches the eye is an especially wide Main Street split down the middle by a grassy, tree-lined divider. Cars are angle-parked on both sides of the street between curb extensions, most of which are decorated with small trees, grass, and benches. The same curb-extension/angle-parking design sits alternately on both sides of the median as well, nearly doubling the number of available parking spaces.
The broad sidewalks are dotted with long, narrow green islands, trees, and more benches. On one side of the street, where train tracks used to run through the city, there is a modest park with benches and picnic tables. The rail bed is now a bike and walking path.
Even the numerous alleys and narrow access roads between blocks of buildings are adorned by brick paths, flowers, and period lighting, making them attractive walkways for visitors who park in the municipal lots behind Main Street.
The north end of downtown culminates in a large town square, which features a bandstand/gazebo and a fountain. It is encircled by a rotary, which routes traffic in several directions, including a U-turn and return trip down Main Street. Up and down, there are many brick crosswalks that favor pedestrians over motor vehicles.
On a pleasant summer day in August, I spent about five hours in Keene, arriving early enough to read the morning paper and have breakfast at Timoleon's, a popular meeting place for the locals. Between extended strolls around town, and browsing in bookstores and gift shops, I stopped to sit on the benches and watch townspeople enjoy being in their hometown.
All told, I counted 18 public spaces and 23 benches. There were virtually no vacant storefronts, and for a Tuesday, Main Street was a mighty busy place. By the time I ate lunch at Bagel Works, a cheerful café with good coffee and sandwiches, I counted five restaurants with sidewalk tables. Add them, and you have 23 public spaces.
After lunch, I walked into City Hall and managed to get an on-the-spot meeting with Rhett Lamb, the planning director. He told me that about 15 or 20 years ago, Keene's business and political leaders planned and designed the present cityscape, and financed it without state or federal help. The purpose was not so much to increase retail business, which was doing okay then, but to help make the city's downtown more attractive. In doing so, Main Street would become a destination, not for any one special event or attraction, but just because it's there.
Obviously, the plan has worked. Since we discovered Keene several years ago, my wife and I have made the one-hour drive up there from our home in Florence at least a dozen times just to walk around, have lunch, and enjoy the special ambiance that Main Street offers.
North Adams and Keene have a lot in common. Both earned their reputation from manufacturing. Both have small state colleges within walking distance of Main Street. Both have a high mountain (Mt. Greylock and Mt. Monadnock) that provides recreation nearby. And both have a large factory complex close to downtown that has been converted to an attraction. In Keene, it's the Colony Mill Marketplace.
In the past decade, the city government, business leaders, artists, and residents have worked hard to make downtown North Adams a beautiful and welcoming place for its citizens and visitors. It's been a remarkable success story. But numerous and small public spaces and parks remain the missing piece of the puzzle.
"I end then in praise of small spaces," said William H. Whyte, "The multiplier effect is tremendous. It is not just the number of people using them, but the larger number who pass by and enjoy them vicariously, or even the larger number who feel better about the city center for knowledge of them. For a city, such places are priceless, whatever the cost."