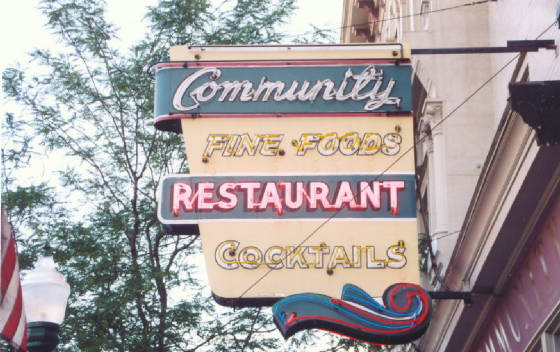 The sign said, 'Welcome Home,' as we drove into Cortland, New York, a city of 20,000, just off Interstate 81, about 30 miles south of Syracuse. The sign seemed strangely appropriate. My wife and I spent our first year of marriage in a basement apartment near the State University of New York College at Cortland, while I finished my last year. That was 33 years ago.
Like most newlyweds, we were preoccupied with each other, and with getting by on a meager income. And I was sticking to my studies and eagerly looking forward to graduation, so we could get out of the snow belt (we got 48 inches over the Christmas holiday), and get on with our lives in friendlier weather. So we didn't pay much attention to Cortland.
The one thing we did miss when we finally moved to New England was the Community Restaurant, a homey Main Street spot that served inexpensive comfort food, and where you could dine with the locals in nostalgic wooden booths. We hadn't been there since 1990, when we made our only other return visit. At that time, we were surprised and delighted to find that very little had changed. I even spotted one of my old professors sitting in the booth behind me.
Well, I am happy to report that 13 years later, the Community Restaurant is still there, and still unchanged. And for the first time, we noticed that Cortland is a lovely city with a beautiful, if slightly worn downtown. At the north end of Main Street, the old Cortland Hotel is gone, replaced by a glitzy modern building with generic storefronts. But at the other end, the historic Cortland Standard newspaper building is still the architectural anchor that defines the city's turn-of-the-century character.
When we headed into the Community for dinner, we had forgotten just how gorgeous the restaurant is. It reminds me of those modest, but elegant places my parents used to go to in Washington, DC, back in the '40s and '50s. It's long and narrow, and decorated with dark wood paneling and old pictures on the walls. As you enter, there is a big liquor cabinet behind the cash register (they have a full liquor license), and a board which announces the dinner specials.
As far as we could tell, the menu was exactly the same. In fact, I had mentioned to my wife the day before that I hadn't seen bluefish on a restaurant menu in quite a few years, and she reminded me that bluefish is what I usually got at the Community. Of course, that was one of the specials, and that's what I ordered.
All meals come with soup or juice, salad, potato, vegetable, rolls, and dessert. I opted for the tomato juice, and felt like a kid again in Washington when they presented it in a fancy little glass on a saucer, with a lemon slice on the side.
Everything was terrific. Nothing was rushed out of the kitchen, so we could relax and relish each course. We enjoyed watching the snappily dressed owner hop from table to table and greet his customers, all of whom appeared to be regulars. When he stopped by our table, he told us that he and his brother (Tony and Bill Souzas) have been the owners since 1964, and that they pride themselves on keeping everything the same. "Why change a good thing?" he remarked.
Perfect rice pudding topped off the meal. The bill was a mere $21.00. As we walked down Main Street to our car, we looked back at that familiar neon sign and wondered, "How many more opportunities will we get to be welcomed home at what is surely one of America's great restaurants?"
The Community Restaurant is located at 10 Main Street in downtown Cortland. They are open every day for breakfast, lunch, and dinner. Call 607-756-5441. There is no smoking, and credit cards are accepted.
A version of this article (also by Joe Manning) originally appeared on RoadsideOnline.com. Used by permission.