I was born in Washington, DC, and lived in the rural suburbs of Prince George's County, including Greenbelt, before moving 60 miles south to even more rural Solomons Island in 1951.
I came from a musical family. My paternal grandparents were string players who had traveled many years in vaudeville. My father played the violin, though not professionally, and loved classical music. I remember my mother singing along beautifully with Doris Day and Bing Crosby, while listening to Eddie Gallaher on WTOP.
But in 1958, when I entered my senior year in high school, Elvis and Jerry Lee on WCAO in Baltimore, and Little Richard on black-owned WANN in Annapolis were all I listened to; except of course, the Washington Senators games. But when I headed off to the University of Maryland a year later, one of my college friends told me about Felix Grant's show on WMAL, and I got interested in jazz.
A few months later, while studying for an exam late at night, I stumbled upon a new show on WTOP called Jim Meyers & Company, and I liked what I heard. The format was comfortably predictable. Jim, a jazz and cabaret pianist, would spin a variety of swing and modern jazz instrumentals, popular instrumental mood music, and vocal renditions of standards. A few times on each show, Jim would play a song on the piano and occasionally accompany his wife, Ruby Lee, while she sang torch songs like "How Did He Look?" and "The Man That Got Away."
Many of the tunes came from relatively obscure albums by well-known artists such as Count Basie, Lionel Hampton, J.J. Johnson and singer Julie London; or from albums by lesser-known artists, such as singer Guy Pastor and cornet player Ruby Braff. The show opened and closed with the same themes every night: "Lover Take All," the opener, and "Sunset," the closer. Both themes were from an album called Big Band Sound, by the Elliot Lawrence band, an obvious Meyers favorite.
I listened to the show faithfully for several years, often tuning in all night when I transferred to a community college and attended evening classes. Jim Meyers & Company had a great influence on my growing record collection, my enduring love for jazz and the songs of the great songwriters of Broadway and Tin Pan Alley.
The show debuted on April 4, 1960, airing from 10:05 p.m. until 2:05 a.m., nightly except Sunday, and later from 11:30 p.m. until 5:30 a.m. According to the Washington Post radio schedules, the final show aired on January 1, 1963. I joined the Air Force in late 1962, then finished college in New York, married and moved to New England, and I never heard Jim and Ruby again — until I discovered Lee Shephard's website. Shephard was a longtime radio announcer for WTOP.
I wrote to Lee, and he got me in touch with Jim's son, who was very pleased that I remembered the show. He told me that his father Jim had passed away a few years ago, but his mother Ruby still lives in the Washington area, and she was delighted that I had been a fan of her show. He asked for my mailing address and said he was going to send me a surprise.
A week later, I received a CD, and on that CD were four songs by Ruby, accompanied by Jim, and an 18-minute clip recorded directly from the show. The 18-minute segment included four familiar songs, Jim talking and playing the piano, and Ruby reciting her trademark introduction for the show. Forty-two years after it ended, I was listening to my favorite radio show again. I felt like I was rewinding my life.
So I got out all the records and CDs in my collection that I had once heard on the show, and uploaded about 100 songs into my computer's music files. Then I broke up the 18-minute segment of the show into small sound bites — songs, show identifications, time checks, and Jim's piano — and made music files from them as well. Finally I burned a dozen 75-minute CDs, each of which has the opening and closing themes, and a different sequence of songs and show samples that are arranged in a seamless recreation of Jim Meyers & Company.
At nearby Smith College, I was able to access the complete Washington Post archives, viewable and printable from the Internet. I found about 30 articles and ads about Jim and Ruby, and some weekly radio schedules listing the show. I even found a nice promotional photo of the couple. I printed all of them, scanned them on my computer, and made CD covers and inserts from them.
I told Jim's son about it, and sent him some copies of the CDs to give to Ruby, and he told me she was very pleased with them.
As I write this on my computer at six o'clock in the morning, I am listening to Jim Meyers & Company, as I do almost every day when I get up. Right now, Johnny Smith is playing "Violets For Her Furs" on his guitar. Soon, Jim will greet me with his soothing voice, play a glittering arpeggio, and Ruby will say:
"Music in the night, from WTOP-AM and FM radio at Broadcast House in Washington. It's Jim Meyers and Company. This is Ruby Lee. We're here each weeknight, Monday through Saturday, from 11:30 until 5:30 — to keep you company."
Thanks Jim and Ruby, and a special thanks to Lee.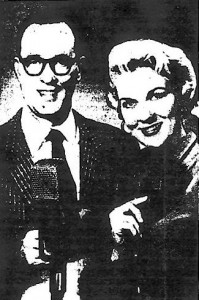 To hear some brief excerpts from the show, see below. All three are mp3, 64 kbps.
Jim Meyers announcing the time, the name of the show, and playing his signature piano arpeggio (0:14).
Ruby Lee announcing the show, with Jim playing the celeste (0:29).
Jim Meyers announcing the time, then playing the song Laura, first on piano, then a recorded version of the song (artist not identified), and then playing it again on the piano. This is not to be missed! (6:55).