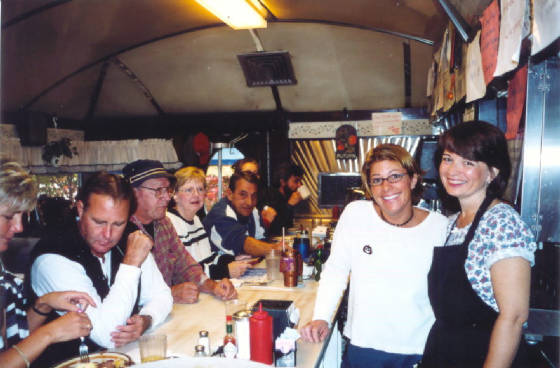 "Man in an apron cooking potatoes, strips of bacon on the side/Smiling waitress comes to help me with her tired, lovin' eyes/Shiny stainless, neon sign, remind of a day gone by/With steaming coffee in a porcelain cup, rice pudding piled high."
The words of singer Bill Lauf are borne from his first visit some 40 years ago to the Blue Benn Diner in Bennington, Vermont. His family was heading north on yet another fishing trip.
"The diner was one of the landmarks Dad always pointed out to us kids. When I was about 10, we pulled into the parking lot. Dad said, 'Let's have a real Vermont breakfast.'"
"I remember the jukebox stations at each booth, the smell of the coffee, the glass tube that showed how much brew was left, and the real Vermont maple syrup. It was always pancakes for me. They just tasted better, with the syrup, the northern air, and the odyssey of the road."
A dozen years after Lauf's first 'real Vermont breakfast,' Blue Benn owner Sonny Monroe, then 33, took over the 1948 Silk City, after the owner decided to close it up. By that time, the grill had retreated to the kitchen.
In an interview in a family-owned apartment next door, Sonny, relaxed and full of folksy humor, said he has been cooking in restaurants since he was 15. And if you believe an old family story, he was born with a spatula in his hand.
"My mother said that when I was three years old, I pulled a chair up to the stove and started cooking eggs."
Shortly after he and wife Marylou opened in 1974, a local ordinance forced them to take down the neon sign. Later they added a foyer, which comes in handy as a waiting area during the tourist season.
"In the beginning, there was only me, Marylou, and one other girl. It was just morning and lunch. About 15 years ago, we started serving dinners on Wednesday, Thursday, and Friday nights."
Vermont has become a celebrated haven for the counterculture, and the health-conscious baby-boomers looking to escape the city. In a state known for having more cows than people, there soon may be more vegetarians than cows. Sonny has adapted.
"I started adding vegetarian items slowly. The first thing I tried was quiche. A truck driver came in and asked for kwee-chee. When I tried to make nutburgers, it bombed. Not being a vegetarian, I had no idea what they were supposed to taste like. But I learned, and now they're a popular item."
"I created a dessert using chocolate mousse mixture and some items that were just taking up space on the shelf, like brownie mix and nuts. I called it 'Better Than Sex Cake.' It turned out great, but when they kept requesting it, I said, 'Now what am I gonna do?' So I waited quite a while, hoping they would forget what it tasted like. When I finally made it again, people still liked it."
"We have our traditional New England dinners, which always go fast: chicken and biscuits, corned beef and cabbage, pot roast, and roast turkey. And we are known for our fresh seafood."
An abundance of handwritten signs hang on the wall behind the counter, announcing strangely seductive concoctions, along with the usual diner fare. On a recent visit, I was tempted by grilled salmon Caesar salad, Cuban pork sandwich, beans and rice wrap, pumpkin-bread pudding, and cornbread French toast. I went for the latter and was told, "We're out of corn muffins, but we have some blueberry-corn muffins."
"Sounds terrific to me," I said eagerly. What the cook did was simply soak thin slices of the muffin in egg batter and grill them. After a couple of bites, the waitress asked, "So how is it?" "Fabulous," I raved. "You just invented a new dish," she cracked.
The Benn can accommodate 44 people, and it sure gets crowded when the leaf-peepers come around. But the locals know that when the foyer fills up with folks holding out for a booth, they can slip in and claim a stool.
"I've never been tempted to get bigger," said Sonny. "I'd rather see a small place full than a big place half full. It's gets quiet here in the winter. We have a good local crowd, but in Vermont, you gotta make your money from July to October."
Sonny preps all night, and leaves about 8:00 in the morning.
"Sometimes I function on three hours sleep. I'm obsessed with work, just like my father. He managed three mills, and worked around the clock. He's 85 now, and he's still working hard. In fact, he grows all the vegetables for the diner."
Sonny's daughter Lisa capably holds down the fort during the day. "She wants to take over the diner, but she'll have to get someone who can cook. I could teach them, but it's hard for someone to learn your recipes and do it the way you really want it. I don't plan to get out of it completely. I don't know what I would do."
While finishing up my French toast, I overheard a couple say that they were from Idaho. I took a seat next to them. Tim and Lynn told me they were visiting New England for the first time. Tim had settled for the kind of breakfast he might get at a Boise truckstop, but Lynn went for the pumpkin-pecan pancakes.
"We drove by," Lynn said, "and thought it looked like a unique little place. I've never been to a diner that offers so many different and unusual items. We're gonna try to get back for dinner later in the week."
Bill Lauf was traveling through southern Vermont many years after being away from the area, saw the Blue Benn sign, and pulled in.
"The memory of my family and I sitting in there flooded over me. I guess it's part missing the perfection of my youth, part musing on the nature of the Northeast, and part marveling at the art and aura of diners. They are always warm havens for those of us passing through."
"Love the comfort you provide me when on that stool I climb/Gray diner at 5am, forever frozen in time."*
*Lyrics from Gray Diner at 5am, by Bill Lauf, copyright 2001 (Tick Hotel Music-BMI). Lyrics used by permission. See www.BillLauf.com for more information.
The Blue Benn is on Route 7, about a half-mile north of downtown Bennington. Breakfast served all day. Call 802-442-5140.
A version of this article (also by Joe Manning) originally appeared in Roadside Magazine. Used by permission.