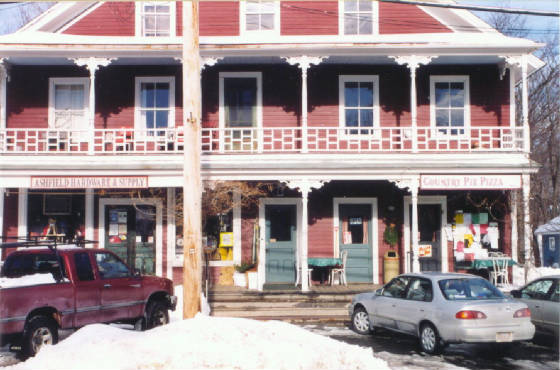 Route 116 between South Deerfield and Ashfield, Massachusetts winds like a babbling brook through 13 miles of rural beauty that is breathtaking without being spectacular. I drove it one recent early morning on the way to North Adams, the sun rising behind me, angling its rays on sprawling farmhouses, Wyeth barns, and green, hilly meadows sleeping under the dissipating fog.
The only town you pass through is Conway, which boasts several well-scrubbed blocks of modest white buildings and Victorian homes, and the surprising Beaux Arts-style Field Memorial Library at one end of downtown. Be sure to stop in if it's open.
Every turn of this road reveals another bucolic scene that recalls the era of American landscape painting. Especially on a clear fall morning, a camera sitting on the front seat is essential, as well as a keen eye for a wandering moose, a growing hazard for Western Massachusetts drivers.
This lazy 30-minute trip may not be Trail Ridge Road in Colorado, or Pacific Coast Highway in California, or even Route 100 in Vermont, but its pristine subtleties make it one of the best kept secrets among New England's roadways. And better yet, it ultimately reaches Ashfield, its long, quiet Main Street leading to Country Pie, which has, for my money (are you ready for this?), the best pizza I've eaten anywhere north of Wooster Street in New Haven. Yes, in little old Ashfield, with a population of 1,800 obviously well-fed hilltowners.
Country Pie is located in a little storefront that also houses Ashfield Hardware & Supply. You might miss it, so watch for it. It's on the right if you're going west. There are a few parking spaces in front, but the locals often park on the street.
Inside, Country Pie looks like your typical pizza joint, except for quaint curtains, colorful booths, pizza pictures on the wall, an old wooden floor, print wallpaper, and just about everything else. While you're waiting for your pie, there are newspapers, children's books, and games like Yahtzee lying around. If it's nice out, you can sit at one of the tables on the porch.
Being there is half the fun. Ashfield is a mix of farm families, baby-boomer/back-to-nature/counter-culture types, artists and craftspeople, and college professors. You'll find all of them here, as well as pizza fanatics like me who will travel anywhere for a great slice.
Just so you'll know, out-of-towners stand out right away, because they don't know that the door won't stay closed without a little help. It's a hoot to watch newcomers struggle with it until someone shouts out, "Gotta slam it."
So what about the pizza? It's an art form at Country Pie. They look so bright and beautiful, they're almost surreal. When they bring one out and lay it on the table, you KNOW it's going to good. The medium-thick crust is chewy and yeasty, the blend of sauce and cheese is perfect, and the toppings are extra fresh. The tangy sauce is so alive with tomato flavor, that my favorite is a pie with sauce, just a little Parmesan cheese, and roasted red peppers.
Almost the entire staff is made up of young men and women, mostly high school and college age, all of them genuinely engaging and friendly. They seem eager to please. More than once, the guy who made my pizza brought it out proudly, and then came over later and asked me how I liked it.
They also have grinders, Sicilian wraps, and salads. They even have soup sometimes, which sits on a table in a crockpot, along with cookies and coffee. I stopped by for lunch one day and had a fabulous tuna grinder. What more could you want in a small town?
Before you get back in your car, check out the hardware store next door. It's been in business for 152 years, and it looks more like a hardware museum. You might think the stock hasn't turned over in 150 years. "Anything practical and practically anything" boasts the owner. They even sell ice cream cones.
I've come up empty-handed many times trying to contact the owner of Country Pie for an interview. Either she is wary of attracting too many tourists, or she's always busy in the kitchen making a batch of her amazing tomato sauce. Whatever, I'd like to pass on to her a Bob Dylan quote.
"Oh me, oh my, love that Country Pie."
*A version of this article (also by Joe Manning) originally appeared on RoadsideOnline.com. Used by permission.