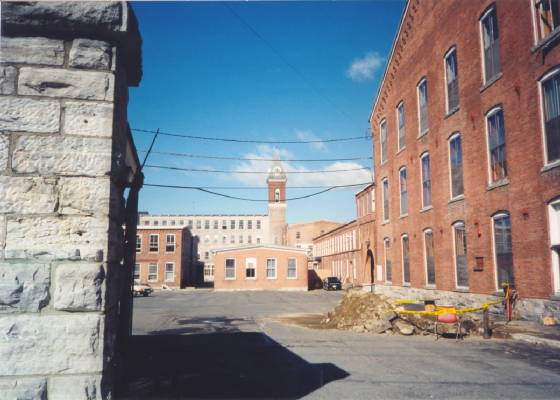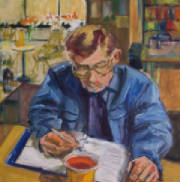 "That's what I like about this town. I go out to feed the meter, and three people stop me to say hello." -Gillian Jones, at the Bean in North Adams (1998)
A long time ago, I was sitting with my wife in a New Hampshire diner. We were strangers in town, but it was obvious that everybody else knew each other. In fact, it felt like we had inadvertently crashed a family reunion. I watched and listened, envious of the comforts of familiarity that these locals enjoyed. Over coffee and pie, I suddenly said to my wife, "My greatest ambition in life is to become one of the regulars."
It's been ten years (officially July 21) since I serendipitously wandered into North Adams, and it occurred to me recently that I have finally fulfilled that ambition. On the streets and in the cafés of a city I have never lived in, I am now one of the regulars.
I celebrated my anniversary unceremoniously by doing nothing in particular, which is my favorite activity in North Adams. With all my projects in the city, I seem to have less time than I used to for just hanging out. I had breakfast with my friend Carl, a weekly tradition for nearly nine years, first at the former Appalachian Bean Café (now Cup & Saucer), and lately at Brewhaha. Then I popped into Cup & Saucer and wound up sitting outside at one of the tables, where I chatted over coffee and muffins with several friends I just happened to run into. That lasted almost until lunchtime.
After taking a few pictures on Eagle Street, I headed to Mass MoCA for a sandwich at Lickety Split, and finally topped off the day by watching an ensemble of Bang on the Can Summer Music Institute students play some weird, but delightful music in the aptly named Tall Gallery. Then I drove back over the mountain to my home in Florence.
By now, most readers know that my wife and I came to North Adams in 1996 to attend the opening day of an exhibit of photographs at Mass MoCA. We were living in Torrington, Connecticut at the time. There was a short article in our local paper about the exhibit. The article went on to say that the museum was in its early stages, and that it was slated to be completed in 1999, in the 27 buildings formerly owned by Sprague Electric Company. But the article contained an important mistake, which resulted in us showing up a week early.
Standing by the old Sprague gate, my wife said, "What are we going to do now?" I answered: "So we'll just come up again next week. But first, let's walk around a while. This city is amazing. I've got to see more of it." Ten years and more than 800 visits later, there's still more to see.
Until I met Chuck Wilson in Gateway Clothing that first day, I had never knowingly met anyone who lived in North Adams. Now it seems like I know about 300 gazillion people here. For me personally, that's the greatest reward I have received from my love affair with the city – acquiring so many friends and acquaintances.
At Mass MoCA the other day, I talked with a 27-year-old friend who has lived all her life in North Adams. She told me that when her friends from out of town visit, they laugh and sometimes get annoyed at how many people wave or stop and talk to her on the street. To them, it's an uncomfortable intrusion; to my friend, it's a blessing.
Last winter, Viola Moriarty, an artist and educator who lives in Bennington and works in North Adams, asked me to pose for a portrait painting. Thinking about how I usually look in my family photographs, it seemed like an odd request. But I accepted when she agreed to my suggestion that I pose in a public place rather than in a studio. So we chose Brewhaha, and she set me up at a table with a notebook and a cup of tea, looking like the writer that I am. It felt natural, and it turned out to be fun, especially when friends came in the café and tossed wisecracks at me.
I actually like the picture. Sometime this fall, it will be exhibited at Brewhaha, along with others by Moriarty, who is a marvelous artist. There I'll be, hanging on the wall in a place I've spent hundreds of hours writing, interviewing people, being interviewed, eating muffins or salad, and joking with my friend Carl. Only this time, I'll be there even when I'm not – truly one of the regulars.