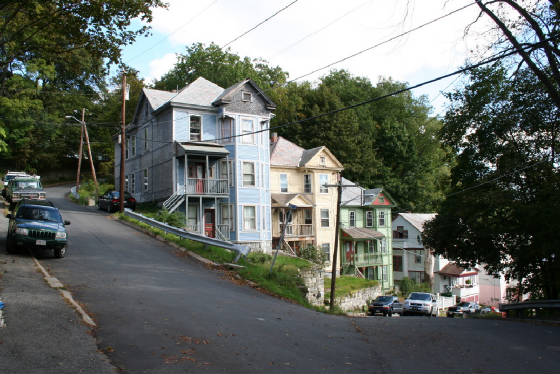 The first time I huffed and puffed up North Holden Street in North Adams, I looked at the retaining wall and the three nearly identical houses behind it and wondered if it would all tumble down at any moment, burying me in a mountain of rubble. Finally out of harm's way above them, I peered down at the vertiginous view and imagined a theme park, where visitors pay five bucks to run up and down the stairs, gaze out from the porches, and coast down the hill on bikes.
Recently at Images Cinema in Williamstown, dance artist Marta Renzi screened Porch Stories, a 17-minute film shot in the very location that has remained a great part of my imagination. Through dance, music, but no dialogue, Ms. Renzi weaves intersecting stories of the neighborhood, culminating in a spontaneous block party, with residents turning their little corner of the world into a magical playscape.
In Porch Stories, Renzi shows us the value of community, and she wants us to appreciate the sweet familiarity of the landscapes that grace our ordinary lives. The film is both delightful and compelling. In a recent conversation with the filmmaker, and dancer/cast member/co-producer Marta Miller (no relation), I asked Renzi where the idea came from.
"In October 2004, my sister and I were looking for Neville's Donuts on Eagle Street. We drove by and it was closed, so we turned left on Hall Street, came around the hairpin turn, around the corner, and down that hill. I said, 'Let's do that again!' So we looped around a couple more times. What struck me were the hill, the three houses, and the fact that if you're on the first floor of the highest one, you're on the level of the second floor of the next one down."
"That gave me the idea of simultaneous stories going on. My first thought was to do some live thing where the people in the houses would be the performers, and the audience would walk from house to house watching each of the porch duets, and maybe even go inside and have coffee and donuts."
Shot last November, the film follows a day in the life of a diverse collection of characters, including boys on bicycles, two playful girls, a cellist, a grandmother, a cat, and two men engaged in a lively scrabble game. Every move is choreographed, so that the action, physical interplay, and musical soundtrack give rhythm and meaning to the story. Thanks to Robin Doty's radiant cinematography, the houses enchant like Disney castles. The two top ones were recently renovated by Michael Chapman and Rebecca DeWitt, and the bottom one by Doris Sewell.
Renzi, a Williamstown native, is widely known for making dance films shot on urban streets and in other public spaces. She uses a combination of professional dancers and local people who have no performing experience. The familiar faces of North Adams residents, notably Evelyn Gallese, pop up in almost every scene of Porch Stories. I wondered about the difficulty of working with amateurs who might feel self-conscious in front of a camera.
"I don't ask them to do something out of their comfort zone," Renzi said. "It helps to mix them with trained dancers who aren't pretentious about it. If you're a social dancer, and you have a really good partner, you look twice as good. There's a lot of 'show me what you are and what you do' that winds up in the story."
Miller explains further: "Marta is always finding the art inside the natural. Even in those houses, she saw instinctively what was beautiful about them. She noticed the boys riding bicycles down the street, and saw the dancing in it. She knows how to find what's beautiful that's already there."
Making films in public spaces has its share of unexpected events. Renzi hired some security officers and got permission to stop traffic. That led to several real-life stories that Miller enjoyed telling.
"Some guy came driving by and an officer stopped him and yelled, 'Hey you. Your license was suspended. What are you doing here?' "Someone started a garage sale across from the houses during the shooting, and the dancers wandered over and bought some things."
"Some of the kids who were on the bicycles," said Renzi, "were supposed to be helping at the garage sale. One kid was willing to participate in the film but didn't have a bike, and there was another kid who was selling his bike, but his mother wouldn't let him participate. We bought the bike."
Renzi continues: "It's the kids who really keep a neighborhood alive. They're out before breakfast, after breakfast, before lunch, after lunch, and these kids were out there all the time. And there were other kids watching those kids."
"While we were making this film about community," Miller adds, "we were entrenched in the community."
In the film's press release, Renzi writes, "Porch Stories challenges the viewer to see what's right in front of us." I asked her to expand on that.
"It's usually the simplest things that we forget to look at, the ones I like to call attention to. It's not the sparkling new mansion or the dancer who can kick her leg the highest, but the house with some life and history and the dancer with some character that I am interested in showing."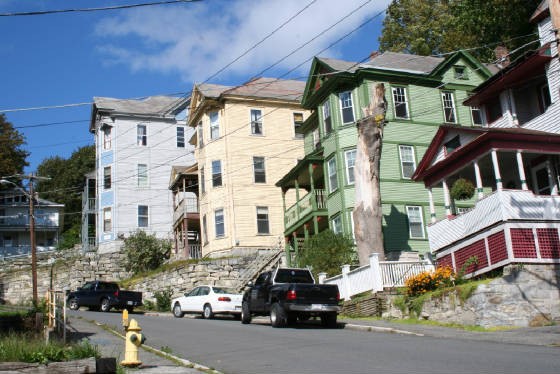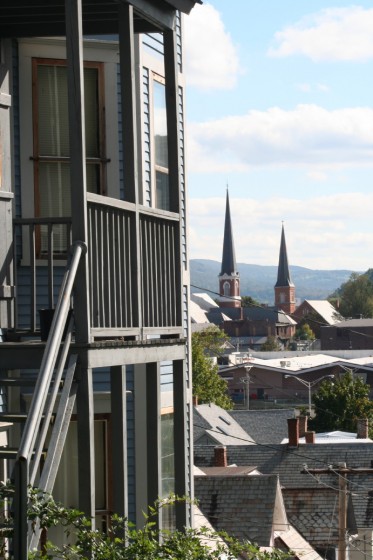 See full interview with dance artist Marta Renzi
See more photos of the houses in the film