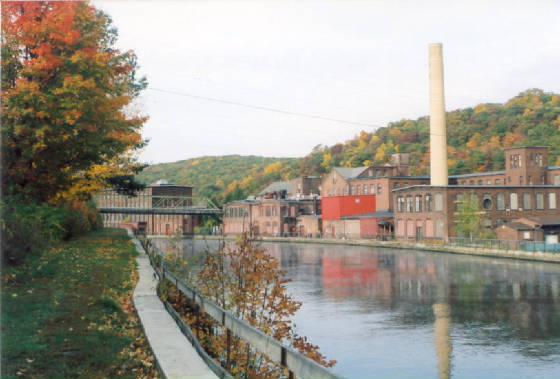 May 28, 2007: I drove into Turners Falls about 8:30 a.m. Some folks were already on Avenue A getting things ready for the Memorial Day parade. There were plenty of cars parked in the Shady Glen lot, and the usual coffee crowd at the lunch counter. They had lots to talk about. Forty-eight hours ago, early Saturday morning, a huge fire erupted in the vacant Strathmore Paper mill along the canal, threatening to destroy all 240,000 square feet of the historic 1878 plant, slated, at least in the minds of one developer, to become a movie studio and institute for film study.
An hour earlier, I had read about the fire on the Greenfield Recorder website, gulped down my breakfast, and headed up Route 91. Turners Falls, a small urban village in the town of Montague, is one of my favorite places. The wide main drag, Shady Glen (see this site for my review), the Connecticut River, the 18th-century canal, and the growing arts community that is helping to renew the scruffy downtown – all are good reasons for plenty of return visits. But the prospect of the long line of mill buildings on the canal going up in flames was devastating.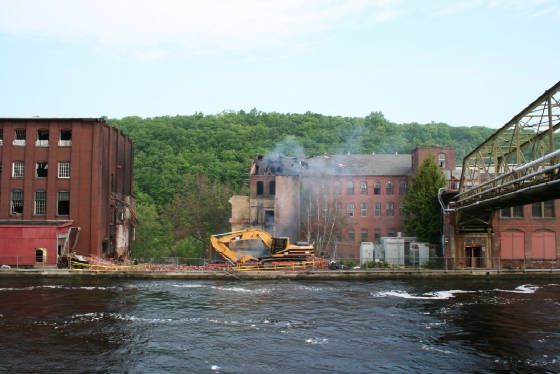 I walked past the Great Falls Discovery Center, got on the bike path, walked around to the canal, and got a huge whiff of the smoldering ruins; but surprisingly, the mill seemed intact from this vantage point. But when I got near the closed footbridge that used to be the path to work for most downtown residents, I saw the remains of one large building, piled high in front of a gigantic brick building that had suffered considerable damage to the west end and roof.
Thankfully, about 80 percent of the Strathmore mill survived. But how will the fire affect the plans of the developer, who just signed a purchase agreement with the owner? We'll see.