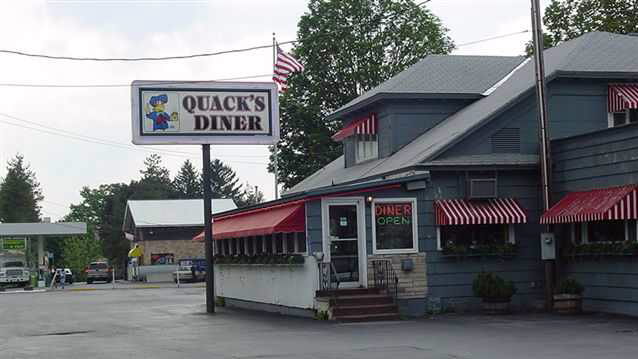 My wife, Carole, and I took a short October trip to Oneonta, New York, making the three-hour drive from our home in western Massachusetts. Oneonta was where it all started for us almost 40 years ago. We had a blind date, arranged by the first well-known attempt at computer dating. She was a student at the State University of New York (SUNY) College at Oneonta, which is about 80 miles west of Albany. I was also attending SUNY, the one in Binghamton, later transferring to and graduating from SUNY Cortland.
Operation Match, a concoction dreamed up by several college students, advertised on campuses around the country by distributing postcards that you could send in to obtain their "scientific" questionnaire. If you elected to fill it out and sign up, it cost $4.00, and you were promised a list of matches that lived or attended college in the geographical radius you specified. We both sprung for it on a dare from friends, and Carole wound up on my list. I guess you could say we became one of the early success stories for the scheme.
Oneonta was, and remains, a charming, slightly ragged college town. With a significant railroad history, it used to boast a huge roundhouse, but that was torn down long ago. It's been the home of a popular Single-A minor league baseball team for ages. The downtown streets and neighborhoods are lined with gorgeous examples of 19th century commercial buildings and Victorian houses, though the recent development of shopping centers along Route 23 has apparently been one of the reasons for the lack of foot traffic.
In Carole's senior year as an education major, she did a stint as a student teacher in tiny Palatine Bridge, and boarded in a private home in adjacent Canajoharie, longtime hometown of the Beech Nut baby food empire. The small village is 10 miles north of US Route 20, and it's just off the NY Thruway, a few miles west of Schenectady.
I traveled many weekends from Cortland to visit Carole in Canajoharie, always going north on Route 81, and then exiting at Lafayette, to Route 20. I loved the drive along that historic road, as I climbed up and down rolling hills that cut through small agricultural towns with real character, like Cazenovia, Morrisville, Bridgewater and Sharon Springs. I often stopped for a bite in Madison, at Quack's Diner, a traveler's oasis that I understand is still serving up good meals at low prices.
After we married, we lived for a year in Cortland. Having no surplus of disposable income, one of our favorite weekend pastimes was exploring the towns on or near Route 20. We always seemed to wind up at Quack's for dinner, where you could get half portions on entrees, which was plenty to eat, as long as we splurged for the homemade pie.
One Saturday night in Cortland, we went to the movies and saw The Sterile Cuckoo, with Liza Minelli. Most of the story was filmed on location at a college. The campus was gorgeous, and we were dying to know where it was. Fortunately, when the credits rolled, we found out. It was Hamilton College, in Clinton, New York, only a dozen miles north of Route 20, and only 15 miles from Quack's.
The next morning, we drove up there. It was even more beautiful than we had thought, and so was little Clinton. We also drove down to Colgate University, which is in, oddly enough, the town of Hamilton. It was just as beautiful – the college and the town – and only 10 minutes from Quack's.
So when Carole and I took our recent trip back to Oneonta, we made sure we left the Thruway at the I-88 exit, and got on Route 20 in Duanesburg. After a nostalgic hour of spotting landmarks, we arrived in Richfield Springs, a cute town with a delightful luncheonette called Tally-Ho. Right across from the town green, it's been a fixture for years.
Over great sandwiches and scrumptious homemade pie, we reminisced about our days in Upstate New York, and how Route 20 looked pretty much the same, including the incredible panoramic view overlooking Cherry Valley. Then we headed down Routes 28 and 80 into Cooperstown, where we had booked a hotel, just 15 minutes north of Oneonta.
Way back in 1968, on one of our early dates in Oneonta, Carole took me to Molinari's, a small downtown Italian restaurant and bar, where you could get a plate of spaghetti and meatballs for about a dollar. She happened to mention that the restaurant was owned by Frank Malzone. "Frank Malzone?" I said. "The Red Sox third baseman?" It was.
Being a baseball fanatic, that was even more interesting than the spicy meatballs. Later, as we walked down Main Street, I noticed a law office with the name Jim Konstanty on the sign. That was the name of the Phillies relief pitcher who, in 1951, broke the record for most game appearances in a season (74). She told me it was the same person. And then I realized that Cooperstown was just 20 minutes north, and that meant that I could finally make my first visit to the National Baseball Hall of Fame. What a great area to be dating my future wife!
One other place we loved to eat at in Oneonta was Brooks' Bar-B-Q, but unlike Molinari's, which is just a memory now, this local favorite is going as strong as ever, and is known far and wide by travelers in the Northeast. Of course, that's the first place we chose for dinner, and we couldn't have been happier.
The familiar food, like the killer French fries and the little loaf of fresh bread served on a cutting board, hasn't changed. But we have, being meat eaters no more. So we opted for the fried scallops, which were good enough. The best part of eating at Brooks' is watching the customers. They always look like they are having so much fun, as they toss chicken bones into a bucket and joke with the good-humored, veteran wait staff.
Oneonta redesigned its Main Street a few years ago by installing curb extensions and planting trees. It was a good idea. The Clarion chain recently built a retro-looking hotel downtown on a large lot that had been cleared by an unpopular urban renewal program in the 1970s. That looked good, too. But we were disappointed to learn that Bresee's, an old-fashioned, multi-story department store, is just an empty building.
We tried the Autumn Café for lunch. The Main Street restaurant looks like your typical soup-sandwich-cappuccino, bricks and plants place. It was a good choice, with great food and atmosphere, and generous portions at reasonable prices.
The state college has gotten a whole lot bigger. Most of the buildings are in the typical Colonial brick style, mixed in with some modern structures. What is striking about the campus, which sits on the proverbial hill, are the breathtaking views of the valley from just about any place you stand. Carole's dorm was still there.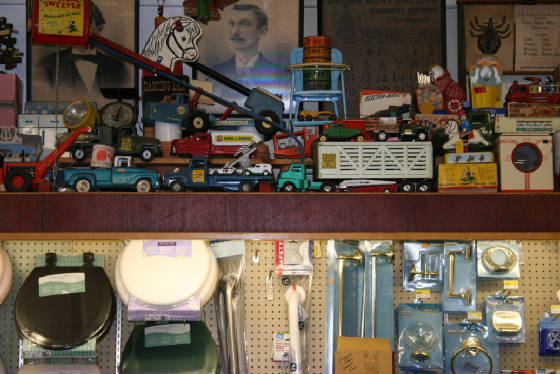 On a lark, we took a half-hour drive south on Route 28 to Delhi, an old farm town with a smaller SUNY branch. We strolled down the humble Main Street, but when Carole spotted a planter she liked in the window of an old store, we made an startling discovery: Dubben Brothers Hardware (see link below for more pictures of this amazing store).
We spent the warm late-afternoon in Cooperstown, but didn't have enough time to tour the Hall of Fame. This legendary town sits on the edge of Lake Otsego, and is one of the most beautiful and walkable in the country. The next morning, we had breakfast at an old favorite, the Cooperstown Diner. It's right downtown. The tiny, narrow building seats about 25 patrons. The French toast and bowls of fresh fruit were as good as it gets, topped off by friendly, folksy service, and one of most interesting and funny conversations among locals I've overheard in a while.
Then we headed north to Route 20, looking forward to another trip back in time, and a few detours along the way.
Photos of Dubben Brothers Hardware in Delhi