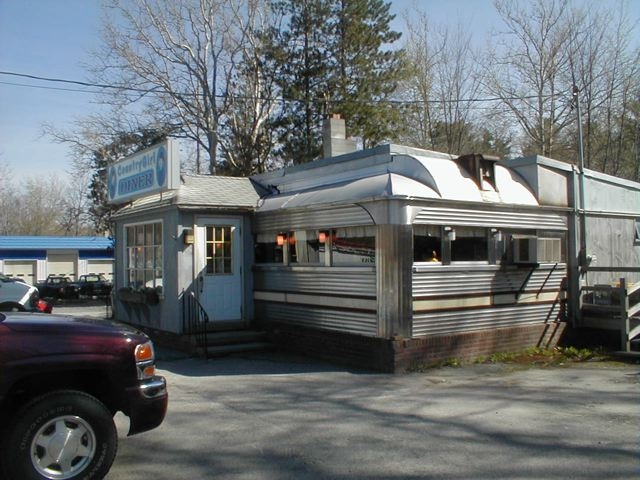 Thirty-five years ago this winter, my wife and I had three meals in a row at the County Girl Diner in Chester, Vermont. We had been living in Connecticut for two years and wanted to see what the Green Mountains looked like, so we took a week off and just drove around. We had no planned itinerary; we decided we would just end up where we ended up. One of those places was Chester, which is about 30 minutes northwest of Brattleboro.
We stopped for lunch at the Country Girl, on Route 103, about a half-mile from Chester's modest downtown. It was cozy and crowded, and lunch was a treat. When it was time for dessert, my wife asked the waitress what kind of pie they had. She took a deep breath and rattled off about 15 varieties, looking both relieved and proud when she finished. To her astonishment (and mine), my wife was silent for about 10 very long seconds, then said, "That's okay. I'll think I'll just have some ice cream."
We took a room at the Motel in the Meadow, a cute, comfortable and clean Mom & Pop establishment, and returned to the Country Girl for a great fried chicken dinner, and then for breakfast the next morning. For whatever reasons, that was our last visit to the diner until a few days ago. I looked up the diner on the Internet, and it was still there. One website had published several enthusiastic customer reviews. So on a cold, windy December day, with nothing much to do, we drove up from our home in Florence, Mass.
The Country Girl is a Silk City, a brother of the Blue Benn in nearby Bennington. On the inside, they look like twins. It sits back about 75 feet from the road, behind an oversized parking lot that has room for a small fleet of semis. The original dining car is sandwiched between an add-on kitchen area in the back and a built-out enclosed foyer in the front. But once you walk in, it's all diner, and looks pretty spiffy.
We started with their self-described specialty: corn-tomato chowder. It was nearly miraculous. I could've eaten three bowls of it. I can still taste it. My wife had a tuna sandwich and I had a salmon burger. I like salmon burgers, but sometimes they don't have much flavor. This was juicy and tasted like fresh salmon, the best I've ever had. My wife didn't like the tuna. She complained about the onions in it. She hates onions.
When we finished, my wife wanted pie. This time, she didn't have to get the waitress to rattle off the varieties; there were six listed on a sign above the counter. We both ordered the apple-cranberry. It was a wise choice: great crust, tangy filling, warmed up; two fabulous pieces of pie.
The offhanded, friendly waitress was fun. We weren't in a hurry and neither was she. We eavesdropped on her loud, colorful conversations with the other customers. One guy was waiting for his divorce to go through, and another kept complaining about the absence of clam chowder on the menu. When I cashed out, the waitress told me the current owner had been in charge for 16 years, but he recently made some menu changes.
I told her my story about being there 35 years ago and my wife asking what kind of pie they had. She cracked up, and then said that a guy recently came in and ordered a sandwich and headed for the bathroom. When he came out, he was smiling. He told her that he proposed to his wife in the diner 30 years ago, and then carved her initials on the bathroom wall, and they were still there. He said he hadn't been in Chester since they got married, and that they just celebrated their 30th anniversary.
We drove through town and discovered the Motel in the Meadow, still in the meadow, about a mile out on Route 11. Some things never change.
Contact the Country Girl Diner at 802-875-2650. For information about the Motel in the Meadow, see their website (click below).