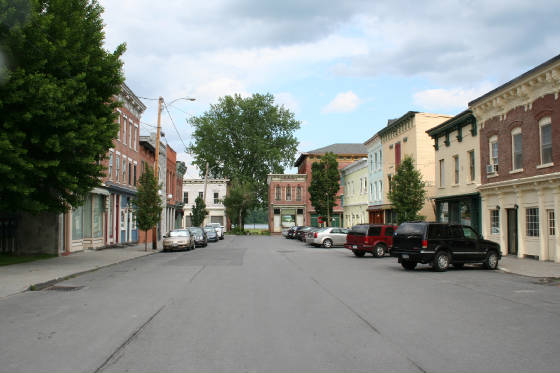 June 20, 2008: My family has been taking daytrips to Greene County, New York since the early 1970s. My wife grew up in Long Island. In the 1950s, her family often vacationed at a lakeside camp of cottages in the tiny town of Craryville, just a few miles east of the Taconic Parkway. One of her aunts lived in Athens, just north of the city of Catskill. When our children were young, we would venture up from Connecticut to see her, usually sitting around the kitchen table, or on the porch, while the kids played in the yard. Her aunt passed away 20 years ago, and the children have grown, but my wife and I still love the area, now a two-hour drive from our home in Massachusetts.
We took a trip there yesterday, in order to check out Catskill, a once-thriving city with a historic downtown that is undergoing considerable restoration and creative reuse. We enjoyed lunch at the MOD Café, a friendly place with good food, and walked around for several hours. The city is definitely on the way back, and we were impressed. Then we headed up Route 385 to Athens in the late afternoon, on our way to dinner at Red's Restaurant, an old favorite of ours in Coxsackie (locally pronounced Cook-sock-ee).
We got there too early – we weren't hungry yet – so we decided to do some exploring. We turned right on Mansion St, near a church. A minute later, we were transported back in time, into a strange little riverside village that reminded me of writer Tom Bodett's "End of the Road" tales about Homer, Alaska.
The only significant commercial street is Reed St, one block long. It ends at South River Street, which follows the Hudson River. At the corner of Reed and South River is the Dolan Block, a beautiful brick building with a cupola. It was once used as an opera house. Sadly, it is desperately in need of restoration. There is a lovely park along the river, with a huge gazebo and a swimming area. If we hadn't had our hearts set on Red's, we would have tried the Blue Water Bistro, a gorgeous pub-style café on Reed St. It looked like a winner.
The Reed Street Historic District is listed on the National Register of Historic Places. See my photos of it below.
Numbers 1 to 4: Looking east on Reed St (toward the Hudson River)
Number 5: Blue River Bistro on Reed St
Numbers 6 and 7: Dolan Block, looking south on South River St
Numbers 8 to 16: Storefronts (mostly vacant) and doorways in Dolan Block
Numbers 17 to 23: Rear of Dolan Block (number 23 taken from inside Gazebo)
Number 24: Alley just north of Dolan Block
Number 25: Former firehouse on South River St
Click to enlarge.
Several days after I posted this photo essay about Reed's Landing in Coxsackie, I received an email from Coxsackie historian Michael H. Rausch. His great-grandfather, George T. Morgan, was a photographer for the Coxsackie Union News. Michael sent me three photos Mr. Morgan took of Reed's Landing in the 1950s. Thanks to Michael for allowing me to post these wonderful pictures.