The Fellows Gear Shaper Company was formed in Springfield, Vermont, in 1896. Its founder, Edwin R. Fellows, was born in Torrington, Connecticut, in 1865. From 1889 to 1896, he worked for the Jones & Lamson Machine Company in Springfield, helping to design turret machinery. During that time, he created a new method for cutting gears, naming his invention the Gear Shaper, a cutter that facilitated the production of more accurate gears.
He built the factory just north of downtown Springfield, along the powerful Black River, a half-mile upstream from the spectacular Comtu Falls, long the town's most notable attraction. From 1917 to 1939, he was president and general manager of the company, and was still the president when he died in 1945.
In 1943, there were over 3,300 employees at the factory, in a town of only about 8,000 people at the time. The company left downtown Springfield in the 1960s, moving to a new location in North Springfield. Soon after, the town took over ownership of the site and converted it into a multiuse complex, but the effort was never successful.
In April of 2008, it was announced with considerable fanfare that Rick Genderson and John Meekin, of Washington, DC, partners in One Hundred River Street, had purchased the buildings and plan to pour $6 million into redeveloping the site for offices and light industrial use. This project will include the demolition of about one-third of the existing industrial space, now housed in dilapidated wooden buildings.
According to an article in the Rutland Herald, Genderson said the demolition of the wooden buildings would improve access to the building and provide parking. He and Meekin have already hired a local demolition crew. Genderson explained, "If we didn't tear them down, they would be too expensive to renovate."
In 2003, I visited Springfield and walked around the site, and was immediately captivated by the wooden structures, with their faded colors, peeling paint, and haunting sense of antiquity. I took a few photos, which have been posted on this website for several years. When I learned about the Fellows redevelopment project, I called Genderson and arranged a visit, so I could take more photos, inside and out, knowing it was my last opportunity to preserve the memory of these tired old buildings in which thousands of machine tool workers toiled for more than 75 years.
This is great news for Springfield, a town worth rooting for. But for me, it is always bittersweet to bid farewell to an era.
*Update: In 2012, the redevelopment project was fully completed. See my article about this, "Crossing a New Bridge," under Diners, Restaurants & Small Towns.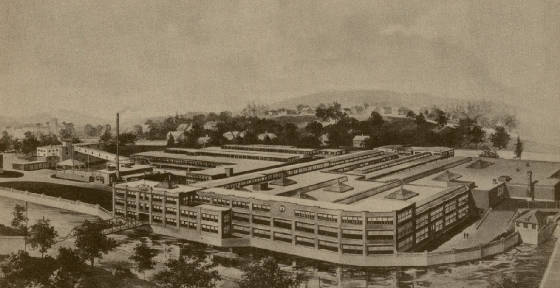 May 15, 2008: Most of these photos show the oldest buildings in the mill, built in the early 1900s. Many have wood siding and are currently painted red. A century of modifications, remodeling and deferred maintenance have created a pastiche of "accidental color" that is both beautiful and sad. A few of these photos were taken in 2003, but most were taken in May of 2008. Soon an ambitious redevelopment project will mean that most of what you see here will disappear into history. Take one last look. It can never be duplicated. Click photos to enlarge.