When I saw this old newspaper article on the Internet, I was captivated by the author's simple eloquence and his vivid description of life on the Wisconsin frontier more than 150 years ago. I wanted to know more about him. Very quickly, I was able to identify him in the US Census as Noah W. Allen. Shortly after, I found a website devoted to the family history of Noah's wife Elizabeth. I corresponded with one of her descendants, who lives in Northern Ireland. She got me in touch with one of Noah's great-great-great grandaughters. She lives in Wisconsin. She and her husband had discovered the article several years ago. They were kind enough to send me some information and several marvelous old photos of the Noah and his family.
After you read Noah's wonderful article, click on the link below to see what I found out.
Letter from an Old Settler
I was born in Tinmouth, Vermont, on October 16th, 1827. At that time there was not a rod of railroad in the United States, the first being built in 1828. When I was five years of age, my parents moved to Wayne County, New York. On August 29, 1849, I was married to Elizabeth Playford, who died three years ago last September. In the year 1850 we settled on the farm near Packwaukee, where I still reside.
There was not a tree touched by an axe up to that time. When we came to this part of Wisconsin there were no shingles, and roofs were made of shocks. There were no horses, and money was a scarcity. In winter, when we went visiting our neighbors, I would pull my wife and child on a hand sled.
At the time of my arrival, there were no railroads in Wisconsin, the first being built ran from Milwaukee to Madison and the second from Milwaukee to Waupun. At present there are four generations living on my farm, myself, Charles my son, Harry my grandson, and great grandsons, Elroy, Roy and Howard. I lost my eyesight completely four years ago but still have a fair appetite. I will be 88 years of age next October and believe that I am the second oldest man in the county.
N. W. Allen
-Oxford Times (Wisconsin), July 22, 1915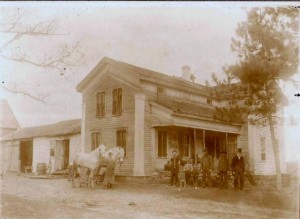 Others in both photos, left to right: Minnie Allen (Harry's wife), great-grandsons Homer, Roy and Howard Allen, grandson Harry Allen, and son Charles Allen
Noah W. Allen was born in Tinmouth, Vermont, on October 16, 1827. His wife, Elizabeth Playford, born February 19, 1827, emigrated from England to the United States in 1830, arriving with her parents in New York City on November 5. She married Noah on August 29, 1849.
In the 1850 census, he is living in a section of Marquette County, Wisconsin, then called "Indian Lands." He and Elizabeth have an infant son, Spenser. In 1860, he is living in Oxford (also Marquette County) with his wife, and three children, Spenser, Helena and Charles. He will live at this location the rest of his life. In 1870, he has a new child, 3-year old Mark. He also had a daughter, Mary, born in 1861, but she died on September 13, 1864, at the age of 3; and he adopted a daughter, Minnie, born in 1887. Wife Elizabeth died September 16, 1911.
Noah was a private in the Union Army during the Civil War, from August 21, 1862, to June 6, 1865. Later he was ordained as a Methodist minister. He died September 21, 1916, just 14 months after his letter was published in the Oxford Times. He is buried in Summerton Cemetery in Oxford, next to his wife, daughter Mary, and son Spencer.