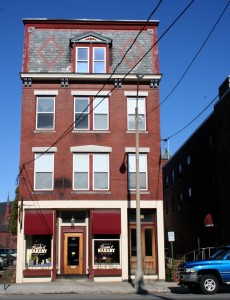 A narrow, four-story building stands at 26-28 Washington Street, in Keene, New Hampshire. It looks familiar, like thousands of mixed commercial-residential blocks that were built in the late nineteenth century in cities and towns all across the Northeast. But it captured my attention immediately on one of the many visits my wife and I have made to this lively small city with its famous wide Main Street.
What makes the building so special? There's the nostalgic advertisement for Coca-Cola painted on the north side of the building, a relic of a long-gone era. The brick structure stands alone, the lone survivor among its immediate architectural neighbors, which were eventually condemned to dust. And the slate mansard-like roof and dormer add an elegant finishing touch.
More than 130 years after Massachusetts native Joseph G. Warren opened his new building for business, I ventured a few steps up from Central Square and discovered the Warren Block, as it's called, and was disappointed that the street-level storefront was vacant. I turned to my wife and said, "This would be a great place for a café."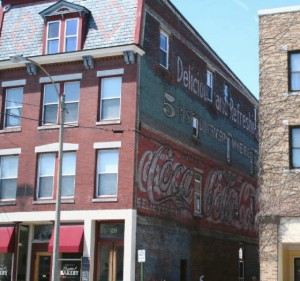 That's just what Maureen Clark said nearly 30 years ago when she was living upstairs in one of the apartments. She was attending Keene State College and had dreams of opening up her own café someday. She now works for Marsha and Kristin Dubois, who opened Kristin's Bakery & Bistro in this space in October 2005. The popular lunch spot had enjoyed a great nine-year run at the Colony Mill Marketplace, a shopping center located in a historic mill, just a mile away. Maureen has been their baker almost since the beginning. But Marsha and Kristin (mother and daughter) had been interested in the Warren Block for a long time.
"A little bakery called the Bread Tree was there about 10 years ago," said Marsha in a recent interview at the café. "I go to the church nearby, so I used to drop in for coffee. It was for sale, but then someone else rented it. So we went to the Colony Mill. It became available again about five years ago, but it was not a good time for us move, because we had a lease. The third time was a charm. The Mill had been sold and we were eager to make the move. We had known the landlords for a long time and were very fond of them."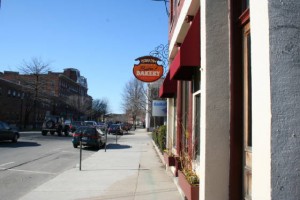 The landlords are second and third-generation descendants of George and Fred Libbares, Greek immigrants who bought the building from the Warren family in 1922, two years after they opened a soon-to-be popular confectionery store and settled with their families in the upstairs apartments.
Last spring, my wife and I were driving through Keene in the afternoon after spending the morning in Bellows Falls. We came down Washington Street and were astonished to see the new café. So we stopped in for some tea and cookies. Maybe it was the sugar rush, or just my journalistic curiosity, but I decided right then that I was going to research the history of the building and interview the café owners. I came back a month later, spending about five hours in the Historical Society of Cheshire County, at 246 Main Street in Keene. I combed through books, photos, journals and city directories, all graciously provided by director Alan Rumrill.
According to official Massachusetts records on the Internet, Joseph Gardner Warren was born June 4, 1820, in the Worcester County town of Hubbardston, the child of Ebenezer Warren and Hepzibah (Waite) Warren. In 1847, he married Jane Flagg, who soon gave birth to Josephine, his only apparent child. Joseph married a second time, to a Connecticut woman named Nellie. In the 1850 and 1860 US Census, he is living in Worcester, and working as a carpenter. Sometime before 1870, he moved to Keene, the 1870 census showing his occupation as "junk dealer," and in 1880, as "building trades."
According to Upper Ashuelot, a History of Keene, New Hampshire, by the Keene History Committee, the lot at 26-28 Washington Street was sold in 1793 by Josiah Richardson, to the town of Keene, where they built a two-story brick school. In 1844, the town sold it to Eliphalet Briggs, who owned a nearby cabinet shop. Two years later, Briggs lost the building to a fire. The lot remained vacant for 19 years, until it was purchased by Mr. Warren, who completed the present building in 1873. At that time, the official street address was 8 Washington St, but it was renumbered in 1891.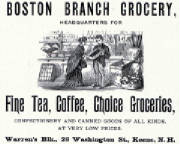 According to various Keene records, Joseph G. Warren died in Keene on October 23, 1897, leaving wife Nellie, daughter Josephine (then Herrick), and two grandchildren, Gertrude and Florence Herrick. Nellie died apparently around 1920, and Josephine sold the property soon after to the Libbares family. She died in 1934. Among her survivors were daughter Gertrude (then Mrs. Frank Slocombe), and 16-year-old granddaughter Princella Slocombe. I was unable to trace the descendants from that point.
I took a lunch break between sessions at the Historical Society and walked up to Kristin's, where I enjoyed a very tasty sandwich and side salad at a small table near one of the two front windows. Customers were coming in and out frequently, exchanging hellos, and it seemed that the servers behind the counter knew the first names of almost everyone who walked in. I wanted to soak up the atmosphere and local color, but it was back to work looking at stacks of city directories. Here's some of what I found.
The first occupant of the street-level space was Foster & White, who were listed as tailors and clothiers. Several years later, William M. Gray opened the Boston Branch Grocery. My research indicates that there were stores by that name at one time in Marblehead and Martha's Vineyard, Mass., so it may be that Mr. Gray was under contract with a wholesaler who supplied exclusively to stores with their name. I doubt it was a so-called chain store. In about 1879, Flavel Beal took over the store, according to an 1899 article in the Keene Sentinel, sent to me by Polly Davis, granddaughter of Mr. Beal. About 1909, it was John A. Smith's turn as proprietor. It should also be noted that a 2003 article in the Keene Sentinel indicated that the city's library was housed on the second floor from 1877 to 1881.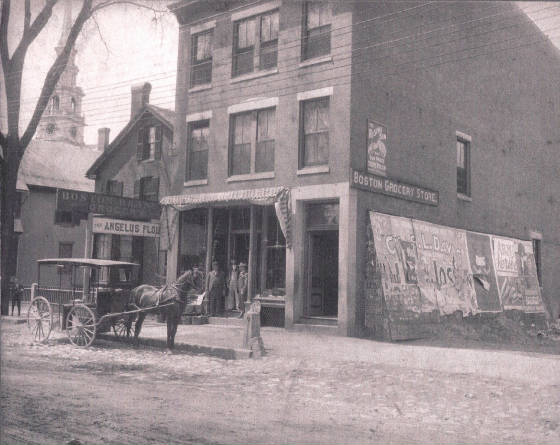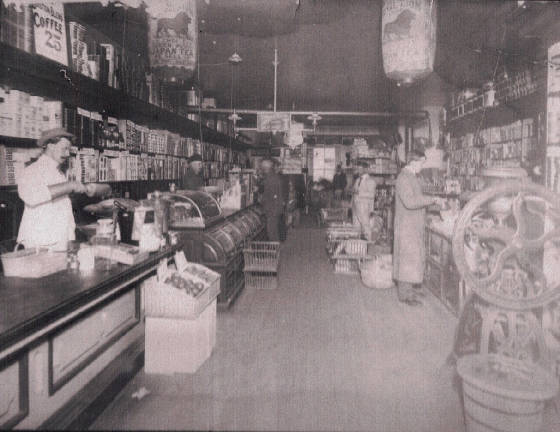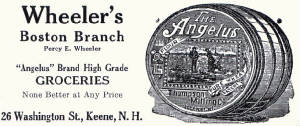 In 1913, Percy Wheeler took it over, and it was called Wheeler's Boston Branch. In the rear of the building was a carriage and wagon shop. In the 1910 census, 24-year-old Percy was living in Wakefield, Mass., where he was managing a grocery store. Alas, he didn't stay long in Keene, moving back to Massachusetts, where he ran a grocery store in Worcester, and later was a newspaper ad salesman. He died in Upton, Mass., in 1968.
I found a marvelous photo at the Historical Society of the store, with a man, probably Mr. Wheeler, standing proudly out in front. I am guessing that this was a promotional photo taken when he opened for business (photo appears at end of article).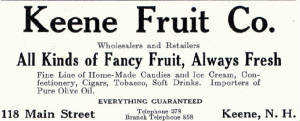 The Keene Fruit Company, a business at 118 Main Street, owned by Michael and James Bardis, opened another store in the Warren Block in 1916. It sold confectioneries, cigars, fruit and ice cream.
Fred and George Libbares took over in 1920, before buying the building two years later. I joined family members in a lively conversation one morning at the Keene home of Maria Bradshaw, George's granddaughter. Seated around me were Maria; her mother and father, Anna and Chris Tasoulas; and Anna's brother, Louis Libbares.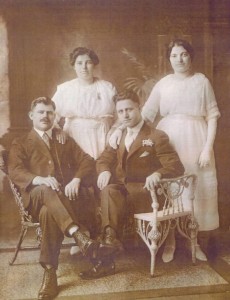 Maria: Part of the family came through Ellis Island and lived for a while in New York. My grandfather George went to West Virginia, where his uncle ran a candy shop, and that's how he learned the candy and ice cream making business. That's why he and his brother finally moved here, to start a candy, ice cream and confectionery shop. This is why, to this day, all the Libbareses have quite the sweet tooth. We all love candy.
Anna: My father went to school and learned English when he first came to live with his uncle.
Louis: He used to make the chocolates down in the basement. Down there, on the floor joists, you can still see some of the chocolate residue. They got their fruit from Bardis Brothers wholesale (Keene Fruit Co). I used to wash the glasses and the dishes in the front where they had a soda fountain. They changed it to a restaurant about 1936 (Libbares Spa), but they kept the soda fountain. People would still come in for just ice cream.
Anna: When they started closing the store on Sundays during the war (World War II), we would go into the store and make ice cream sundaes for ourselves.
Maria: The reason they switched, and added beer, was because times were tough and they couldn't sustain themselves just on ice cream and candy.
Anna: I just remembered Fred's desk. My Uncle Fred had a desk, and it was right in front, by the window, which is on the right if you're looking from the street. He faced out the window. Later they opened the window and served ice cream through it.
Louis: When we finally turned over the business to Teddy Matthews, he gave away that desk. I wish we still had it.
Maria: I remember as a young girl going into the restaurant. At that point, the family didn't have it anymore. Teddy had it. I remember the ice cream counter, the beautiful marble.
Chris: When Teddy moved out, he took that soda fountain with him. I wish we still had that, too. (Theodore Matthews opened the Cheshire Restaurant in 1960, and closed it around 1970, later becoming the chef at the Crystal Restaurant in Keene.)
Louis: We all lived in the building. At one time, all the floors were each one apartment. But then they broke it up into smaller apartments.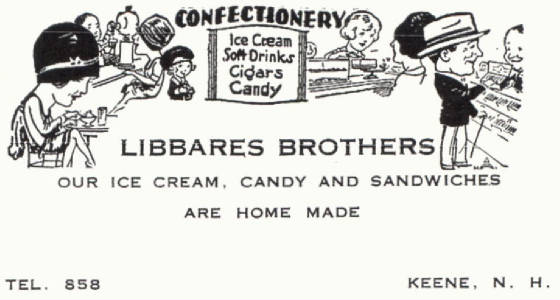 Anna: We went to Washington School for elementary, Franklin for junior high, and then the high school across the street (now the middle school).
Louis: I couldn't speak English when I first went to school, so I stayed back in the first grade.
Anna: We had at least 40 Greek families then. They had lots of children.
Louis: The Greek community here was like one family. The church (Greek Orthodox) was the center of our lives. It used to meet on the top floor at the corner of Main and West, where Miranda's Veranda is now. We shared the building with the Jewish people. They met on the third floor just below. The owners finally demolished the top floor. Behind our building was a wooden building. It was much older. They had saddles. There must have been horses back there. When I was a kid, I'd go up and get on the saddles and pretend I was on a horse. I remember the 1938 hurricane. I'm sitting by the window on the second floor, and all of a sudden I see the church steeple come down (United Church of Christ). It came right down towards us. After the storm was over, I went downstairs, and you couldn't walk on the street. The trees and everything else were all over. And you couldn't go out for a while because of live wires.
Chris: The steeple, when you looked at it from Central Square, it fell back to the right and into the roof.
Anna: Next door, towards downtown, they used to sell hot dogs out the window. That place was torn down to build the First National supermarket.
Louis: Right on the other side was the Bennett Block. That's where they sold cars. I used to work there in the mornings before I went to high school, sweeping up the office and so forth. Then in the afternoon, after school, I'd work at the First National. I wound up being an accountant. I worked for Mobil Oil, at the main headquarters on 42nd Street in New York. Upstairs in City Hall, there used to be a theater with a stage. I saw one of those drummers, maybe Gene Krupa, with his band.
Anna: That was just before Thanksgiving. They always had big events there around that time. He and my sister could go to these affairs, but I had to stay home and bake the pies or do some of the cooking. My mother usually let me sneak up in the balcony for a short time.
Louis: Our building was a wonderful place to grow up. I have such a soft spot for it, and for Keene as well. That's why I came back for good. I have a condo now in West Keene.
Anna: I'm 79 now, and it just seems so strange that all that time has passed. It's hard to believe that I was born in 1928.
Maria: Growing up in Keene, knowing that my grandparents and my mother owned and lived in the Warren Block, it was really exciting. I love that building, and it's wonderful to see the spot vital again and being used as a warm, comforting place to go. It's come full circle. It's been a lot of different things. Some things weren't as successful as others, and sometimes the people renting it weren't as concerned with Keene. With the Dubois family, I feel like they love Keene just as much as I do and want to preserve a slice of history. I would like to pass it on to my children.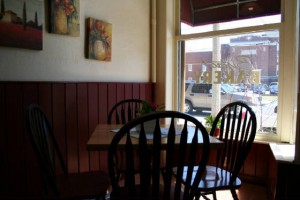 After Matthews closed the Cheshire Restaurant, the storefront changed hands frequently. No doubt, residents will remember some of the businesses located there over the years: Holland House of Hobbies, Keene Gas Corporation, Ixtlan Bookstore, Marty's Soup-er Sandwich Shop, Grand Funk Vintage Clothing, Giselle's Market, Heather's Pastry Café, and That's Italian Deli.
A few weeks ago, my wife and I walked around Keene and had lunch at Kristin's. We sat at our favorite table by the window, across the way from the table where Fred's legendary desk used to sit. It occurred to me that I was eating in a building that has been standing for 134 years, and has been owned by the same family for the last 85 years. It was crowded, and I wondered how many of the customers knew about the rich history that pervades this charming café.
Again, Marsha Dubois, co-owner of Kristin's:
"When we moved, a lot of our customers at the Mill resisted at first. They said they wouldn't come because of parking, etc. But they came back, and even a lot of the merchants over there come for lunch. A lot of folks from the police department come every day, and the ladies from the Unitarian Church meet here every Friday."
"We get teachers from the middle school in the morning, and some come over and grab their lunch and head back to school. We have some kids who walk over after school and wait for rides. I think parents know that this is a safe place. They'll sit in here and be pretty courteous. They don't purchase a lot, but I'm happy I can provide a place for them."
"Our most popular items are the soups, and the special sandwiches on the board, the ones we've been known for all 10 years. A lady the other day thanked me for having a nice place to start her day. In this ever-changing world, I don't want to change what we are. I want to keep the same ambience. I feel kind of like we're inviting people into our home."
"This part of Washington Street used to be a busy retail section in the city. When the Colony Mill came, that created some hardships for some downtown businesses. The downtown still struggles because of all those chain stores on the edge of town. But Keene is so charming and has so much to offer that people are willing to work hard to keep it vital."
I pointed out that both locations for the café have been historic buildings.
"I am very into historic buildings and preservation. I am beginning to appreciate my roots. I've never lived anywhere else. You can trace my mother's side of the family, the Blakes, back to the settlement of Keene. I like having a building in town named the Blake House, because that reminds me of my heritage. I've tried to instill that in my children."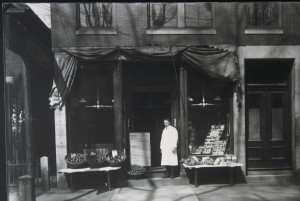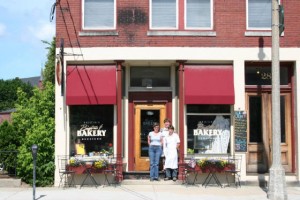 One More Slice of History