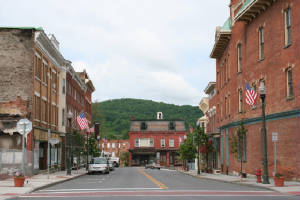 Chapter Four: New Discoveries In Hoosick Falls
Hoosick Falls is just across the New York border, a few miles northwest of North Pownal. Route 346 follows the river and the railroad tracks, cutting through an intensely rural landscape. Locals know to turn right on a country road several miles out, which heads north along a ridge that offers a breathtaking view of the valley, and eventually winds up in Hoosick Falls. Old-time residents will tell you that the 18-year-old drinking age in New York has attracted many generations of teens over the border from Bennington and North Adams.
The main drag, Route 22, winds confusingly around the tiny business district, past Victorian homes and some beautiful 19th-century brick blocks on John Street. The same Hoosic River that powered Addie's North Pownal cotton mill also powered the huge Walter A. Wood Mowing and Reaping Machine Company that dominated the area for nearly 80 years. But the many empty storefronts and the lack of foot traffic are signals that the town is struggling.
Addie's daughter Ruth lived in Hoosick Falls most of her adult life, worked in a textile mill for many years, and had two daughters, one by her first marriage (the one I talked to), and one by her second marriage. So it was time to follow Addie's trail across the border to see what new discoveries awaited me.
When I got to town, I obtained a copy of Ernest's death certificate at the town hall. I headed to St. Mary's rectory across the street, and the pastor gave me directions to Ernest's grave, including a map of the cemetery, which listed the names on each gravestone and where each was located. I drove out there, about a mile south of the church, but it took me a long time to find the spot, because it was a flat headstone that was completely covered with several inches of dirt and grass. I had to go into the woods and get a sharp stick to dig away enough turf to uncover it and take a picture.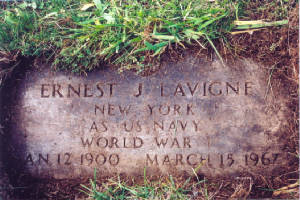 Back in town, I went to the library and found a few town directories, and learned that Ernest LaVigne and Addie lived in Hoosick Falls from 1963, until his death in 1967. While walking back to my car, I was approached by a man who said, "Excuse me, but are you the guy who is doing some genealogy work?" I was startled and answered, "How did you know?" He replied, "This is a small town, you know." But then he laughed and explained: "I was in the town hall when you asked for the death certificate. I overheard you talking about your search." He recommended that I go to the Hoosick Falls Historical Society, which was scheduled to open at 1:00. So I looked around for a place to get some lunch.
I noticed an old corner block that looked like it might have been a hotel. It was beautiful, but appeared to be vacant upstairs. There was a restaurant at street level, called Dougherty's, and it looked inviting. Upon entering, I felt like I had stepped back in time. The dark wood paneling and the elegant staircase leading to the upper floors reminded me of those fancy hotels you see in Westerns such as The Virginian. The food and service were wonderful, but with small-town prices. I left thinking that I had to bring Carole back for lunch someday. It would be worth the 90-minute trip.
There wasn't much at the Historical Society, but the director took a great interest in my search and said he thought he might have gone to high school with Addie's granddaughter. He started looking through a collection of old yearbooks, and almost immediately, he found her picture in a group photo of a class in the 1960s. I noticed that there were a lot of signed salutations under the picture.
"Where did you get this?" I asked. He replied, "I picked it up at a tag sale a few years ago. Why do you ask?" I answered, "Because all the salutations are addressed to her, she's the only person in the photo with her first name, and all the people who signed under the photo have first names of other people in the photo. This book obviously belonged at one time to her. That's amazing. I wonder how it wound up in a tag sale." I drove home with some new stories for Carole. In less than a week, we would be going to Cohoes.