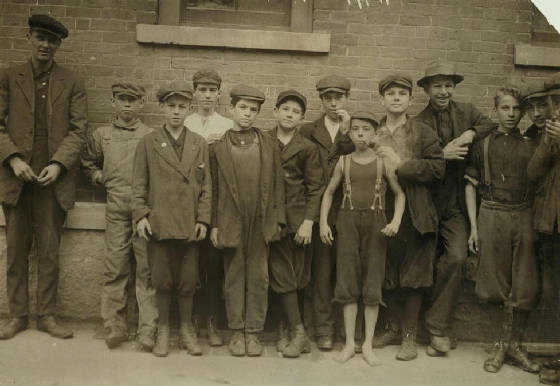 Lewis Hine caption: Arthur Chalifoux, 3 Rand St. (4th boy from left). Works in Eclipse Mills, No. Adams. Location: North Adams, Massachusetts, August 1911.
"Eddie Leonard of this city waded after Young Rogers of Schenectady in biff bang style and won the decision by a shade despite the fact that he was rather tired at the finish. He established quite a lead in the early rounds but his opponent was doing better at the conclusion. They boxed six rounds. A large crowd attended the smoker." -December 12, 1919, North Adams Transcript
The increasing availability of digitized historic photographs on the Internet has created a new life for this Lewis Hine picture of Albert Duquette and his friends. For obvious reasons, the diminutive boy with the pipe is often referred to as Popeye, despite the fact that the boy's pose predated the famous comic strip character by 18 years.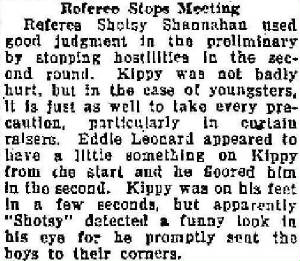 Less than a decade after Albert was photographed, he was a professional boxer, known as Young Eddie Leonard. In 1935, he died suddenly of an apparent heart attack, leaving a wife, but no children. I live only one hour from North Adams, have many friends there, and enjoy a full array of resources at the library and city hall; but despite my best efforts, I was unable to find anyone who remembers Albert, or knows anything about him. I even got the North Adams Transcript to run an article along with the photo above, but no one contacted me. But using city records, old newspaper articles and the Internet, I managed to collect enough information to paste together an interesting story of a colorful man who was immortalized by Hine's camera, robbed of a full life, and is now apparently forgotten in his home town.
Joseph Albert Duquette was born in Connecticut, in May of 1896, the first of five children born to Joseph and Regina Duquette, who married about 1895. The family moved to North Adams around 1900. According to the 1900 census, Albert's father was a spinner in a cotton mill, and they were living at 569 West Main Street, currently the location of a gas station. In 1910, they were living at 54 Reed Street, a street near the Eclipse Mill, which is now just a foot path. When Albert was photographed, he lived at 183 Union Street, along the Hoosic River. There are no houses there now. The site is currently near a parking lot for the Eclipse Mill, which is filled with condos (including loft spaces) for artists.
Albert, known locally as Puggy Duquette, served in the Army during WWI. But he was back in North Adams, living with his parents, in 1920, at 15 Eagle Street, a building that is now a toy store. At that time, his occupation was listed as athletic trainer. Shortly after, he moved to New York City, in an attempt to advance his boxing career. He married Celina Irene Monette in North Adams on May 29, 1922, and gave up boxing about 1925. In the 1930 census, he and Celina are listed as living at 21 Eagle Street. The building still stands. Albert's parents and sister were living with him, and Albert was working again at a cotton mill.
On September 30, 1935, at the age of 39, Albert died suddenly at his North Adams home at 5 Grant Street, an area that was completely changed in the 1960s when the city built the Greylock Housing complex there. His wife Celina died in 1967, at the age of 53.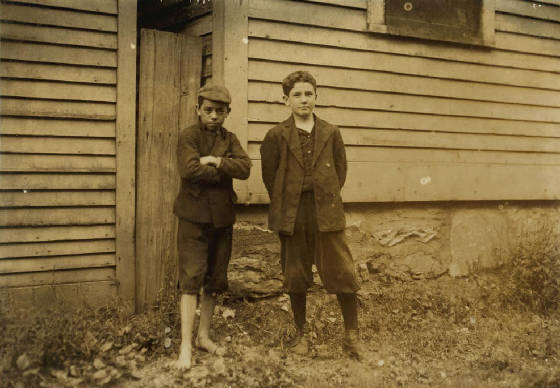 Lewis Hine caption: Joseph Crapo, 47 Fruit St., works in Eclipse Mills. Apparently 13 years old. Right hand. Left hand, Albert Duquette, 183 Union St. works in weave shed, putting drop wires on weave machine. Location: North Adams, Massachusetts, August 1911.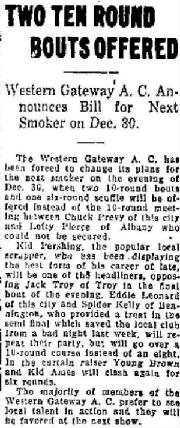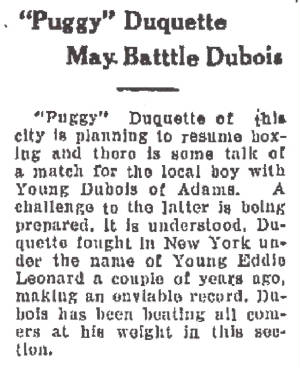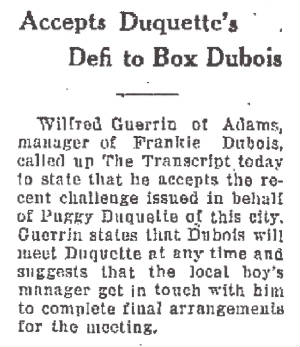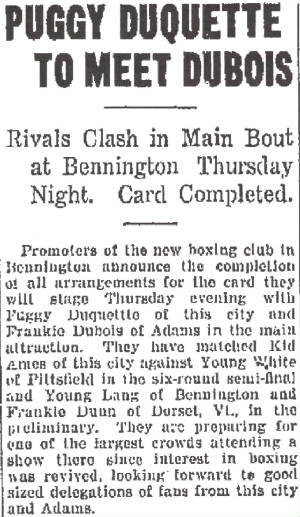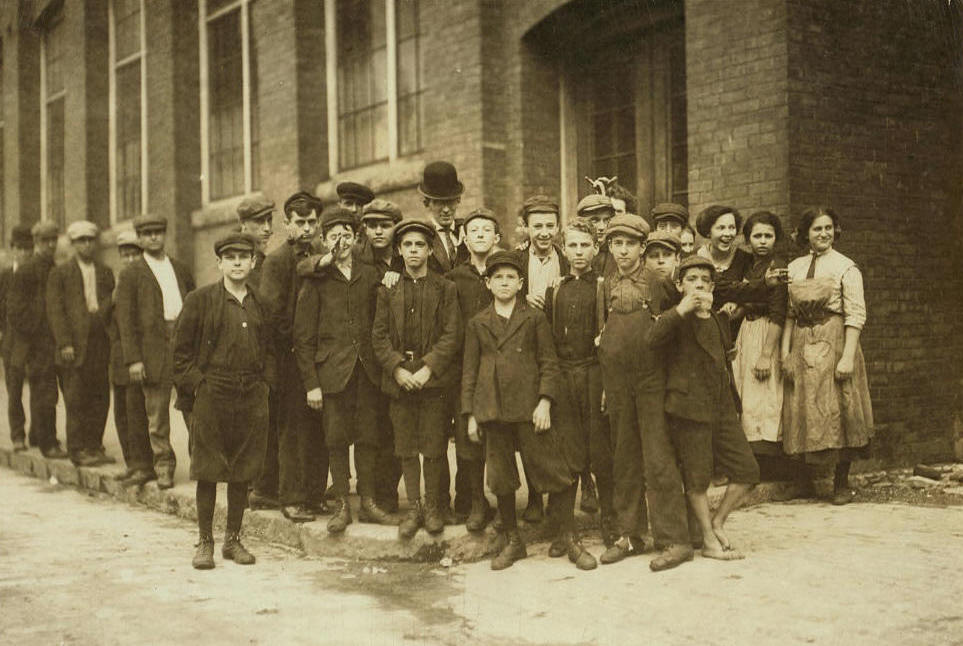 Lewis Hine caption: Group of workers in Eclipse Mills. Second boy from right was afraid to give name. Location: North Adams, Massachusetts, August 1911.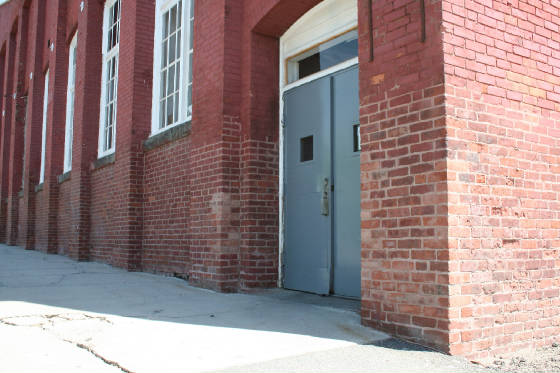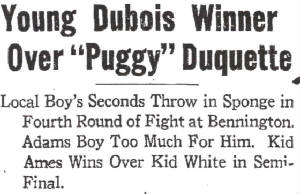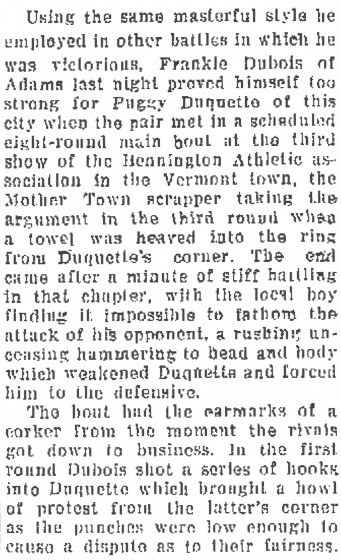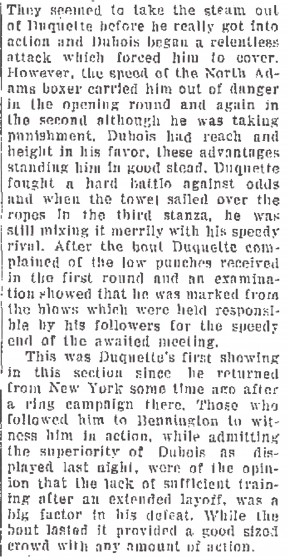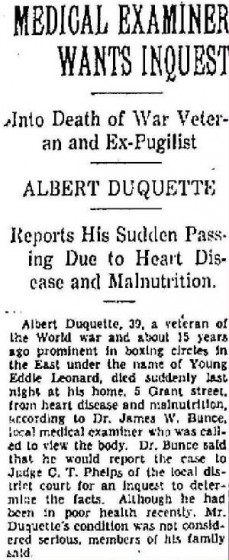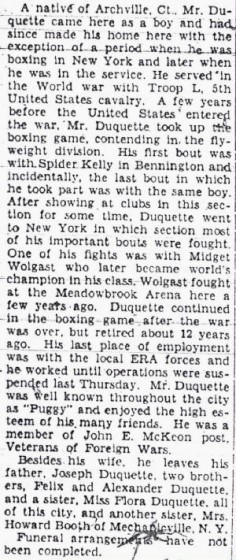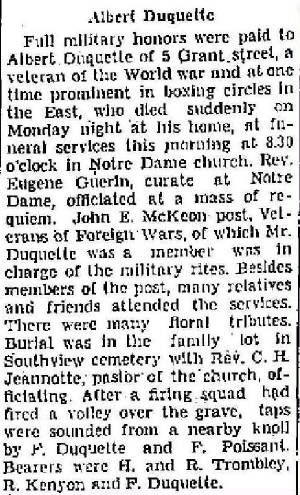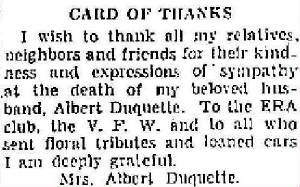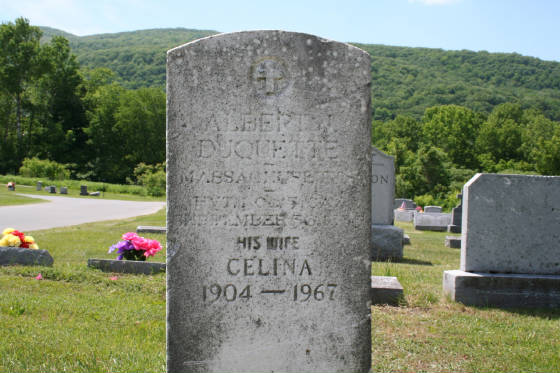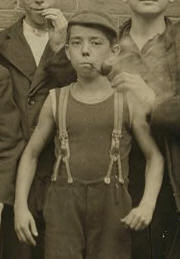 Albert "Puggy" Duquette: 1896 – 1935
*Story published in 2009.