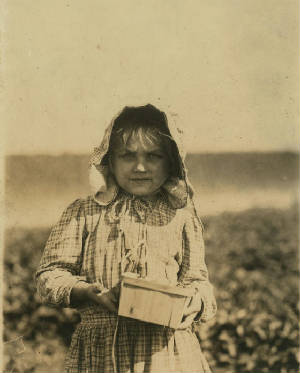 Lewis Hine caption: Alberta McNadd on Chester Truitt's farm at Cannon, Del. Alberta is 5 years of age and has been picking berries since she was 3. Her mother volunteered the information that she picks steadily from sun-up to sun-down. Location: Cannon, Delaware, May 1910.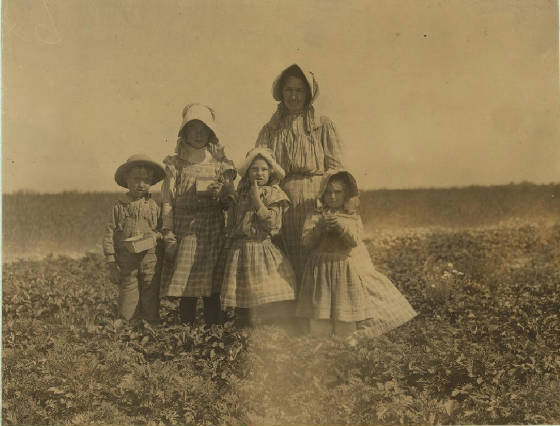 Lewis Hine caption: The McNadd family on Truitt's farm at Cannon, Del. Oscar who is 7 years of age is picking berries his third season, averaging 34 quarts per day. Eve, 11 years of age, is picking berries her fifth season, averaging 100 quarts per day. Madge, 8 years old, picking berries fifth season, averaging 45 quarts per day. Alberta, 5 years old, second season, averaging 19 quarts per day. Location: Cannon, Delaware, May 1910.
In 1910, the National Child Labor Committee investigated working conditions in Delaware for families working on farms, mostly berry farms in Sussex County. Regarding this family, the report said, in part:
"Alberta McNadd, 5 years old, said she had been working at 5 a.m in morning and it was 4 p.m. in the afternoon when the investigators found her still at work picking berries. Mrs. McNadd, the mother of 4 children – 5, 7, 8, and 11 respectively, – volunteers the information that her children worked steadily from sun-up to sun-down." – Child Labor: An American History, Hugh D. Hindman (M.E. Sharpe, 2002)
According to the US census, this farm was owned by Chester Henry Truitt, and apparently was located on Cannon Road, near Bridgeville, Delaware. Mr. Truitt was born in 1875, and when the Hine photos were taken, he would have been living with his wife Lillie, and at least four children.
The 1900 census lists the family of William McNitt (McNatt), 49, and wife Lidia 48, living as farmers, with six children, in the oddly named town of North Murderkill, in Kent County, Delaware. They had been married in 1875.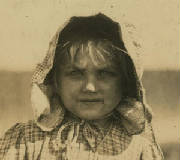 In the 1910 census, Alberta appears for the first time, listed as six years old and living with her parents and six siblings, in Sussex County. The town is not named. The mother, spelled Lillia here, is 57, and four of the children are seven years old and under. The other children are 11, 21 and 30. Nevertheless, all of the children are identified as sons and daughters, and both Lilia and Lidia are obviously the same person. It's easy to see that the four youngest children could not have been the natural children of the mother, given her age, so perhaps they were adopted. It will turn out to be an unsolvable mystery.
In 1920, William and his wife, now spelled Lydia, 69, are living in the Sussex County town of Bridgeville, with daughter Alberta, 15, and grandson Oscar, 17. At that point, I lost track of Alberta. I tried all the common tricks, such as searching in the 1930 Sussex County census for any persons born about 1904 named Alberta, hoping to see her listed as married. Nothing useful turned up.
I tried one last desperate thing. I called up practically everyone in Delaware named McNatt (there were lots of them), and finally found two who were descended from this family, but neither of them had heard of Alberta and expressed little interest in my inquiry, despite the fact that both of them lived in the Bridgeville area. At that point, I gave up.
About a year later, I signed up for a subscription to NewspaperArchive.com. I was playing around with it one day, and thought about Alberta. I searched "Alberta" and "McNatt" in the available Delaware newspapers and came up with nothing. Since Sussex County is right on the Maryland border, I tried searching the Maryland newspapers in that area and came up with this in the Denton Journal, published on December 4, 1920.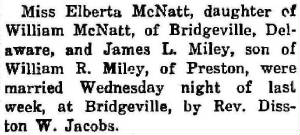 Now I knew who Alberta (or Elberta) married, at the age of 17. But neither she nor James Miley appeared in the 1930 census. But I found James's WWII draft registration card, his address listed as Bethlehem, Maryland, near Denton, and his wife listed as Mildred, not Alberta. Had she died, or was there a divorce? I found no further records for Alberta Miley, until I returned to the newspaper archives. I was struck by this (last line in article):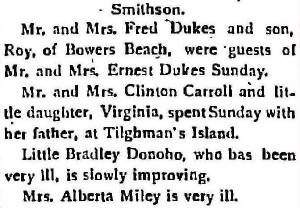 I found only one more newspaper article, in the 1945 Denton Journal, and it was an amazing coincidence. It was published under the headline: Twenty-Five Years Ago This Week. It was the same wedding announcement I had found before. I thought, "Of all the articles to choose for this column, this was one of them." But what next? I tried RootsWeb.com, and came up with a partial family history posted about the Todd Family of Caroline County.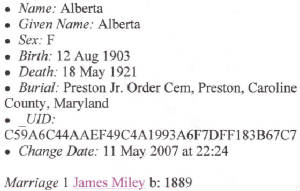 She died four days after the newspaper item: "Mrs. Alberta Miley is very ill."
I called back the McNatt descendants I had tracked down, but they weren't interested. I enlisted the assistance of the Caroline County Public Library and the Caroline County Historical Society, but they could not obtain an obituary or a death certificate.
Finally I contacted H. Eugene Harris, who is connected with the Preston Jr. Order Cemetery in Preston, Maryland, where Alberta is buried. He consulted cemetery records and reported that her grave is located at the Miley family plot, near the headstones of her father-in-law and mother-in-law, William K. and Elizabeth E. Miley. Her husband James, who was 14 years her senior, died in Preston in June of 1983, at the age of 93. He is buried elsewhere in the same cemetery. Mr. Harris kindly photographed Alberta's headstone for me.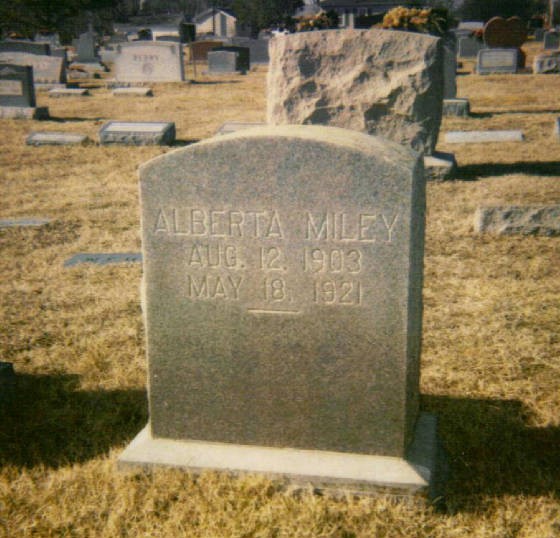 *Story published in 2009.