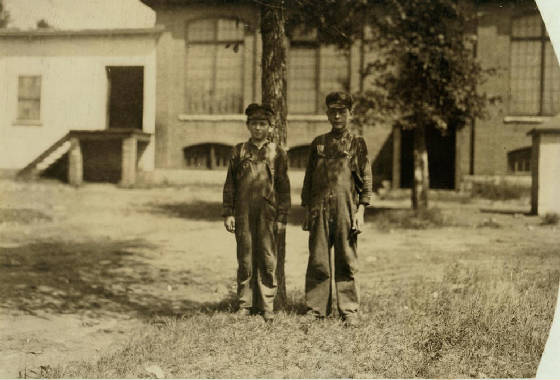 Lewis Hine caption: Smallest is Anatole Gernon, Maple St. Apparently 11 or 12 years old. Doffs on top floor spinning room of Glenallen Mill. Speaks no English. Location: Winchendon, Massachusetts, September 1911.
"My mother was one of Anatole's sisters. Uncle Anatole was a mason for a while and did a lot of work on an opera house in Troy. His father was also a mason. All the kids had to work in the mills when they were young. They had a hard life." -nephew of Anatole Grenon
**************************
I can't begin to imagine the struggles that immigrant families must have gone through to travel to the US, and then establish themselves securely in a strange community. Anatole, the little boy on the left in this photo, belonged to one of those families. When he was photographed in Winchendon by child labor activist Lewis Hine in September of 1911, his future must have seemed bleak, though all he might have been contemplating that day was when he was going to go home. At that time, he lived at 51 Maple Street, with his parents and 11 siblings.
On my first visit to Winchendon in September 2008, I brought a binder with copies of all of the 40 photos that Hine had taken in there almost exactly 97 years before. I drove down the bumpy dirt road through the woods and found the Glenallan Mill, now an empty brick building that was once a thriving denim factory owned by the White Bros. It took me almost no time for me to spot the location where Hine stood when he took this picture of two boys standing near a tree. So I got out my camera and took the same picture, but with two important things missing: the tree, and the boys.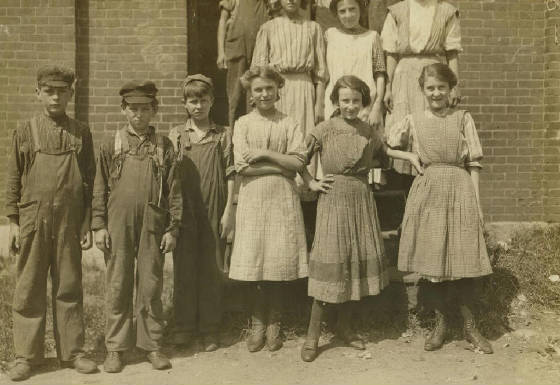 Lewis Hine caption: Group of Workers in Glenallen Mill, including Adrienne Pagnette, Annie Dugas, Francis Pagnette, Anatole Gernon, apparently 11 or 12 years old, doffs on top floor spinning room of the above mill. Speaks no English. Location: Winchendon, Massachusetts, September 1911.
At the town clerk's office, the name Anatole Gernon did not appear in the birth, death or marriage records. I tried Gendron, a familiar French-Canadian surname, but there was no Anatole. I didn't have any luck with my Internet sources either, until I tried some creative spellings of the last name. That's when I found Anatole listed among 14 members of the Grenon family, who had entered the US from Canada in 1910. They registered in St. Albans, Vermont, and gave their official destination as Winchendon.
The Grenon family didn't stay long. In 1918, Anatole registered for the WWI draft, giving his address as Woonsocket, Rhode Island, another mill town with a large population of French-Canadian immigrants. He listed his occupation as a spinner. In the 1920 census, he is living in Woonsocket with his parents, and seven siblings.
Anatole Joseph Grenon was born in Quebec on April 20, 1899. His parents were Delphis and Louisia (Valcourt) Grenon. He married Dorilda Laquerre in 1928, and by 1930, they had moved to Troy, New York, where he was a foreman at a factory. They had two children, Hubert and Helen. Later they lived in Newport, New Hampshire, and finally made their home in Bennington, Vermont.
Dorilda died in 1967. Hubert died in 2005, and Helen died a year later. Neither of them had children. Anatole passed away in Bennington on November 15, 1975, at the age of 76. He is buried along with his wife, parents, Helen, and many other members of the Grenon family, at Precious Blood Cemetery in Woonsocket.
I was able to contact and briefly interview one of Anatole's nephews and one of his nieces, both of whom live in Rhode Island. They were surprised to see the photo of their uncle, but neither one of them saw him more than a few times over the years, and they had no pictures of him. Both requested that their names not be revealed.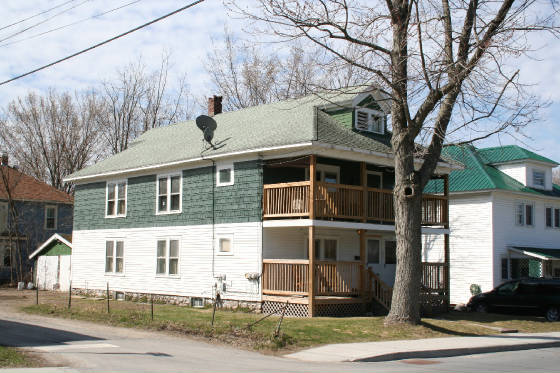 Comments from one of Anatole's nieces:
"My mother was one of Anatole's sisters. When Anatole's father brought his family down from Canada, there were 12 of their children living. Three others had died in Canada, all at the age of just two. He had two sisters who already lived in Winchendon. Some of his brothers lived in Woonsocket, so after a few years in Winchendon, they moved there."
"Uncle Anatole moved away from Rhode Island about the time I got married, and I only saw him a few times after that. I remember going twice to see him, once when he was living in Newport, New Hampshire, and once when he was living in Bennington, Vermont. In New Hampshire, he was living in his own house, and I remember it was on a back road not near any other houses. In Bennington, he owned a two-family house and lived on the top floor."
"He used to set up and repair textile machinery. He went to some kind of school to study about mill machinery. His wife Dorilda came from a large family, and all the girls were exceptional cooks. She was a fantastic cook."
"All of us called him Natole. We didn't pronounce the 'A.' He had a real good sense of humor. My mother told me that he used to tease my grandmother all the time, like tying her apron strings to the back of the chair, and things like that. He and one of his sisters were the only ones in the family to have blue eyes."
"His children, Hubert and Helen, were born on the same day, February 9th, one year apart. Hubert went into the Marines. I don't know what he did after that, but I know he was a very good semi-pro bowler. Helen was one of the first in the country to undergo open heart surgery at Massachusetts General Hospital. After she came out, although she was better, she couldn't do any strenuous work. She had rheumatic fever when she was about eight years old. They were living in New Hampshire at the time of the surgery. The family has a big plot in the Precious Blood Cemetery in Woonsocket, but Hubert is buried in a veteran's cemetery in New York."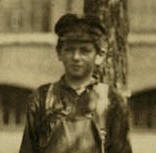 Anatole Joseph Grenon: 1899 – 1975
*Story published in 2010.