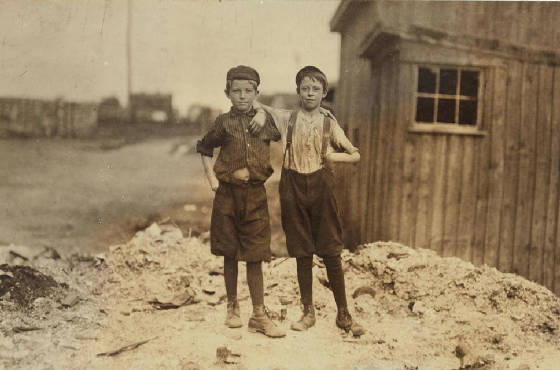 Lewis Hine caption: Two young carrying-in boys in Alexandria (Va.) Glass Factory. Frank Clark (on left) 702 N. Patrick St., could neither read nor write, having been to school only a few weeks in his life. Two older brothers work in glass factory, and his father is a candy maker. Frank is working on night shift this week. Ashby Corbin (on right), 413 N. St. Asaph St. Has had only four terms of schooling. Location: Alexandria, Virginia, June 1911.
The following appears on the website of the Alexandria Archaeology Museum.
Alexandria experienced astonishing growth as a manufacturing center from 1899 to 1915, leading every city in Virginia except Lynchburg in the increased production of goods. The value of the city's products nearly tripled between 1899 and 1909. The most important industries produced glass, fertilizer, beer and leather. There were 54 manufacturing establishments which employed 1,713 persons. In 1899 salaries paid to all persons employed in these industries amounted to $374,000, and the figure increased to $919,000 in 1909. –Alexandria Gazette, June 4, 1912.
Central to this phenomenal growth were Alexandria's glass factories. Major production of glass began in the early 1890s by the Virginia Glass Company, located on the south side of the 1800 block of Duke Street in West End. A large percentage of the firm's business was the manufacture of bottles for the Portner brewery on St. Asaph Street.
On February 18, 1905, tragedy befell the company when its plant was entirely destroyed by fire. In January 1901, German-American entrepreneurs and local glassblowers announced they would soon erect a new glass works on the river front along the old Alexandria canal locks on the 800 and 900 blocks of North Fairfax Street near Montgomery Street. Known as the Old Dominion Glass Company, it had scarcely been in operation a year when it too was ravaged by fire. Soon reconstructed, however, the plant manufactured an assortment of beer and soda bottles, flasks, and medicine and food bottles for the Great Atlantic and Pacific Tea Company, McCormick and Company and others.
The Belle Pre Bottle Company, situated on the west side of Henry Street between Madison and Montgomery Streets, was organized in 1902 by a group of Washington businessmen. It owned a patent on a type of milk bottle and was one of the largest producers of such bottles in the U.S. Beset by financial setbacks in 1912, Belle Pre declared bankruptcy and subsequently auctioned off its equipment.
Finally, the Alexandria Glass Company, begun about 1900, was located on the northwest corner of Henry and Montgomery Streets. Purchased by the Old Dominion Glass Company in 1916, fire completely devastated the glass works despite the vigorous efforts of the firemen. As a result of this blaze, 175 men and boys lost their jobs, and company officials estimated the damage at $75,000. –Alexandria Gazette, February 2, 1917.
**************************
This photograph would be more appropriate for the cover of Huckleberry Finn than Oliver Twist. But buddies Ashby and Frank probably shared very few light moments at the factory.
With the help of Amy Bertsch, researcher at the Office of Historic Alexandria, I had little trouble obtaining Ashby's obituary and locating his daughter Anna, who had never seen the photograph. See my interview with her below.
On this late spring day, across the Potomac from Washington, Ashby Aurelius Corbin was about to celebrate his 14th birthday. He was in born in Alexandria on July 2, 1897, the son Edward Corbin and Regina Lyons. They had married in 1891, and by 1909, they had lost three of their first seven children. In the 1910 census, Edward was listed as working in an iron foundry, 17-year-old daughter Jeannette was a basket maker, and Eugene and Ashby, 15 and 13, worked at the glass factory.
Ashby married Elizabeth Simpson in 1919, and they had five children. Elizabeth passed away in January of 1935, and their youngest child, Agnes, died less than 10 months later. In February 1936, Ashby married Elizabeth Pullen, and they had one child. Ashby died on December 26, 1945, at the age of 48.
Edited interview with Anna Corbin Dodson, daughter of Ashby Corbin, conducted by Joe Manning (JM), on February 6, 2009.
JM: How did you react when you saw the photo of your father?
AD: If I had stumbled over it, I would have known right away who it was. There was a nephew of his that I took a lot of pictures of when I was a teenager, and this photo of Daddy looks a lot like that young man.
JM: What about discovering that he was working in a glass factory at that age? What did you think of that?
AD: I knew that he didn't have a lot, because it was a big family. So that part of it didn't bother me. Actually, he looked like he was having fun. I found out that my father's older brother, Eugene, also worked at the glass factory.
JM: When were you born?
AD: I was born in 1932, at my home at 214 South Henry Street, in Alexandria.
JM: Where was your father working then?
AD: The Mutual Ice Company. He was an engineer. This was the place that made ice that people put in their refrigerators or in refrigerated train cars. The company had these huge motors, maybe about eight feet in diameter. Daddy took me in there once and showed me. They were in a big room. His job was to keep those motors running right.
JM: How many years did her work there?
AD: He was there from about 1920 until a year before he died.
JM: What did he die from?
AD: Pneumonia. He had had a cold. He got really sick overnight on Christmas day. They took him to the hospital about 6:00 the next morning. I went over to visit my grandmother for a while, and when I came back home, they told me that Daddy had died. I just sat down in a chair and cried my heart out. He was only 48. His father died one week later, and his mother died a year later.
JM: What kind of a father was he?
AD: I think he was a good father. We all loved him. He liked to have fun. He liked to joke around with his brothers when they were all grown men. They used to play around and poke each other. He liked to listen to music, old hillbilly music like the Carter Family and Jimmie Rodgers. He liked to tease us a little. I remember that whenever we would ask where something was, we'd say, 'Where is it at?' And he would say, 'It's behind the at.' He was always correcting us about that.
JM: How big was he?
AD: He was short, maybe about 5′ 5″.
JM: What special things did you and your father do together?
AD: Not a lot, because he worked nights and slept in the daytime.
JM: How far did he get in school?
AD: He said he had a third-grade education. But I think he was smart, maybe because he knew how to keep those motors running. He could read and write.
JM: Did your mother work?
AD: No. I was only two years old when we lost her. There were four of us children. One of his brothers and his wife moved in and took care of us until Daddy remarried, about a year later.
JM: Did you know your father's parents?
AD: Yes. I spent a lot of time at their house. They lived about 12 blocks from us.
JM: How many houses did you live in?
AD: I lived in the one on Henry Street until Daddy died. We called it a row house, but it was big, two stories, with an attic, and a basement with a ghost in it. We lived in the whole house. I think the rent was only $25.00 a month back then.
JM: Was it close to your father's job?
AD: About 12 blocks. He worked on North Henry Street. He walked until we got our first car, a '37 or '38 Chevrolet. We didn't live fancy. I don't think anyone did back then. But Daddy always had a job, even during the Depression.
JM: How did World War II affect your family?
AD: My brother Charles joined the Coast Guard. So we worried about him. In the evening, before he went to work at midnight, Daddy would patrol the neighborhood to make sure there were no lights on.
JM: When did you get married?
AD: I graduated from high school in 1950 and got married a year later. I could have had a scholarship to go to college, but I wanted to go to work. I was a secretary for the US Navy. I worked for the Navy Department and at the Pentagon. I took the bus to work. My husband was Richard Dodson. He worked for the Virginia Electric Power Company, and then he joined the Navy when the Korean War broke out. He was in about two years. He never went to Korea, but my brother Ashby did.
JM: How many children did you have?
AD: Two.
JM: Have they seen the photo?
AD: Yes. They think it's wonderful. They are just thrilled about all this. They never knew him. It's really dredged up some memories.
Three photos immediately below provided by Anna Corbin Dodson.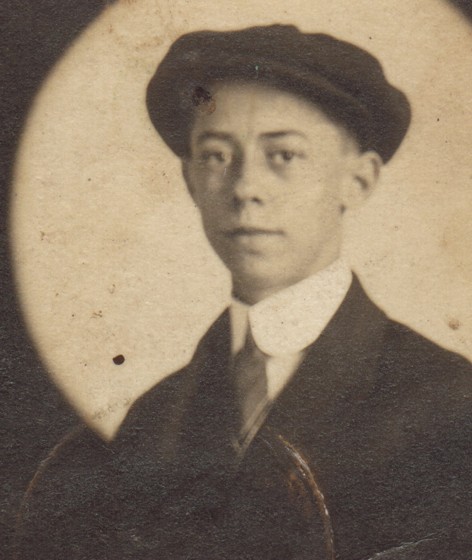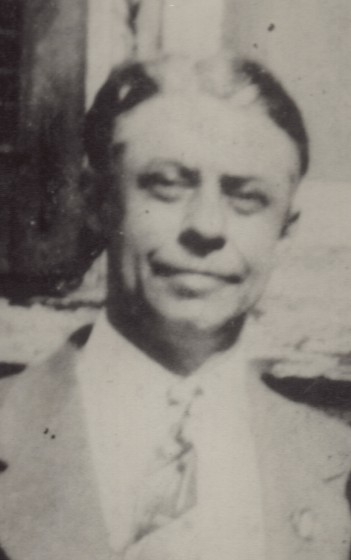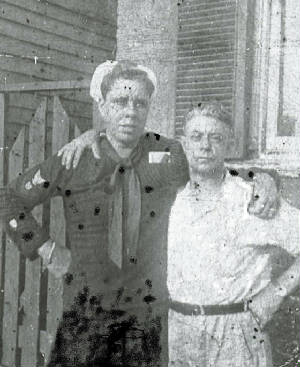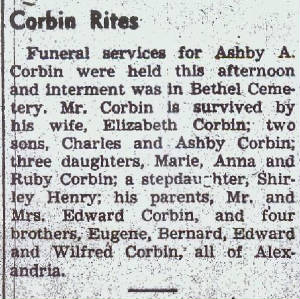 *Story published in 2009.