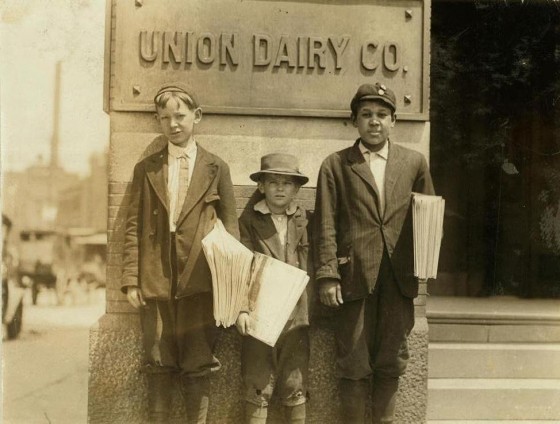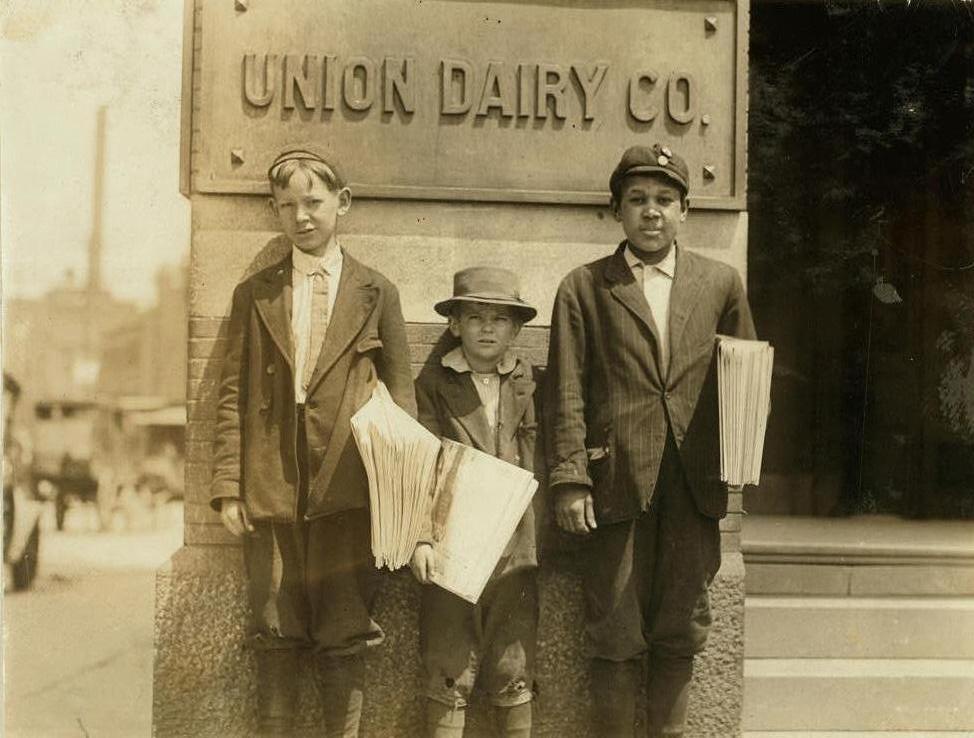 Lewis Hine caption: Truants selling papers at Jefferson & Washington 11 A.M. Monday May 9th, 1910. Smallest boy is Marvin Adams, 2637 Wahington Ave. Said he got his papers "off'n de other feller." Other boy is Owen McCormack, 2651 Washington Avenue. Location: St. Louis, Missouri, Lewis Hine.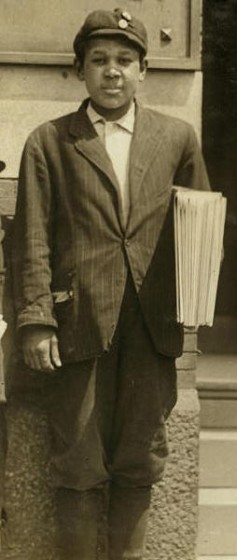 According to the 1910 census, Owen and Marvin were white, so the African American newsboy was "de other feller." African American children are rarely shown in Lewis Hine's child labor photos. The most widely accepted explanation for this is that almost all of the companies he investigated, such as cotton mills, glass factories, coal mines and fish canneries, hired only white workers. And in the case of newsboys, it would have been unusual for white-owned newspapers, most of which marketed to white audiences, to use non-white children to peddle their papers. One has to wonder why Hine did not identify the other boy. I offer a possible reason: the white boys may have felt more comfortable giving their names to Lewis Hine, who was also white.
The unidentified African-American newsboy appears older than Owen, as he looks confidently at the camera. I wish I knew what the buttons on his cap were about. Since Hine didn't even give us his address, I had no place to start my search, so I persuaded the St. Louis Post-Dispatch to publish the photo to see if anyone recognized him. That method had worked for two other unidentified newsboys in St. Louis that I had researched. But this time, it did not. So he remains unknown.
Who was this anonymous newsboy?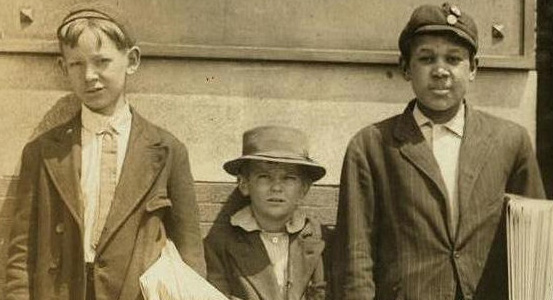 Three boys, three different stories, all unfinished.
"Existence is a series of footnotes to a vast , obscure, and unfinished masterpiece." -Vladimir Nabokov, Russian novelist
*Stories published in 2013.
The beginning of this story of the three newsboys starts HERE