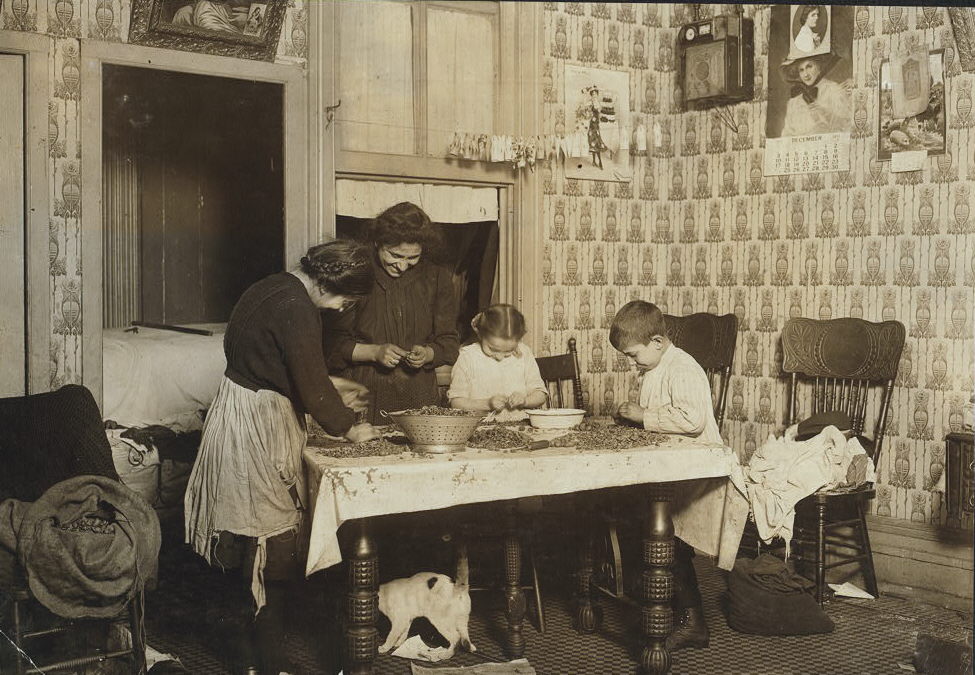 Lewis Hine caption: 143 Hudson St., ground floor. Mrs. Salvia; Joe, 10 years old; Josephine, 14 years old; Camille, 7 years old. Picking nuts in a dirty tenement home. The bag of cracked nuts (on chair) had been standing open all day waiting for the children to get home from school. The mangy cat (under table) roamed about over everything. Baby is sleeping in the dark inner bedroom (3 yrs. old). Location: New York, New York (State), December 1911.
The following are excerpts from Home Work in the Tenement Houses of New York City, a memorandum submitted to the New York State Legislature by Owen R. Lovejoy, General Secretary of the National Child Labor Committee 573, March 1, 1912.
Evils of Home Work
Spreading of Disease
Manufacturing in tenement homes is often conducted under very insanitary conditions. The photographs reproduced in Appendix 7 are illustrative of the filth and personal uncleanliness which exist sometimes in the preparation of food products. Manufacturing and preparation of various articles of wearing apparel and food products are in many cases carried on by diseased workers. The danger from this source, particularly in the case of food products prepared in the tenement homes and distributed widely for consumption requires no emphasis. Cases of work done in tenement homes by children suffering from contagious scalp and skin diseases, chicken-pox and tonsillitis are numerous.
Men, women and children suffering with tuberculosis and attending tuberculosis clinics were found picking nuts and working on feathers and dolls' clothes. In one family three members were attending the dispensary for treatment, all suffering from tuberculosis. All were working at picking nuts. In another case, a child eight years of age, sent home from school because of active tuberculosis, was later found working at willow plumes in a room lighted by gas in the daytime.
It is said that the evils of child labor prevail in connection with tenement house manufacture to an alarming degree. The number of children of school age found at work in their homes during school hours by our inspectors was quite small, but this fact should not be regarded as proof that the alleged growth of child labor in tenements is unfounded. It is probably quite true that many small children under school age are required or permitted to perform certain simple and easy tasks in connection with the various processes and operations incident to the work done in these homes. The work done by such small children cannot be very difficult nor can it be very heavy, but if the little ones are compelled to remain at work for long periods of time, an intolerable condition is brought about, and no effort should be spared to relieve their sufferings. As to the children of school age, it would be well if they were not permitted to engage in any manufacturing pursuit in their homes until they had reached twelve years of age. But in dealing with this phase of the subject, great care should be exercised so as not to foster willfulness and disobedience to parents. The sacred right of parents to order the conduct of their offspring and to teach them habits of industry and thrift should not be lightly invaded. Indeed, it should not be thought of except where the welfare of society demands that such a course be pursued. No legislation based upon any theory of regulation or prohibition, however plausible, should be enacted until the subject has been very carefully considered and the true state of facts ascertained.
Effect of School Attendance
A study made in one section of the city of New York of the average school attendance of a hundred children doing home work, disclosed an absence of twenty-nine and a half days per child out of an eighty-nine days' term. Children four years of age and upwards were found working after school hours, during meal hours and on Saturdays. The school work suffers and is neglected, and the education of the child seriously interfered with. In one case, a child eight years of age was reported for the defective class because she slept in the classroom in the morning. Investigation showed that the child was obliged to sew buttons on knee pants, and had to do a certain amount of work at home, irrespective of the time it took, so that every morning the child came to school in an exhausted condition.
Low Wages of the Home Worker
The tenement industry is without standards of any kind, and is essentially parasitic in its nature. The wage received represents the total earning of the family group, the mother (in some cases, the father, also) and the children. In nut picking, for example, the average day's work will net about forty cents for the family, which means at least five hours work a day for from five to six people. The highest wage was $12.00 a week for operating on dolls' clothes earned by the combined labors of the father, mother and three children from eight to twelve years of age, the children working after school hours and on Saturday.
The competition between the home workers themselves and between the home workers and factory hands reduces wages to a minimum. In some industries when work in the factory is slack, employees are laid off and put on part time, yet large amounts of work are given out to the home workers. In the manufacture of brushes, practically the entire article is made up in the home, only a small group of workers being employed in the factory to put the materials in shape for the jobber.
Cost of Home Work to the Community
By home work or tenement work is meant any kind of manufacturing done for a manufacturer, contract, or agent by persons not working on the premises or under supervision, the wages and rates of payment for these workers being fixed by the persons giving out the work. In its essence home work as thus defined is beyond control by law. In this State we have a Labor Code, certain sections of which expressly regulate conditions under which manufacturing may be carried on, but by giving out home work a manufacturer is actually able to evade his responsibility for complying with any of these provisions. His work may be done in unclean, unsanitary surroundings. It may be performed by little children or minors working long hours after 5 p.m. when the law frees the girl and boy workers in the factories, or by young girls working far into the night. Home work means unregulated manufacturing carried on beyond the possibility of control as to hours of women's work, child labor, night work of minors or cleanliness and sanitation of work places. From the point of view of the community, the greatest objection to home work is its lawlessness.
**************************
I found the family in the census soon after I saw this picture, and eventually found Joseph Salvia's California death record. He died in San Diego. When I could not obtain his obituary, I went to the Internet White Pages and looked up all the Salvias in the San Diego area. Amazingly, the first one I called, Ted Salvia, was his son. I emailed him the photo, and got this reply several days later:
"I received the photo. We shared the photo with cousins and my Aunt Anne. We are sure it is a photo of our family. My dad always said that his sister Anne looked like his mother, and the photo proves it for sure."
According to the 1920 and 1930 census, Thomas Salvia, the father in this family, came to the New York from Italy in 1890, probably landing at Castle Garden, which was located in the Battery section of New York City. It closed in 1891, and immigrants began landing at Ellis Island. His wife, Lucia Tancredi, arrived at Ellis Island in 1894. They were married about 1899. They had 10 living children in 1930. I interviewed Ted, who connected me with Camille's son, Peter, whom I also interviewed. The following is my interview with Ted Salvia.
Edited interview with Ted Salvia (TS), son of Joseph Salvia, conducted by Joe Manning (JM), on August 21, 2006.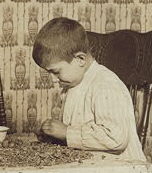 JM: What was your reaction to the picture?
TS: I was surprised. I was amazed at how much my Aunt Anne, who is 85 now, resembles my grandmother in the picture. She was my dad's sister, but she wasn't in the picture. The oldest child in the photo was Josephine. The one who was sleeping in the back room would have been Theresa.
JM: When you saw your father, the little boy in the photo, did he look like your father?
TS: A little bit.
JM: Have you seen photos of him at that age before?
TS: No. A few years after that picture was taken, they had a fire in that apartment building, and everything they had was lost. So there are no pictures of that era. No one was hurt in our family. They all got out in time.
JM: Where did they move to?
TS: They moved to Brooklyn. My dad said they moved in with his aunt, whose last name would have been Tancredi, my grandmother's maiden name.
JM: Were you surprised that Lewis Hine, who was working to expose child labor, chose to take a picture of your family in that situation?
TS: That was the one thing I questioned. They have smiles on their faces. I don't know if I would want to classify it as child labor. The family was doing it as a unit. Times were totally different then. If that is classified as child labor, then what about farmers who use their sons or daughters to help milk the cows?
JM: Did your father ever mention working at home like this?
TS: Never.
JM: Did your father tell you much about his childhood?
TS: He said that my grandmother made all their bread and pasta. And it was a chore for him, and for all the boys in the neighborhood, every Saturday, to take a pushcart, push it about 15 blocks, and bring back large sacks of flour for their mothers. There were 11 kids, but one died when she was six. My dad used to say that he never needed to go anywhere else to have a party.
He went to school only through the eighth grade, and then started working to help support the family. He would talk about going down to the market to get stuff. When his dad worked for the New York Central Railroad, they went out on strike. The company offered 17 cents an hour, but the union was holding out for 17 ½ cents. If you found a penny, you never passed it up, because you could get a lot of food for a penny. When I was growing up, he would always pick up a penny off the street when he saw one. I used to wonder why. If Dad changed the plumbing fixtures, he would keep the old ones. It was like precious metal to him. I find myself doing things like that now. He taught me not to waste things.
We lived two blocks from my grandparents, five blocks from the train station. My dad would get off work, walk home from the station, stop and see his parents, and then walk the rest of the way home. The family was always stopping by to check on everybody.
JM: When were you born?
TS: September 10, 1950, in Brooklyn. I have one sister. My dad was 47 years old when I was born. He didn't get married until 1945. My mother was 24 when she married him. Her name was Joan. She died in San Diego, on December 7, 2005.
JM: Was it a problem that your father was so much older than you?
TS: When I was growing up, when my dad got home, he was always too tired to play baseball. But I'm not criticizing him. He was very caring.
JM: Your father was a New York City policeman.
TS: When my father was 14, he tried to register for the draft by lying about his age, and his mother came down and told them the truth. In 1921, he joined the army and got out about three years later, then joined the police in 1926. He started as a patrol officer, and later he was a warrant officer assigned to family offenses court. He worked with domestic violence cases. His job was to find and arrest persons who had abused their spouses, and other cases like that. He would also intercede in cases as they were happening. He often told me about situations where he had to take weapons away from people.
JM: How big was he?
TS: He was 5′ 8″. He was very strong. He used to work out a lot at the police gym.
JM: Where did you live in Brooklyn?
TS: The Bensonhurst area. We lived at the corner of 54th and 20th Avenues. We had a single-family house. We lived there until 1964. That's when he retired, after 38 years on the force. He retired as a warrant officer. He loved his job. In 1963, both his parents passed away. His sister Anne lived in San Diego, and he liked it there, so that's where we moved to. I didn't want to do it, because all my friends were in Brooklyn. We actually lived in La Mesa, right outside San Diego, in the suburbs.
JM: What do you do for a living?
TS: I am an engineer in the telecommunications business. I went to college, but I ended up about 15 units from graduating, because I got a good job with Western Electric. Somehow, I never got drafted. I have three children. I got married in 1974.
JM: How close were you to your father's parents?
TS: I saw them all the time. In the summer, they used to take care of my sister and me when my parents were working. At that time, my mother was a waitress. They spoke broken English, but I could understand. They often spoke Italian to each other and to my father, who could also speak Italian.
My grandfather (Thomas) was married previously. Josephine was from his first wife, who died in childbirth. Then he married Lucy. My dad is the oldest of Lucy's children. His sister Camille, who is also in the photo, married Peter Greco. Then she and her husband lived in the house next to my grandparents, who lived at 1970 52nd St. She lived at 1972 52nd St. Sometime after my grandparents died, Peter passed away, and Camille moved in with her daughter in New Jersey.
Dad had three sisters who never married. Josephine was one of them. So were Florence and Theresa. When my grandparents died, they were still living in the same house in Brooklyn that they grew up in. In the 1970s, they sold the house and moved to Harrington Park, NJ. My dad's sister Ellen lived in Long Island, where two of his brothers also lived.
My dad had a lot of love for the city of New York. As a child, I can remember him taking me down to Wall Street. If you stand where the Federal Reserve Bank building is, there's a statue of George Washington. You will find chips in the granite. He told me about the anarchists who had a horse-drawn wagon that they blew up right in front of the bank. It killed the horses, but luckily no people were killed. He pointed out to me that it never touched the statue of George Washington.
He could tell you about history, about Sacco and Vanzetti. He was working in the police department when a lot of this happened. As far as dates, he was like an almanac. He had a lot of pride in what he did and where he lived. He went back a few times.
JM: Did you ever go back to Hudson St?
TS: No. That whole area was eventually demolished. I never saw the building. When I saw the Lewis Hine photo you sent me, it was the first time I saw the inside of their apartment.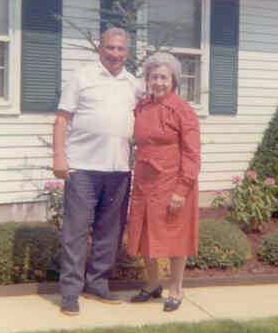 Joseph Anthony Salvia was born on May 13, 1903, and died August 22, 1991, at the age of 88. Josephine, also in the Lewis Hine photograph, was born on June 27, 1898, and died January 15, 1990, at the age of 91.
**************************
Edited interview with Peter Greco (PG), son of Camille Salvia. Interview conducted by Joe Manning (JM) on November 26, 2007, and again on July 28, 2010.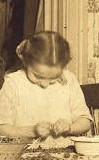 JM: How did you react to seeing the photo for the first time? And what do you think about the caption?
PG: I find the photo a very insightful look into my grandmother's life. And to see my mother as a child was rather eye opening, in addition to seeing my Uncle Joe and Aunt Josephine as well. The home on Hudson Street, to which my mother made reference many times in her life, was a rental, no doubt. I noticed the carpet in the lower right of the photograph was in disrepair, something that they would not have chosen to fix themselves. I'm sure the landlord didn't see any reason to do anything about it either.
The room was a work room. It may well have been the kitchen. It looks like they are sitting at a kitchen table. The caption says it was December 1911. It looks like the time on the clock is 12:30, or at least a time before 3:00. My mother would have been old enough to go to school at that time. Could it be a weekend?
JM: I believe it's during the week, because Mr. Hine said, 'The bag of cracked nuts on chair had been standing open all day waiting for the children to get home from school.' They had no children who were older, so I think he means that he had observed the open bag of nuts before the children came home. Perhaps he waited for them to come home before he took the picture. It's hard to know for sure.
PG: If I am correct about the time, then it's either a Saturday or Sunday, or a school holiday, and the caption is wrong. In any case, there was never any pressure on the children to support the family, even though there were 10 children in the family at the time the last one was born. My grandfather was a stevedore for the railroad. I was told that he often shined shoes on weekends in a subway station. We often read about families being large at that time so that parents could rely on them to help bring home the bacon, but I don't think that happened in this family. I know that when the kids left high school, they went to work and they contributed to the upkeep of the family.
JM: Are you surprised that your grandmother was shelling nuts at home to make money?
PG: When I was growing up in the 1930s and 1940s, I never saw her do piecework, although that was common in the neighborhood in which I lived. She would keep herself busy with housekeeping chores and preparing meals. Crocheting was a favorite pastime. She would shell peas for hours. She always bought things in large quantities for her large family. In the photograph, it may well be that the nuts were brought in to be decorticated or shelled for re-packing for some company. I don't deny that. But I find it difficult to believe that she would have pressured the kids to do it. If the caption suggests pressure, it has to be righted. This was a close, cooperative family.
JM: This was one of a large collection of photos Hine took for the National Child Labor Committee to investigate work that was being done in the home, as opposed to a factory. They showed various types of work, mostly work for the garment industry, and in some cases, shelling nuts or working with other food items. The thrust of the investigation was to show two things: children worked at home, and food was being handled under possibly unsanitary conditions. That's why he mentions the cat and the condition of the home. We can't be sure whether your grandmother was relying upon the children to work. Maybe they were doing it voluntarily, perhaps as a family activity.
PG: Like sitting around the table doing a jigsaw puzzle, as was common on weekends.
JM: One of the purposes of my project is to try to offer some context for the Hine photographs. The validity of his work has not been strongly challenged, but a photo can tell you only so much. Who is to know, a century later, what was really going on in the photo?
PG: When I was in the third grade, we moved from a home on 54th Street, Brooklyn, to 52nd Street, where my grandparents lived then. We lived next door to them, so I was in there virtually every day. I would often see my grandmother working on some project, such as shelling beans or preparing greens for the evening meal. She would patronize the peddlers who were at the time allowed to move around New York with trucks full of produce. She would get a bushel of this and a bushel of that.
They probably had one or two closets in their home. People didn't have many clothes to hang in closets then. So to see what may have been clothes strewn on the chair in the picture is not surprising. Not once in my life did I hear my mother or any of her brothers and sisters even intimate that they were less than reasonably cared for as children. I never heard the words 'poverty' or 'poor.' I'm sure they never lived high on the hog; I remember one of my aunts telling about my grandmother watering down the sauce if she had to. I never heard anyone express any resentment, but only fondness for their parents and for one another. I think that would have been the case in most of these families.
JM: I saw what some of these places looked like at the Lower East Side Tenement Museum. You could get a sense of how small they were, and how dark they were, and how they had to climb a lot of narrow steps to get up to them. The room shown in the photo looks very much like that.
PG: I grew up in a three-story brick home that was old enough to have had illuminating gas instead of electrical wiring. It was not commodious but was quite adequate. Interestingly, my father sold it for $25,000 in the 1960s. That part of Brooklyn has now been gentrified, and the property is assessed at over $800,000.
JM: Was your mother a high school graduate?
PG: I assume she was. I know the last five kids were. And I am pretty sure that the older ones, Florence, Theresa, my mother, Joe and Josephine, were graduates, too. My grandmother was illiterate, and English came to her with some difficulty. So Josephine must have played a primary role in the education of the kids, along with the public schools. I think that anyone of them would have done well in college if they had gotten the chance. Florence was a stenographer until she retired, and a good one. Frances 'skipped' three half-years in school. Grammar and usage were important concerns; their penmanship was special , spelling flawless.
JM: When did your mother get married?
PG: I think it was in 1929 that she married Peter Greco.
JM: Was she working at that time?
PG: Yes, she was a dressmaker for one of the garment shops. She made a lot of my sister's clothes when we were kids.
JM: Did she work the whole time you were growing up?
PG: She never worked after I was born.
JM: Do you have any siblings?
PG: Just my sister Barbara, who is four years younger than I.
JM: Did you go to college?
PG: I went to Fordham, and subsequently to Columbia, from which I received a doctorate in geographic education. I was a teacher in the public schools. Then I taught at the University of Chicago, Syracuse University, and what is now called Western Oregon University. I finished my career as a high school teacher, as a result of a reduction in force at Western.
JM: How were you able to afford college?
PG: I went to Columbia on the GI Bill; I had been in the Army. My dad put me through Fordham. He worked in the insurance industry in downtown Manhattan. He also had a brokerage business on the side. He was very good at it, and a good provider. I didn't have to work for wages when I went to college, unlike some of my classmates.
JM: Did your parents live in Brooklyn all their lives?
PG: They moved to New Jersey about 1967, where my sister had bought a home. They lived about a mile away from her. My dad died in 1969. At that point, my mother asked her sisters to move in with her, but that didn't work out well. So she moved in with my sister. Finally, she had to go to a nursing home because my sister couldn't handle her physically anymore, and she died there about two years later, at age 95.
JM: What was your mother like?
PG: Mom was soft-spoken, a word merchant and grammarian. She had great composition skills, and she was also a good mathematician. I relied on her significantly when I was in school; I did well in school, in large part because of her. She was given to aphorisms that you and I grew up with, such as 'A stitch in time saves nine,' and so on. One of my mother's most important memories was a fire they had in their apartment when she was a girl. She hurt herself escaping from the house. She lived for many years with pain in her leg, a condition that, today, would call for a hip replacement.
Mom was conservative in her politics and a deeply religious Roman Catholic, not unlike the Salvias in general. My parents were pretty straight-laced. They had a deep sense of responsibility. My mother dedicated herself to her husband and children. She spent a lot of time preparing our meals; whatever needed doing, she did selflessly and lovingly. She was very frugal. Whenever I think of the Salvias, I think of the old adage about the Overseas Chinese: 'They made $10 a week and saved $12.'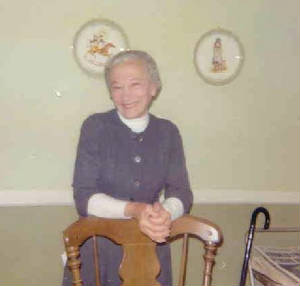 Camille Salvia was born on March 6, 1905, and died on May 16, 2000, at the age of 95.
*Story published in 2007, and updated in 2010.