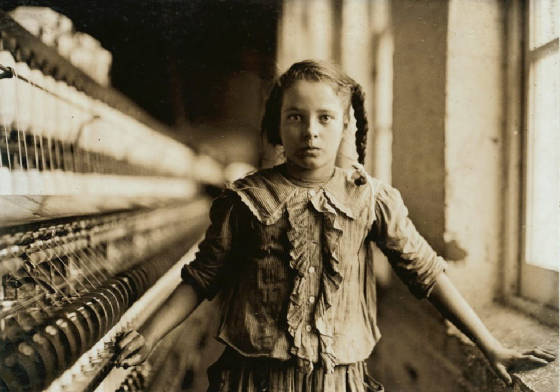 Lewis Hine caption: One of the spinners in Whitnel Cotton Mfg. Co. N.C. She was 51 inches high. Had been in mill 1 year. Some at night. Runs 4 sides, 48 cents a day. When asked how old, she hesitated, then said "I don't remember." Then confidentially, "I'm not old enough to work, but I do just the same." Out of 50 employees, ten children about her size, December 1908.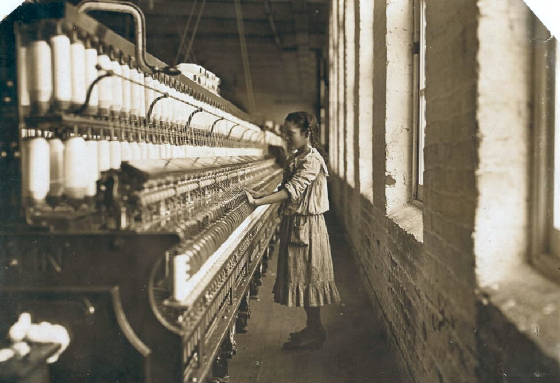 Lewis Hine caption: same as top photo.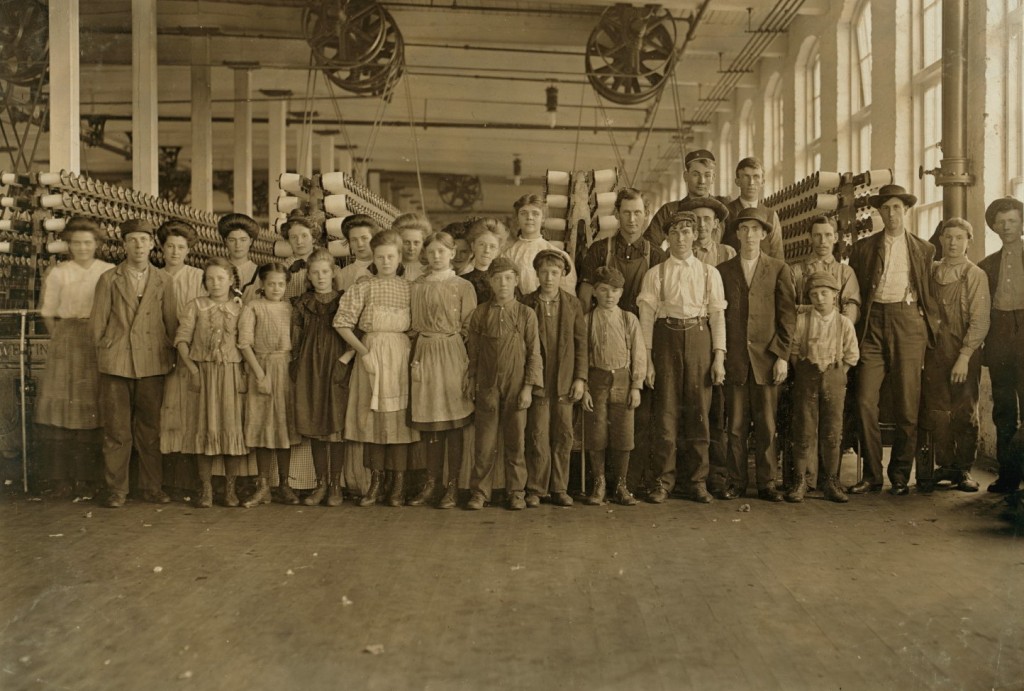 Lewis Hine caption: This shows the number of small children on the day shift (50 employees in all) Whitnel, (N.C.) Cotton Mfg. Co. Nearly as many small ones on night shift. This is a new up-to-date mill. Location: Whitnel, North Carolina, December 22, 1908.
It has been 100 years since Lewis Hine began his work as a child labor photographer for the National Child Labor Committee. He had spent the first few months of 1908 in New York City, taking pictures mostly of newsboys and families doing work in their tenement homes for the garment industry. In August, Hine began his first extended journey, traveling to Ohio, Indiana and West Virginia, documenting mostly children working in glass factories and the street trades. By the time he headed to North and South Carolina in November, Hine would have been acutely aware of the conditions under which young children toiled.
At that time, the Carolinas were fast becoming the center of the textile industry in the South, and children were a significant part of the labor force. Much of the work in cotton mills required only a little practice to learn, so children and otherwise unskilled people adapted quickly. Apparently Hine was not completely prepared for what he saw, because his captions became increasingly critical, occasionally even sarcastic, as he found himself exposed to what he would later describe as some of the worst child labor conditions he encountered.
In December, he made a brief visit to the Whitnel Cotton Mill, in the village of Whitnel, on the outskirts of Lenoir, North Carolina. He photographed one girl three times, twice by herself, one of those pictures later becoming one of Hine's best-loved and most exhibited portraits — and for good reason — the girl is strikingly beautiful and the lighting and backdrop is haunting.
When I first saw it, I was very disappointed, because there was no name in the caption. Up to that point, I had been choosing photos with at least one person named. But I couldn't resist this one. After giving it some thought, I decided that the best way to identify the girl was to get the local newspaper (Lenoir News-Topic) to publish the photo and an article about my search, hoping that some reader would recognize her. A reporter, Gina Story, took an interest in the idea, and soon after, the photo appeared.
Within days, I received an email from Joey Hoyle, who was almost certain that the girl was his grandmother, born Cora Lee Griffin. He told me that his mother, Esther Hoyle (Cora's daughter), wasn't quite as sure, but that her eyesight was gradually diminishing. There were no photos available of Cora as a child, or even as a young adult, but they did have several of her when she was in her seventies, so they sent me those. I was immediately persuaded, but decided to refer it to Maureen Taylor, a well-known expert in the field of photo identification. She concurred convincingly that Cora Lee Griffin and the girl in the Hine photo were the same persons. See more about this identification process later in this story.
Cora Lee Griffin was born July 12, 1896, in Caldwell County, North Carolina. She was the daughter of Daniel Perry Griffin and Caroline Collins Griffin. She married David Cresson. In the 1910 census, Cora is listed as a spinner in the cotton mill, and her father and four of her sisters also work there. In the 1920 census, she is living with her husband and two children, two houses away from her parents. She is still a spinner at the mill, and her husband also works there. In the 1930 census, she is no longer working, her husband works at a furniture factory, and they have four children.
Cora's husband, David, passed away in Lenoir in 1968. Cora passed away on June 3, 1985, just short of her 89th birthday. She was survived by two sons, three daughters, eight grandchildren, eight great-grandchildren, one brother and one sister. A hundred years after she was photographed by Lewis Hine, she has finally been identified, and her little place in history is firmly established.
Edited interview with Esther Hoyle (EH), daughter of Cora Lee Griffin Cresson, conducted by Joe Manning (JM), on February 1, 2007.

JM: How did you feel when you realized that the girl in the picture was your mother?
EH: I guess I wasn't totally shocked, because I knew her background. She often spoke of those early years when she had worked. One thing that came to mind is the fact that she used to talk about how much she took pride in her work. She also said that her boss man, as she called him, liked her work and liked her. So I think it was likely he would have chosen her, if Lewis Hine had asked for a child to pose for a picture.
JM: What was your mother like?
EH: She was about 5' 3", not a very tall woman. She was of medium build and had dark hair. Her heritage includes some Cherokee blood. Most of the time, as I remember when I was growing up, she had long hair and wore it in a bun in the back. She was one month short of 89 when she died, and her hair was about half dark and half white then. She had gray eyes. She always got compliments about her skin, which was really clear and smooth. She didn't have any wrinkles until she was old. She was not a flashy person. I don't remember her wearing gay colors, mostly grays and greens and blues. But she always dressed me in bright colors.
JM: When were you born?
EH: April 15, 1926. Grace was the oldest child, born in 1915.
JM: How long had your mother been married when Grace was born?
EH: I think it was two years.
JM: Did your mother marry somebody at the mill?
EH: No. My father had come from Little Switzerland, which is a town in the Carolina mountains. His name was David Cresson. His ancestors were from France, and he pronounced his name Cress-′ahn. He came to Lenoir to work in the furniture factories. They were beginning to boom then, and they needed workers. I think they met at church, but I am not sure about that. She was a Baptist, and he was, too.
JM: Did your mother work at the mill when you were a child?
EH: No. As far as I know, she stopped when she got married. She was a stay-at-home mom. She never worked again outside the home.
JM: Where was your family living when you were born?
EH: In Lenoir.
JM: How far from the Whitnel Mill?
EH: About four miles.
JM: Is the village of Whitnel still there?
EH: Yes. The mill buildings are still there, but they have been converted to other things. The textiles have gone elsewhere, so there are other businesses there now.
JM: Did you ever see the place where your mother worked?
EH: Yes, I have been in that mill. I remember as a little girl, I had an aunt who worked there, and several times, I had occasion to go with her and see the inside.
JM: What did your mother do in the mill? In the photo, she was standing in front of a spinning machine.
EH: That's where she did most of her work, I think. She used to say, 'I kept my spools going.' Her boss thought she worked as well as an adult. But she had to stand on a box to do it.
JM: When you were growing up, did she ever talk to you about working in the mill?
EH: Yes.
JM: Were you interested?
EH: Not especially, although it amazed me that someone at my age then had been working and earning money.
JM: When Lewis Hine photographed your mother, it was the first year he was taking the child labor photos. He visited the textile mills in the Carolinas and in Georgia, and reported that the conditions were terrible and that many of the children were under the legal age to work. Looking at it 100 years later, do you think your mother was in a bad situation, and that it shouldn't have happened?
EH: I do, because I know that she had regrets about not getting the education she had desired. She only got as far as the sixth grade. At that point, she started working full time. I was glad she had a kind, considerate 'boss.' Many of the children were not so lucky.
JM: Was she doing it to help support her parents?
EH: Yes, she was helping out the family. Also I am not sure her parents recognized the importance of an education at the time. Her mother and father were farmers. Eventually, her father acquired quite a bit of rather valuable property, and they were pretty well off by the time he died, but by no means were they rich.
JM: How many brothers and sisters did your mother have?
EH: There were nine children, I think – seven girls and two boys.
JM: Did all of them work at the mill?
EH: I don't think all of them did. I think the youngest one, a boy, finished school and worked in the furniture factory.
JM: How long did your father work in the furniture factory?
EH: Until he retired. He worked for several different ones. The last one was called Kent-Coffey. Most of the time, he worked in the finishing room. He did the last coating before the furniture was shipped out. He was a very loving man, and also very faithful to his work. He had asthma, but he would still get to work every day, even when my mother thought he shouldn't.
JM: What kind of house did you grow up in?
EH: It was just a wood frame house. It was in the Lenoir city limits, within walking distance of downtown. But I was born at my grandparents' house because, at that time, my parents were building our house, and we didn't move into it until I was six weeks old. I lived in our house, except for four years when I was in college, until I got married. It's still there. I had a nice grandparents' day the year before last. All six of my grandchildren came and we visited some of the places I thought they should remember. So we went to the house, and the lady who lives there let us go through. She's made some changes. My parents lived in that house the rest of their lives. My father died in 1968. In the last couple years of her life, my mother sold the house and lived with my oldest sister. The house was on Reform Street. The Reform Church was down the hill from us.
JM: When you were a child, did you ever work?
EH: When I was in high school, I worked on Fridays after school and all day Saturday at a dry goods store in Lenoir.
JM: Did you graduate from high school?
EH: Yes. I graduated from Lenoir High School in 1944. I graduated from UNCG (University of North Carolina at Greensboro) in 1948, with a degree in English and Greek. And then I got married and went back and got my master's degree in English from Appalachian State University. I also earned graduate certification in library science. And then I taught for 33 years, the first 10 years in high school, and then 23 years at Caldwell Community College.
JM: How old were you when you got married?
EH: I was 24 when I married Joseph Hoyle.
JM: What did your husband do for a living?
EH: He owned a dry cleaners in Lenoir. When he retired, he started helping our son Joey in his furniture store. The store is close to the mill where my mother used to work.
JM: You said that your mother regretted that she didn't finish school. I'll bet she was thrilled that you went to college.
EH: She was determined that all of us would graduate from high school and then go as far in college as we wanted to, so all of us went to college. One of my sisters and one of my brothers chose business schools. My oldest sister was business manager for Patterson School, which is a private school in Lenoir. My older brother was traffic manager for a trucking firm and eventually owned his own trucking company. One sister graduated from UNCG ten years before I did, and she taught in public schools in the elementary grades for more than 30 years. My younger brother graduated from Wake Forest University, earned a Master's from Southeastern Seminary and received his PhD from Duke University. He was a professor for 37 years at Baylor University in Waco, Texas. He's also an archaeologist, and for 25 years, during the summer term, he did archaeological digs in Israel with students from Baylor. My younger brother Bruce and I both made Phi Beta Kappa.
JM: In the last few years of her life, was your mother in good health?
EH: She had several falls and broke some bones, but she recouped from them and did pretty well, and took care of herself until the last year. And her mind was good until the last couple of days of her life.
JM: When she was a lot older, did you have any discussions with her about her childhood?
EH: Yes.
JM: Did she tell you things that you don't remember her telling you when she was younger?
EH: No, they were always the same.
JM: Did she talk fondly of her childhood?
EH: Well, yes. She was not ashamed of her work. She seemed to think she did well with what she had to do at the time. But she wanted an education, and really valued it, and it was a priority with my parents that we got a good education, whatever it took to send us to college.
I'd like to tell you a couple more things. My mother loved music. I have fond memories of her singing a lot and teaching us little songs. Some of them are published in Appalachian folklore books. She played the pump organ very well. We had one in the house. When she was first involved with church work, the church had a pump organ, so she played for the church. Then the church got a piano, and we got one, too, but she was never as proficient with the piano as she was with the pump organ. I like to sing, too, though I've had only a couple of semesters of professional training. I still sing in the church choir.
The other thing is that she was very devoted to the church. In my earliest remembrances of her, she was a Sunday school teacher, and she worked with the young children. I know she did that for at least 55 years, until she was in her eighties. She was a good Christian woman. She was a strict disciplinarian, and I used to say, 'I'm not going to do that; I'm not going to be that way with my children.' But, you know, I did become just like her.
There is another thing I remember about my mother from my teen years onward. My mother seemed to be the confidante of all her sisters and one of her brothers. They always shared their problems with her, and often they sought her advice. They evidently felt they could trust her. Her parents also trusted her, for she was the one they appointed to be the administratrix of their estate.
The following shows how the girl in the photo was identified, using the resources of the family and Maureen Taylor.
"Thank you for asking me to consult on comparing a Lewis Hine photo of an unnamed girl from North Carolina to pictures of Cora Cresson. Facial comparisons involve matching details present in one picture with those in another image. Key elements of a person's face help with identification – shape of ears, eyes, noses, lips as well as hairlines and facial shape. For instance, the girl has a distinctive hairline, large forehead, and long ears. These features match the photos of Cora. There are two major differences. First the two have different shaped noses, but this might be related to the facial surgery Cora had as an adult. Secondly, the girl has prominent lines under her nose. Cora doesn't, but that could be something that changed as she aged. In the photo of the girl her lips look fuller, but her expression is serious. In Cora's portraits she's smiling, thus stretching her lips. I believe that the two pictures are of the same person." -Maureen A. Taylor, www.PhotoDetective.com
Maureen A. Taylor is a Boston-based writer and photo editor with more than two decades of freelance experience. She writes, teaches, and lectures on her favorite topics – family history and photography from daguerreotypes to digital imaging. She has written for national magazines, academic periodicals, the Internet, and is the author of several books.
"Look at the side view of this girl – namely the ears. That view is the most closely favoring the Lewis Hine photo. She has aged 58 years more in the black and white photo, and 62 years more in the color photo. When she was younger, she had two front teeth protruding. Later, she got false teeth and had facial surgery. Also, most of us have a cleft in our chins." -Joey Hoyle, grandson of Cora Lee Cresson
*Story published in 2008.