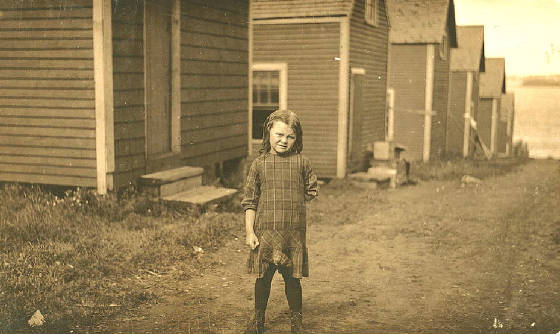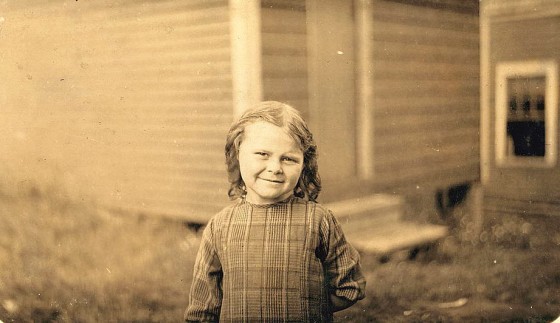 Lewis Hine caption (both photos): Elsie Shaw, a 6 year old cartoner in the summer, Seacoast Canning Co., Factory #2. Her father is boss of cutting room in Factory #1. He asked me to take some photos of her, as he has her do a singing act in vaudeville in the winter, "and she's old enough now to go through the audience and sell her own photos." Location: Eastport, Maine.
Elsie presented me with an especially daunting search. Thanks to an unusually large digital collection of Maine birth, death and marriage records on the Internet, I was able to track down her granddaughter, who had been very close to her. She knew nothing about the photo, nor was she aware that her grandmother had worked in a sardine cannery as a child. When I emailed her the photo, she replied: "That's Nana!!! No mistaking that chubby, cherub-like face."
Elsie M. Shaw was born in Eastport, Maine, on December 4, 1904, to Arthur and Mary Shaw. Arthur was born in Maine about 1880 to Edward Shaw, a native of Canada, and Sarah Shaw, born in Maine. Mary was born in Maine about 1873.
Mary had been married before, to John Carr, who worked in the sardine canneries in Eastport. Mary and John had two children, Alice, born in 1891, and Leo, born in 1897. She and John were apparently divorced shortly after 1900, and she soon married Arthur. She worked for an undetermined time in the Eastport sardine canneries. Arthur also worked in the Seacoast Cannery in Eastport, where Elsie worked. Later, he moved his family to Calais, Maine, where he worked as a carpenter.
Elsie married Frank O. Eary, in Maine, on October 27, 1923. He was born in Maine, about 1899, to Walter and Wilda Eary. He served in the US Navy in 1918, and then lived for a while with his parents in Calais. Elsie and Frank had two children, Franklin Arthur, born Aug 6, 1927; and Patricia Shaw, born July 27, 1928. They were divorced around 1929, after which she and her two young children lived with her parents for a time before moving on to Portland.
Patricia Shaw Eary married Herbert J. Bombard Jr, in Portland, Maine, on April 23, 1946. He was born in Quincy, Massachusetts, on December 14, 1925, served in the Navy, and was later employed by the post office in Portland. They had three children: Peter, born in 1947; Pamela, born in 1950; and Paula, born in 1953. They were later divorced.
While working in the Falmouth Hotel in Portland, Patricia met Lester Engler, originally from New York City and owner of the Falmouth Hotel. They 'courted' for a couple of years and later moved to Phoenix, Arizona, and married in 1956.
Elsie met Fred Neafsey in Maine, and they lived together as common-law husband and wife, she taking his name. After Fred died in the early 1960s, Elsie moved to California, where she was employed as a caregiver to an elderly 'Captain.' When her client died, she retired and moved to Arizona to be near her family. She died in Scottsdale on Sept 15, 1994, less than four months before her 90th birthday.
Elsie's daughter, Patricia Engler, died quite unexpectedly on February 8, 2000, in Scottsdale, Arizona. Elsie's son, Franklin, died in Douglas, Oregon, on February 28, 1992, following a very lengthy struggle with paralysis following an accidental shooting, and is buried in Roseburg National Cemetery, Roseburg, Oregon.
The following are excerpts from my November 2006 interview with Pamela Shaw-Reidy, Elsie's granddaughter. All family photos were graciously provided by Ms. Shaw-Reidy.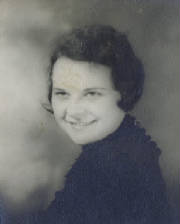 "My mum and dad divorced when I was very young and she worked two and three jobs just to keep us children fed. She did waitressing and bartending, day and night. So there are times during my very young life that I don't even remember my mother's presence. My Nana Elsie and Grampy Fred lived in Cape Elizabeth and there were periods of time that I lived with them and they were my primary caregivers."
"Before my mother remarried, we moved to a house on Veranda Street in Portland, right across from Casco Bay. It was a big beautiful brown clapboard house. Nana and Grampy came to live with us there. Grampy Fred was a traveling salesman. Nana told me many years later that they were never legally married, that it was actually a common-law marriage and she took his name."
"Nana worked in several department stores along Congress Street in Portland. She sold foundations and high-end cosmetics. I remember her telling me, 'Don't ever wash your face with soap, always use a good moisturizer, and stay out of the sun because you'll get wrinkles.' She was such a hoot!"
"My Grampy Fred was a tall, lanky Irishman, something like six foot six, and Nana was maybe all of five feet two. They were quite a pair. He was a magnificent dancer; he would hold me on his shoulders, hold my grandmother around the waist, and the three of us would dance while Nana sang."
"When I was a very little girl, my grandmother dressed me up like her little doll in full skirts with petticoats, white gloves and fancy hats. I was her prima donna. She taught me to sing and dance and I would bellow songs throughout the house at the top of my lungs. She taught me to speak like a young lady, to stand straight (she would balance a book on my head) and to smile, smile, smile. She also taught me how to play little tunes on the piano (we had an old upright in the house), to write my name and read and write letters and numbers before I was 3 (this, of course, pre-dates the day care/learning centers of today). She had a very proper manner, but a grand Irish temper. However, when it came to me, she had endless time and patience and got such a kick out of teaching me anything and everything she could."
"Nana was a very devout Catholic, and I recall us kneeling each night beside her bed and reciting 'Our Father Who Art in Heaven' aloud (I would fall asleep beside her while she read). She hated swearing and made up her own[Irish slang words to get her point across. For a tiny woman, she stood very tall, with a mighty confidence in her stride and a conviction in her speech that would have suggested culture, wealth and education."
"Nana loved to talk about the days when she was in vaudeville as a young child. She would tell me stories about performing on stage, singing and dancing and doing little skits. It was something that she went on and on about. When I saw the Lewis Hine photograph of her for the first time and learned that she was working in the fish canneries at six years old, I began to think her stories about performing on stage were a fabrication — a wish to be someone she was not."
At this point, I read the caption under the Hine photo: "Her father is boss of cutting room in Factory #1. He asked me to take some photos of her, as he has her do a singing act in vaudeville in the winter, 'and she's old enough now to go through the audience and sell her own photos.' Pamela replied with a gasp: "So she wasn't fabricating that story! Oh my gosh, thank you, thank you! That gives me goose bumps."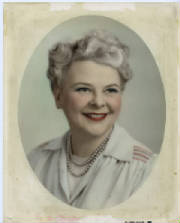 "Mum married my stepfather, Lester Engler, when I was six years old. Dad (he was the only father I really knew, so herein I'll call him Dad), along with his brother and father, owned hotels in New York City and the old Falmouth Hotel in Portland. That's where my mother met him. I believe she was a bartender or waitress in their lounge. He was quite smitten with her; they courted for a couple of years following Mum's divorce."
"Once officially engaged, they moved to Phoenix with my baby sister Paula in tow and married in 1956. My brother Peter and I didn't join them for nearly a year because they were building a house. So I lived with Nana Elsie and Peter lived with Nana Mary (Bombard)."
"Dad was a Lieutenant in the Navy (and was also a lawyer). When they moved to Phoenix in 1956, he became a licensed real estate broker (selling real estate to get a 'feel' for the city) and later changed course and built a successful law practice. When he and Mum married, she never had to work again."
"The relationship between my step-father/Dad and my brother was strained from the beginning. When Peter was about 11 years old, he and Dad had a serious falling out, and he returned to Maine to live with our biological father. That didn't work out, and he spent time with various members of the Bombard family until going into the Navy at 18. He returned to Phoenix many years later, reconciled issues with Dad, and with Dad's approval, even changed his name to Engler."
"Dad was 42 when he married my mother — she was 28. He was only 10 years younger than Nana Elsie. With the very narrow age difference and each being quite controlling, they never really got along, and he tried very hard to keep Nana and me apart; it created a great hardship for me, as Nana and I were very close. She seemed to have a sixth sense about me, and noticed or felt my highs and lows and likely knew me better than anyone. I think that bothered my Dad."
"Each summer, we drove back to the East Coast to spend time with my brother, my grandparents and other relatives. Nana and Grampy were living on Forest Park Avenue on the Eastern Promenade in Portland at the time. The summer of my 12th birthday, Grampy died of a staph infection following surgery for lung cancer. We were visiting when he passed away. A couple of years later, Nana Elsie came to Phoenix and lived with us briefly before moving to California, where she took a position as caregiver to an elderly widowed gentleman who was addressed as 'Captain.' He just adored her. When he passed away, Nana once again returned to Phoenix and lived with us for a short time before getting her own apartment."
"Nana always struggled financially. I remember my mother trying to help her get assistance when it was time for her to move into assisted care. Nana was never well off, but you wouldn't know it from her presence and her stature. She was such a proper lady, so elegant and amazing."
"Singing and dancing were my grandmother's obsessions. When she was about 80, she was diagnosed with colon cancer. She had surgery and all went well. When I went to the hospital to visit with her, she was still a bit groggy, but she was waving her legs in the air and swishing her arms/hands around and singing. I asked, 'What are you doing, Nana? Doesn't that hurt your tummy?' She said, 'I'm practicing my ballet steps. I have to be ready for the next performance.'"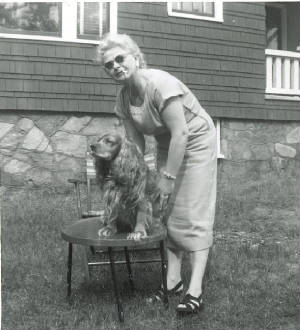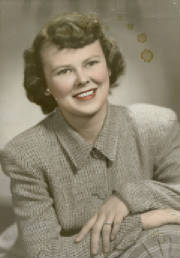 "My mother was a strong woman, but also one of the kindest and giving people you would ever know. Sadly, she never got over the guilt of allowing my brother to leave us at 11 years old to return to Maine — that she didn't get to raise him — that she missed out on his youth and his growing into a man. She loved her children very much but could no longer do battle with Dad and keep her sanity and our home together. She and Dad had a love-hate relationship for 40 years; however, she somehow finally reconciled the issues within herself and with Dad, and they had five or so very blessed and happy years before she passed away."
"The last several years that my mother could travel, she and Dad returned to Eastport, her 'home,' and the home of her mother, each summer for the Fourth of July. Eastport continues to host a doll carriage parade and contest where the children roll their doll carriages down the main street in full regalia, a memory from her childhood that drew her back again and again. The last time she visited Eastport/Calais was about 10 years ago, and she still recognized houses she knew as a child, and remembered families that had lived there. In fact, my folks had even considered buying one of the old homes and returning."
"My Uncle Frank was a dear man. He was his mother's son. I first met him when I was probably about 7 or 8 years old, when he and his family lived in Northern California. He was shot as an innocent bystander, in a local meeting center/tavern in Oroville. Some men had been playing pool and got into an argument. One of them left and came back with a gun and started shooting wildly, and my uncle was shot in the spine and paralyzed. Uncle Frank was an avid outdoorsman; he loved hunting and fishing. His wheelchair did not impair his will to continue those beloved hobbies; he continued fishing and hunting and taught himself rifle making."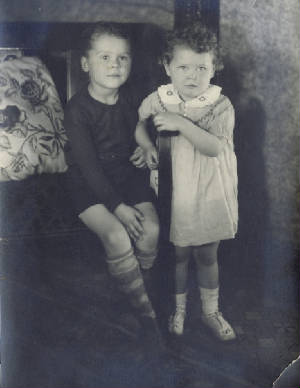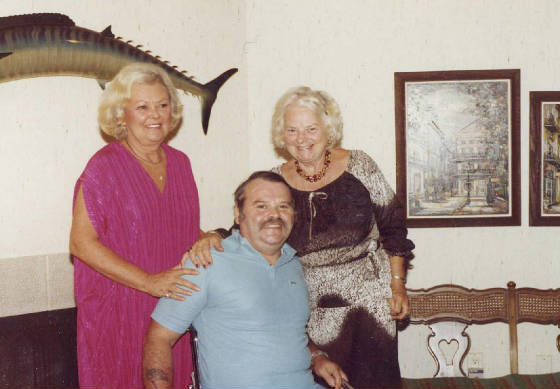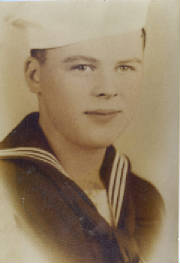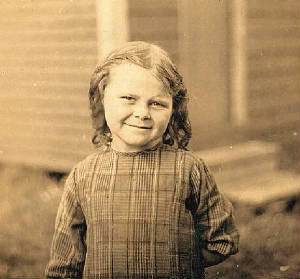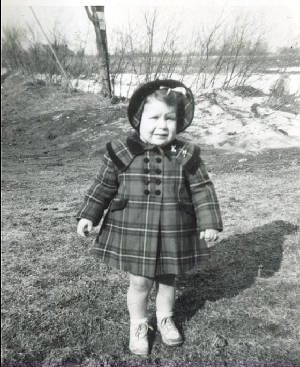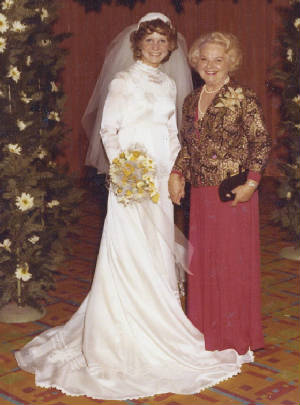 **************************
Elsie's surprising painting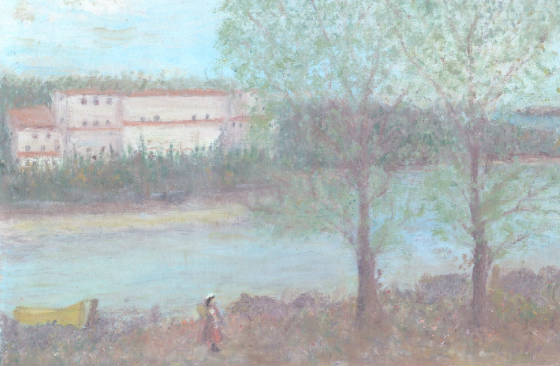 "Nana was always quite artistic. When I was very young, she bought a paint-by-numbers oil kit for me so we could paint alongside each other. Well into her 60s, she began oil painting again. I recently came across one of her paintings — one she had given me years before — it never really 'spoke' to me, so it was stashed in the back of a closet. Knowing what I know now, I took a second look at the painting and what I noticed was this: A body of water ran through the middle of the painting. On the near side of the water was a small wooden rowboat, pulled up onto the shore. There was a small child dressed in a white beret, a dark red skirt and dark ankle-high boots. She was apparently walking away from the boat, away from the water. On the far side of the water were several dirty-white buildings, all a few stories high, with red roofs and lots of small windows."
What I finally got from the painting was this: Nana was walking away from the factory, away from the tough, dirty, hard life she had known, putting it all behind her." -Pamela Shaw-Reidy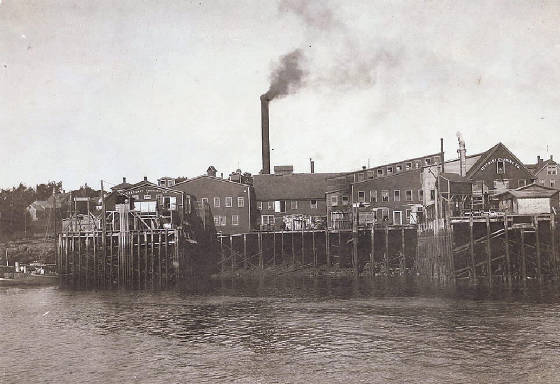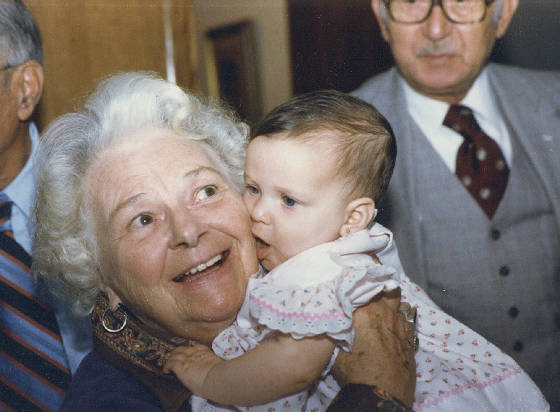 Elsie Shaw Neafsey
1904 – 1994
*Story published in 2007.