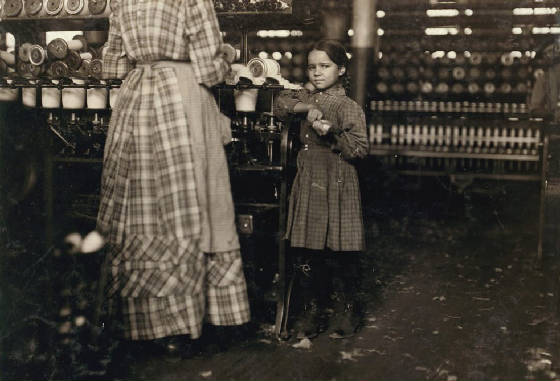 Lewis Hine caption: Little Fannie, 7 years old, 48 inches high, helps sister in Elk Mills. Her sister (in photo) said, "Yes, she he'ps me right smart. Not all day but all she can. Yes, she started with me at six this mornin'." These two belong to a family of 19 children. Location: Fayetteville, Tennessee, November 1910.
"She was very independent, and a very self-sufficient person. She was tough and strong willed. She had strong opinions. But if you looked at the record, she was usually right." -Peggy Smith, niece of Fannie Sweeney
**************************
"Good opportunity for intelligent girls to make a good living at easy work. The Elk Cotton Mill will begin work between the first and tenth of March and wants about 25 women and girls to work in the factory. A sprightly girl of 13 or 14 years of age can learn in a week to make from 50 to 75 cents per day. Widows with large families of girls preferred." -Advertisement (1900) reprinted in Touring the Middle Tennessee Backroads, by Robert Brandt, © 1995, John F. Blair, publisher
According to Tennessee: A Guide to the State, published in 1939 by the Federal Writers' Project, the state's child labor law, amended in 1901, and still in effect in 1910, stated that it was unlawful to employ a child less than 14 years of age in workshops, mines or factories. Under the previous law, children less than 12 were prohibited from working. The Elk Cotton Mill opened in Fayetteville in 1900, so at the time of the above advertisement, it was legal to hire children as young as 12.
At that time, it was common for textile mills to hire girls and young women as spinners and weavers, partly because their hands were smaller than those of boys and men, which made them well suited for the nature of the work. And girls were not expected or encouraged to finish school, but rather to work and help their mothers take care of the home, and to marry young.
Most families lived in villages where the presence of the factory dominated their lives. They worked there, played there, went to church and school there (if a school was provided), and bought their groceries at the company store. Young children saw their sisters and brothers go the mill every day and probably looked forward to getting their chance to earn money and feel like they were growing up.
That created an ideal environment for recruiting children for jobs that required the least amount of skill and paid the lowest wages. Often, small children would hang around the mills and "help" their mother or siblings, either because they wanted to learn, or because they would have otherwise been left unsupervised for periods of time. Little Fannie, as Hine called her, was a typical example.
I was captivated by Fannie's confident pose, and surprised how well-dressed she and her sister appeared to be. But I was disappointed that her last name was not given. Nevertheless, I started searching for her. I found only one possible Fannie in Fayetteville in the 1910 census. Her last name was given as Swening (or Swinney), and the mother reported that she had given birth to 18 children, 13 who were still living, and 11 who were in the household. The father and six of the children were working in a cotton mill. I was sure this was the right family.
I found Fannie again in the 1920 census, this time living on a farm in the village of Georgia, in Limestone County, Alabama. The father was listed as a widow. In the Social Security Death index, I found a Fannie S. Henderson, born in 1903, who died in Fayetteville in 1996. I obtained her obituary from the Fayetteville Library, and it identified her as Fannie Sweeney Henderson. Eventually, I tracked down and interviewed Peggy Smith, Fannie's niece, who lives in Fayetteville. She had already seen the photograph.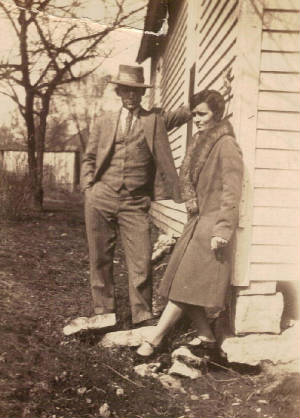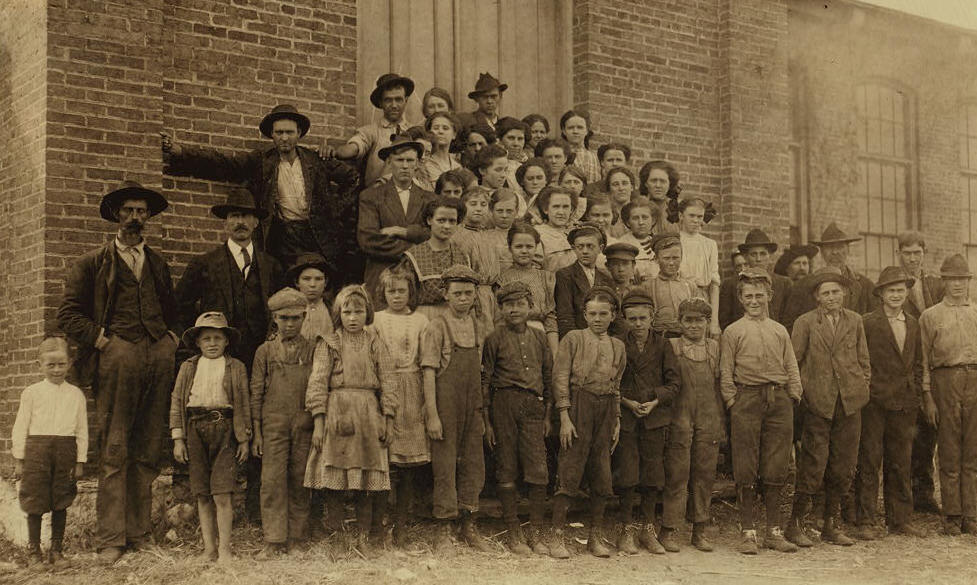 According to Peggy Smith, four of Fannie's sisters are in this photograph. Ella (left) and Ada (right) are standing in the back row, in front of the right side of the window. Ella is also the sister who is standing with her back to the camera in the photo of Fannie on the previous page. Annie and Mary are also in this photograph, in the middle of the second row from the bottom (Mary has her hair parted in the middle). See thumbnail photos for further clarification.
Edited interview with Peggy Smith (PS), niece of Fannie Sweeney. Conducted by Joe Manning (JM), on March 26, 2009. Transcribed by Hilary Buxton and edited by Manning.
JM: Fannie grew up in a very large family. Did she talk a lot about that?
PS: She reminisced quite a bit about it. They were a very close family. They stayed close in touch and got along very well with each other.
JM: Was there a time when most of the children were living in the house at the same time?
PS: Well, I have one picture of 13 of the children with their parents. The father, James Jefferson Sweeney, had two wives and 19 children altogether. The first wife died, and then he married the second wife, who was the mother of Fannie.
JM: What was the name of the first wife?
PS: I have a printout of the family history right in front of me. Her name was Artelia Foster. He married her on February 24, 1869. She died November 3, 1880, in Lynchburg, Tennessee. His second marriage was to Martha Jane Eslick, on March 20, 1884. The last child of that marriage was my mother, Lela. She was born in 1908.
JM: Were all of the children from the first marriage out of the home by the time the children from the second marriage came?
PS: Probably. Two of those children died in infancy. The family was living in Limestone County, Alabama, at the time that Fannie and my mother were born.
JM: What brought them from Limestone to Tennessee?
PS: Most of the children were old enough to work, so the family moved here to work in the cotton mill. They actually moved back to Alabama again, to Huntsville, a few years later, and worked in the mills down there. Then they returned to Fayetteville again.
JM: When they were in Limestone, did the parents work in the mills?
PS: No, they were sharecroppers.
JM: Did Fannie talk about working as a child?
PS: I remember her talking about being in the mill when they were children, and I heard the stories about how they would hide the children when the inspectors were around.
JM: The caption on her picture says she's seven years old. The family history information I have confirms that. That's pretty young. I presume she was helping her sister and hadn't become a full-fledged worker yet.
PS: I don't remember her talking about being a full-time worker at that age, but I know she did start work at the mills at a young age.
JM: Did she work at the mill after she got married?
PS: Fannie and her husband Frank worked at that mill all their life, until they retired. Frank died at the age of 61, and she worked a number of years after that.
JM: How many children did they have?
PS: Just one. Her name was Jean.
JM: What kind of a house did Fannie and Frank live in when they got married?
PS: They lived in a house that was close to the mill. They owned it. The house is still there.
JM: What about the house Fannie grew up in?
PS: I know of two or three of the mill houses that they lived in, and then later they lived in an area called Mulberry, out in the country near Fayetteville?
JM: When did Fannie marry Frank?
PS: January 5, 1923.
JM: Did she work while she was raising the one child?
PS: Yes.
JM: What did she do at the mill?
PS: She was what they called a winder.
JM: What was your Aunt Fannie like?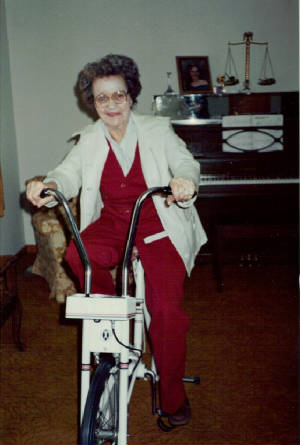 PS: She was very independent, and a very self-sufficient person. She was very frugal; in fact, you might say she was tight as far as money was concerned. She was tough and strong willed. A lot of people thought of her as a hard person, but underneath, there was a softness about her, and she had a funny side about her, too. She had a kind of a subtle sense of humor. If she was in the mood, she could be hilarious. She talked a lot about her church; she was strong about her Southern Baptist belief. She was a very moral person and thought everyone else should be. She was also very intuitive. She could size up anybody with just a little bit of intertwining with a person. Nobody could fool her. And she was very quick to tell you what she thought about something. She had strong opinions. But if you looked at the record, she was usually right.
JM: How far did she get in school?
PS: Probably not farther than grammar school. I know my mother went to high school a little when they were in Alabama, but I've never heard Aunt Fannie talk about it.
JM: Did her daughter Jean finish school?
PS: Yes, she finished high school and married soon after, which was against Fannie's wishes terribly, because June had wanted to go to business school, and then she didn't.
JM: Did Jean stay in the area all her life?
PS: She was here for a while and then lived in Atlanta. But she came back when she retired, but she died right after Fannie did.
JM: Did Fannie and Frank live in the same house all their lives?
PS: When they were thinking of retiring, they had another house built over closer to the city of Fayetteville. Just before Frank died, they had bought a little farm — they were going to move to the farm when they retired — but after he died they sold the farm and then she stayed in the house that they had built.
JM: So maybe if he hadn't died, they would have both retired?
PS: Yes, that's what they had planned.
JM: Did you know Fannie' parents?
PS: No, they were both dead before I was born.
JM: What did Fannie like to do when she wasn't working?
PS: She liked to sew and quilt and crochet. She loved what she called 'her shows' on TV. And she loved to intertwine with her family and have family gatherings.
JM: Did she have the family over at her house and cook for them a lot?
PS: It was probably just drop-ins, because our family was so large we had to rent a hall when we all got together.
JM: When were you born?
PS: 1935.
JM: When you were born, the country was in the midst of the Great Depression. Was the mill running at the time?
PS: I've heard talk about the struggles people had, but the mill ran the whole time. The wages weren't very good then, but the mill never closed. The owner was a local person who started the mill here, and from what I heard, he was good to the employees.
JM: When did the mill finally close?
PS: The mill was sold in the '60s or '70s to a North Carolina company, but it's still there. Somebody bought it, and I think they rent it out for storage space.
JM: What else can you tell me about Fannie?
PS: She had a kind of strange way of speaking. A lot of people in the family would try to imitate how she talked. She had a facial stroke from a car accident, and after that she would talk from the side of her mouth. She kind of had a nasal quality to her voice. There were a lot of times when she was going to tell you something and she would say, 'Here! Here!'
JM: Her obituary says she died in a nursing home. How long had she been there?
PS: A very short time. She had congestive heart failure. She went to the hospital, but because she lived alone, the doctor said she couldn't go home.
JM: So right up to that point she was functioning well?
PS: Yes, she was never sick. She wouldn't go to the doctors. She'd say, 'They'll kill you.' She hardly ever took medicine.
JM: You told me that you had seen the Lewis Hine photo a while back. How did you learn about it?
PS: I was doing genealogy research about six or seven years ago. I searched 'old cotton mills,' just to see what I would find, and the Library of Congress child labor photos came up. I put in Fannie, and her picture came up. I was just spellbound. The sister in the picture, the one with her back turned, was Ella.
JM: What do you think about the fact that Lewis Hine was using the pictures to expose child labor, and that he thought laws should be passed to prevent this from happening again?
PS: It was not that the children were being forced to do it. It probably wasn't any harder work than they would do at home, because people did all their own work at home by hand. In fact, being out of the house in order to do something else might have seemed kind of fun to them. I'm sure there were some families who made the children work. I've read stories of some of them, some parents who made children work under tough conditions when they were just too young to be working. I know that happened. What I noticed about Fannie's picture is that she and her sister were fairly well dressed. They weren't shabby looking or scruffy looking; they were very neat.
JM: I see what you mean. Fannie's hair is very neatly combed; of course, it's combed back like it should be when you work in the mill. And she's got this nice print dress on.
PS: And her sister has on a very pretty print dress. I'm sure it was homemade.
JM: It looks like Fannie is wearing decent shoes. A lot of the pictures of girls in mills show them barefoot.
PS: Well, as I said, it was a close-knit family. They had hardships, but I think they did well with making do, for the times they lived in.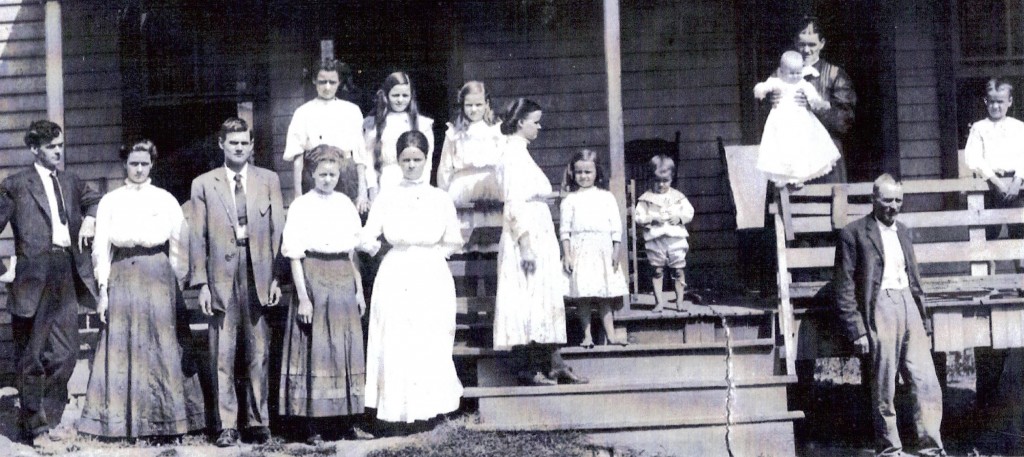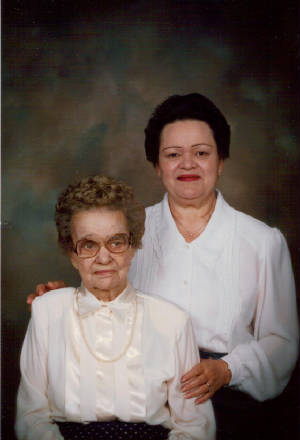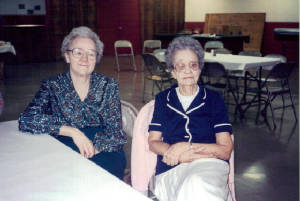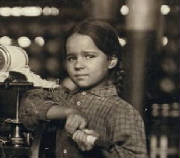 Fannie Belle Sweeney was born on February 5, 1903, and passed away on January 10, 1996, at the age of 92.
*Story published in 2009.