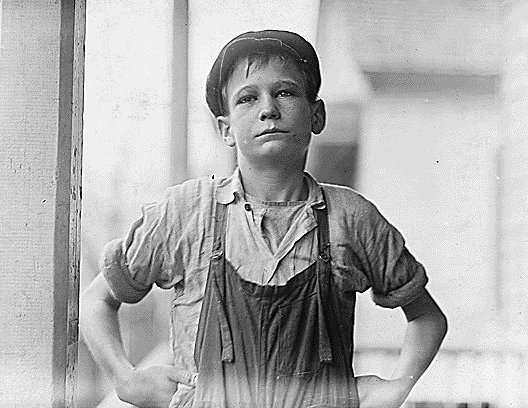 Lewis Hine caption: Fursen[?] Owens 12 years old. Can't read. Don't know A, B, C's. "Yes I want to learn but I can't when I work all the time." Been in mills 4 years, 3 years in Olympia Mill, Columbia, S.C. and 1 year here. Location: Augusta, Georgia, January 1909.
I fell in love with this photograph the first time I saw it. Lewis Hine captured something almost intangible in this boy, perhaps an inner spirit and the instincts and creativity to get through life no matter how difficult it might be. As I began my research, I hoped to uncover a story that would confirm what I saw in his face. I am happy to say that I did.
According to Lewis Hine and the National Child Labor Committee, textile mills in the Carolinas and Georgia were among the worst violators of child labor laws. At the time if this photograph, Furman was working at the John P. King Manufacturing Company (more about this mill at the end of this story). According to a report published on Sciway.net, the website for South Carolina Information Highway, the Olympia Mill opened in 1899 and closed in 1996. In 2007, it was renovated for upscale apartments. When it was built, it was the largest cotton mill under one roof in the world.
At the time Hine took the photo, the South Carolina child labor law prohibited employment of children under the age of 12, but that apparently didn't stop Olympia from hiring young Furman, if we are to believe Hine's caption: "Been in the mills 4 years, 3 years in the Olympia Mill." Even after children reached 12, they could legally work up to 60 hours a week.
Finding information about Furman was difficult at first. I had just started my research project, and I still had much to learn about where to look and what shortcuts to take. After finding his date of death in the Social Security Death Index, and then obtaining his obituary, I tracked down a potential great-granddaughter and called her up. She said there might be a lot of people named Furman Owens, and she wasn't sure the one I was calling about was related to her. She asked me where he was living when he passed away. I said, "Summerville, South Carolina." She replied, "Yep, that's him. When I was a little girl, every time I visited him, he would give me a silver dollar."
I told her I would call her again for more information, but strangely, she never returned any of my phone calls or answered any of my letters or emails after that. Thankfully, further research finally led me to his grandson, Ronald Owens, whose heartfelt interview on the following pages offers some colorful anecdotes.
According to several reliable sources, Furman Griffin Owens was born in South Carolina on March 6, 1896, the son of William Ashley Owens and Sena Belle Eubanks. The family did not appear in the 1900 census, but in the 1910 census, they were living, with eight children, in Barnwell, South Carolina, where the father worked for the railroad. The mother's name was listed as Bissie, which might have been a nickname.
In about 1919, Furman married Lillian Dantzler. In the 1920 census, they were living with a baby son in Charleston, South Carolina, where he worked as a machinist in the navy yard. In 1930, they still lived in Charleston, with four children, and he worked in a garage as an auto mechanic.
Furman Owens passed away in Summerville on August 10, 1980, at the age of 84.
Interview with Ronald Owens (RO), grandson of Furman Owens. Conducted by Joe Manning (JM), on February 21, 2007. Transcribed by Jessica Sleevi and edited by Manning.
It was apparent when I interviewed Mr. Owens that he had prepared for it by assembling some materials from his family archives.
JM: Were you surprised by this photograph of your grandfather?
RO: Yeah. My daughter was just talking to me about it.
JM: Did you know that your grandfather worked in the mill?
RO: I know he worked and did a lot of different things as a child, but I didn't know he worked in the mill.
JM: How did you react when you saw the photograph of him when he was only 12 years old?
RO: Well, it reminded me of him.
JM: What did you think of the caption? It says he had been working in the mill since he was eight years old. Did you know that kids worked in the mills at that young age?
RO: I studied some of that in school. I never thought that one of them was my grandfather.
JM: How old are you?
RO: I'm 56.
JM: So you knew your grandfather quite a long time. What did he do for a living?
RO: Well, he retired from Charleston Naval Shipyard. He was a machinist, and he worked in the pipe shop, too. He did a lot of different things. I remember him telling me that he helped make some of the first radars ever made. He told me a lot about them. And he was in World War I. I was looking through some of his old papers. One of them says he enlisted in the Navy on June 9, 1917.
JM: Did he go over to Europe?
RO: He went to Africa and got shot in the back by a German. In fact, I believe that's why he got out early. He told me that the bullet hit his spine, and at that time, they were afraid to take it out. He was discharged on January, 4, 1918.
JM: Did he have any kind of physical problems later?
RO: These papers say that he had a 10% disability.
JM: Did he appear to have any disability or some kind of physical problem that he complained about?
RO: I know that he had retired from the shipyard under disability because he had an accident that had crushed part of his skull.
JM: What was your relationship with him?
RO: I was pretty close to him. He lived in Charleston for a good while, and then he moved here where I am in Summerville, after he retired. I lived right beside him. He had a mobile home right in my father's yard.
JM: Did he move there because your father wanted to take care of him?
RO: Yeah.
JM: So you were seeing him every day?
RO: Yeah, I'd see him every day.
JM: Do you have any brothers and sisters?
RO: I have one brother and three sisters. I was the youngest boy.
JM: Was your relationship with your grandfather closer than theirs?
RO: Oh, yeah. It sure was.
JM: What was your father's name?
RO: It was William Furman Owens. My father had a younger brother who was a junior.
JM: But your father was named after him, too, because he had Furman as a middle name.
RO: Right.
JM: What was your grandfather like?
RO: Well, he kind of stayed to himself. He always told me he was of Scotch-Irish descent. He always reminded me of that on St. Patrick's Day. And he liked to drink a little bit.
JM: Did he have any things he loved to do when he wasn't working?
RO: There was one thing he did when he worked at the shipyard. I got some bills here I'm looking at. He had a garage at the foot of the Grace Memorial Bridge, back in the forties. He had people working for him at his shop while he was working at the shipyard. When he got off work, he worked at the shop. He had one of the first body shops in Charleston. And he had one of the first telephones in Charleston. He said he used to get a lot of business from the people coming from the north to go to Florida. They would break down on the bridge. He had an old wrecker, and he'd go pull them in and repair the cars and stuff like that. His telephone number was 655. That was in 1934, according to this bill I'm looking at now. Here's a bill in 1942. It looks like he overhauled a car and put new pistons and all in it, new rings, all kinds of stuff, and it cost $86.
JM: How do you think he learned all that stuff?
RO: He told me that when he was a kid, he had a bicycle shop, and that he would get old, tore-up bicycles and fix them. He would rent bicycles for a weekend. He didn't get much, but it was one way to make money then.
JM: Was he just supporting himself then, or did he have a family already?
RO: He was still living with his father. He told me that he bought one of the first cars ever bought in Barnwell, when he was a teenager. He said he could afford it, but his father couldn't. A man came around selling them – he was with the Ford Company – and my grandfather said he paid him with all 50-cent pieces that he'd made off his bicycle rentals. And the reason he told me he bought the car was that he could make money taking people back and forth from Augusta, and from Aiken to Barnwell.
JM: So he was kind of running a livery service.
RO: Like a taxi service.
JM: He sounds like he was a pretty resourceful guy.
RO: Yeah, and he was pretty smart. He had to be smart enough to become a machinist for the Navy, you know.
JM: I assume that he eventually learned how to read and write.
RO: Yeah, 'cause I've got papers here that he wrote.
JM: Was there anything he liked to do, you know, just recreationally?
RO: Mostly he just worked on stuff.
JM: So he was always working?
RO: Yep. I'll tell you another little story that he told me, too, about when he was in the Navy. He was on a ship called the Cyclops. They came into Norfolk, and he couldn't go back out to sea with it because he had either the measles or the chicken pox. And the ship left out of Norfolk and was never seen again. In other words, the only reason he survived was because he wasn't on it.
JM: Who did he marry?
RO: Let me find it here. Her name was Lily May Dantzler. She was born September 9, 1895, in Orangeburg County.
JM: Was that the only time he married?
RO: Yeah. I think they got separated in years to come, and he never got married again.
JM: And how many children did he have?
RO: It was my father and his brother and two daughters.
JM: Are any of those children still living?
RO: There's one daughter living. Her name is Lillian Malphrus. She was born August 7, 1924. I think she lives on James Island. You might get to talk to her (Lillian has since passed away). One of my uncles just passed away not long ago. That was the one who was Furman, Jr. He probably could have told you a lot of stuff. He fought in World War II in France and Germany.
JM: So after he had the four children, then he and his wife separated?
RO: Yeah. But I don't think they ever got divorced.
JM: Did they live a good distance apart, or did they still live near each other?
RO: They lived probably within a mile of each other.
JM: Was he fairly well off, or was he financially struggling all the time?
RO: He didn't have a lot of money, but he had enough money to survive on and did what he wanted to do for his retirement.
JM: After he separated from your grandmother, did he have any other relationships?
RO: I think there was a woman named Annie Thornhill. She was his girlfriend. I don't know what kind of relationship they had, but I found some papers where he had wrote stuff about her and all. In fact, I even found that he had her death certificate.
JM: Did you know your grandmother, his wife?
RO: Oh yeah.
JM: Were you also close to her?
RO: I wasn't as close to her as I was to him. I'd see her like once a month or something like that.
JM: When did your father die?
RO: 1993.
JM: What did he do for a living?
RO: He retired from Charleston Naval Shipyard.
JM: Was he working at the same time your grandfather was?
RO: Yep. I think my grandfather was there for about 37 years, and my father was there for 35 years.
JM: Was he doing the same kind of work?
RO: My father was a pipe fitter, and then he was a planner and estimator for the pipe shop.
JM: Did they work alongside one another?
RO: I think when they first started off, they did, from what my father told me.
JM: Did your father go to college?
RO: No. I think he told me that he went as high as ninth grade or something like that.
JM: And what about you?
RO: Yeah, I finished school.
JM: And what have you done for a living?
RO: I've been a little bit of everything. I went in the Air Force. I was a staff sergeant for six years. I was an Aircraft Maintenance Specialist. I was a crew chief on C-141s and C-5s. I also went to railroad school in Atlanta, but never worked for the railroad. Other than that, I worked different type jobs at different places, and now I'm employed by a company called Roseburg Forest Products. It's in Holly Hill. I'm a millwright.
JM: It doesn't sound like there's a heck of a lot of difference between what you do and what your grandfather did.
RO: Probably not much. And I have a small shop that I run. I do car maintenance. So I guess I inherited that from him, too.
JM: Did your grandfather show you how to do any of these things?
RO: He used to tell me all kinds of stuff. And my father did, too, because my father actually worked in his automotive shop, too.
JM: What are some of the things that you miss the most about not having your grandfather around anymore?
RO: Well, talking to him. We used to talk for hours.
JM: What did he like to talk about?
RO: He'd tell me all kinds of different stories about things that he did.
JM: Did you believe all of them?
RO: Well, some of them, yes; and some of them, probably not. But, you never know. I remember him telling me one little thing about when he worked in the shipyard. They recovered a piece of equipment from the Germans. And none of them could get it to work. So they put him on it since he worked in the pipe shop and was a machinist, and he got it working. This particular machine would take a piece of pipe and roll a lip on it all in one piece. They could just drill the holes in it and it had the flange made instantly, without having to do all the machine work. And he got that thing going for them. So that was some German technology that they picked up.
JM: Did he do any traveling at all, or did he stay pretty much in South Carolina all his life?
RO: He was pretty much in South Carolina, except for when he was in the service.
JM: When did he die?
RO: I got it right here – somewhere. I think it was 1980. Time goes by so fast. Yeah, it was August 10, 1980.
JM: It's interesting that in most cases, the children in the Lewis Hine photos look like they might not have a whole lot of chances in life to get ahead.
RO: It's right lucky he survived I guess.
JM: Some of the situations are worse than others. There are kids in coal mines that just break your heart. Some were working in the mills, and some of them were selling newspapers on the street late at night. Many of these kids were probably helping to support their families.
RO: I think that's what he was doing. His father worked for the railroad, and they didn't make a lot of money. There's something I was just looking at right here, that I didn't know. This paper says Trades, Skills, and Occupations for the Service, and it says he was a leadman and a quarterman. That was at the age of 44.
JM: What does that mean?
RO: In other words, he was like a supervisor. He also belonged to the Masons. I've got his ring somewhere. I like to collect all the stuff that my father had and my grandfather had. I've got an old trunk that was his, and I keep stuff in it. I've even got checks they wrote back in the forties, and I've got his income tax papers, and I've got all his achievement awards, like when he was accident-free in the shipyard.
JM: It sounds like he was a busy guy. Was he still pretty active up until he died?
RO: Oh yeah. And he was still sharp. He used to plant a little garden. He'd plant a garden about 15 foot by 15 foot. I'd tell him, 'You're not gonna get much out of that thing.' But he'd get more out of that 15 feet than you'd ever believe.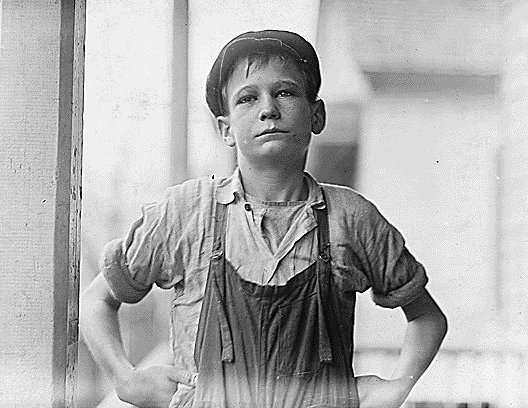 *Story published in 2008.