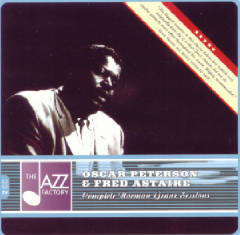 "They all laughed at Christopher Columbus/When he said the world was round/They all laughed when Edison recorded sound."
-from "They All Laughed," by George and Ira Gershwin
I am playing, for the umpteenth time, a CD that I bought several weeks ago. The singer opens track nine with a charming line from a classic Gershwin song written for a 1937 movie. With an unobtrusive jazz combo behind him, he swings impeccably, crooning every word lovingly and sincerely, without pretense, showcasing the style and grace of the songwriters at their best. George's syncopated ragtime melody, with its seamless modulations; Ira's sentimental lyrics, dazzlingly clever rhymes and endlessly creative ideas – that's what the singer wants us to hear, not his vocal prowess. He wasn't known for that anyway.
In 1952, the singer, a movie star known for his talents as a dancer and actor, was asked by jazz producer Norman Granz to consider recording several albums of songs with some young jazz musicians from the Jazz at the Philharmonic series. Among them were pianist Oscar Peterson, guitarist Barney Kessel and bassist Ray Brown. Being a great lover of jazz, the singer liked the idea, so the songs were selected, mostly those associated with his most popular movies, and they went into the studio and completed enough material for four LPs.
Nothing much happened, although the recordings received applause from a few critics. After all, long-playing records were still a new industry, and most record buyers might have looked at the covers and wondered: "Fred Astaire? He's a dancer, not a singer." That's right – Fred Astaire. Fifty-three years later (2005), the Jazz Factory label remastered and reissued all 40 tracks on two CDs.
"They all laughed at Wilbur and his brother/When they said that man could fly/They told Marconi/Wireless was a phony/It's the same old cry."
So why can't I seem to purge this album from my CD player? Or get the tunes out of my head? First, a little background.
As a kid, I was sandwiched between two musical eras: Tin Pan Alley and Rock 'n' Roll. I loved both, and I am still as comfortable listening to Cole Porter as I am to Bob Dylan. But at 65 years of age, I have been drawn lately to the nostalgia of the Swing era and the songs of the masters: Gershwin, Porter, Berlin, Arlen, Mercer, Rodgers & Hart – and the singers who sang them: Sinatra, Peggy Lee, Nat Cole, Billie Holiday.
At first glance, this collection is a curiosity. Even if Astaire put the songs over well in his movies, can he still entertain when we can't see him dancing? And then there's his light, tenor voice. It owes more to the style of the early crooners such as Gene Austin and Bing Crosby, than to the big band singers and swingers. And how will his versions measure up to those of Sinatra, whose classic renderings of most of these songs are etched on our musical hearts? Well, in two words, Astaire succeeds.
Right off the bat, I hear Irving Berlin's "Isn't This A Lovely Day," and I'm all smiles. "What an incredible song," I want to shout out. Those unforgettable lines: "The clouds broke/They broke/And oh, what a break for me." And you can tell that Astaire feels the same way. Peterson plays tastefully, avoiding the note-filled pyrotechnics he was later noted for; and muted solos by Charlie Shavers (trumpet) and Flip Philips (tenor sax) give the whole thing a late-night jazz feel. Wonderful, just wonderful.
"Puttin' On The Ritz," again by Berlin, has just the opposite feel. The witty words tumble over one another in syncopation, but they don't leave Astaire breathless; he does just fine. In fact, you could swear he's dancing at the same time, especially during the playful, Gene Krupa-like drum fills.
"They laughed at me wanting you/Said I was reaching for the moon/But oh, you came through/Now they'll have to change their tune."
The Gershwins' "They Can't Take That Away From Me" is such a sweet, heartfelt song, the kind they truly "don't write anymore." Here, it opens with sparkling solos by Kessel and Peterson, then Astaire sings it through once, starting with the lesser-known introductory verse. He might have taken it down a couple of steps, since it's a tad out of his range. But that just seems to make it seem even more wistful, and it might be the best cut in the whole set.
The songs just keep coming, 156 minutes of them; and they're all there: "Night and Day," "Cheek to Cheek," "A Foggy Day," "I Concentrate On You," "The Way You Look Tonight," sounding better than ever. It's not Sinatra and Nelson Riddle, or Billie Holiday and Lester Young, and there's no Ginger dancing backwards here. Just Fred, singing his heart out, incomparably.
There are some surprises. Astaire often talks between songs, a comment here, a little story there. And he introduces two instrumentals by the group as follows:
"You know this album is a kind of jazz album, too, and jazz means the blues. Oscar, Barney, Ray and Alvin (Stoller, the drummer) are going to ad lib some of those blues now, and I'm going to walk in and throw a little hoofing in there."
So they play and he taps, becoming a percussionist for the band. It's fun. On one track, Astaire plays ragtime piano for a couple of choruses (quite handily, by the way), then steps aside for Peterson. In the final two numbers, the band takes over for a jam session, and you can imagine Astaire sitting nearby, his feet instinctively moving in rhythm, and smiling and cheering on each solo.
So maybe they all laughed when Astaire made this recording. If they did, they've finally gotten their comeuppance. If this isn't one of the greatest vocal albums of all time, I'll eat my Top Hat, White Tie and Tails.
"They all said we never could be happy/They laughed at us and how/But ho, ho, ho, who's got the last laugh now?"
Oscar Peterson & Fred Astaire: Complete Norman Granz Sessions, The Jazz Factory (JFCD22877)