I wrote this poem after reading the following in the September 1995 edition of Jazz Times. Used by permission.
"I had a conversation with Hank Mobley before he died. Hank was a very prolific writer, but most of his songs were in different publishing companies, they're all over the place and he just didn't know how to get his money, even though he really needed it. At the end of his life, Hank was homeless; he was living in the Amtrak station in Philadelphia." -saxophonist Gary Bartz
Gig At The Amtrak
I was rudely awakened by a man
who set down his suitcase
next to the bench I was sleeping on.
If it wasn't for all these travelers,
I could get some rest.
I checked to see if my horn was there and
found my left hand still squeezing
the handle on the case.
I took out the horn and looked inside and
there were still some notes left in it.
Some college kid with a guitar sat down and
asked me if I played and
I said, "A little bit, I guess."
I saw two men come in carrying briefcases and
wearing gray suits and it got me to thinking
that it's a long time since I've been in a bank.
So I put my horn back in the case and
went down to the biggest bank I could find and
they were playing some stupid arrangement of
"Round Midnight" on the Musak and it made me mad
so I got out my horn and blew a few licks and
then they told me to leave,
so I did.
I'm always leaving places.
I hadn't eaten yet,
so I walked back home and
a train pulled in just as I got there and
and crowd of people poured in
so I pulled out my horn and started playing and
two women came over and put some change
in my horn case and I stopped playing and
bought a Danish and a cup of coffee.
One of the women came back and asked me to play
something by the Duke so I played "Sophisticated Lady"
which I thought was sort of funny and I think she caught it.
Then her husband came over and pretty soon there
was a small crowd and I imagined I was playing again
with Miles and Trane and then I heard the change dropping
into my horn case and I remembered where I was.
Someone applauded and then everyone applauded and
some guy walked up to me and said I sounded like Hank Mobley.
I counted my change and
went down to Tony's for a cheesesteak.
*This poem is dedicated to the memory of the great tenor sax man Hank Mobley.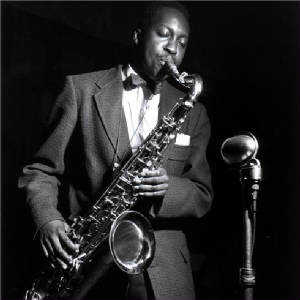 Hank Mobley, International Jazz Figure
Hank Mobley, a jazz saxophonist of international stature who played with the leading musicians of the day and made his greatest impact as a member of the Miles Davis group in the 1960s, died Friday. He was 55 and had lived in Philadephia since 1972.
Born Henry Mobley in Eastman, Ga., he moved to the Newark-Elizabeth, N.J., area in childhood and studied music privately. Early in his career he played with the Paul Gayton orchestra and other regional bands.
As a tenor saxophonist, his most important associations in jazz were with the Horace Silver and Art Blakey groups in the 1950s and the Davis aggregation the following decade.
Later he was the co-leader of combos with Lee Morgan, Kenny Dorham and Cedar Walton. In 1967-68, he toured Europe, making appearances in London, Paris, Munich, Rome and other cities in Poland, Hungary and Yugoslavia.
Among the many musicians in his ken over the years were Dizzy Gillespie, Max Roach, Slide Hampton, Wilbur Ware and Philly Joe Jones. He played recently at the Angry Square on New York's 7th Avenue.
He was the composer of a number of jazz tunes, including "Breakthrough," "The Morning After," A Caddy for Daddy," "The Dip" and "Straight Ahead."
Survivors include his father, Otis Rogers; his stepmother, Lillian O. Rogers; and two aunts, Jenethel Cooney and Rosa Boyer. Friends may call from 6 to 8 p.m. Friday at the Johnson Funeral Home, 46th Street and Woodland Avenue. Burial will be Saturday at Mount Lawn Cemetery, 84th Street and Hook Road, Sharon Hill, Delaware County. –Philadelphia Daily News, June 4, 1986. Used by permission.