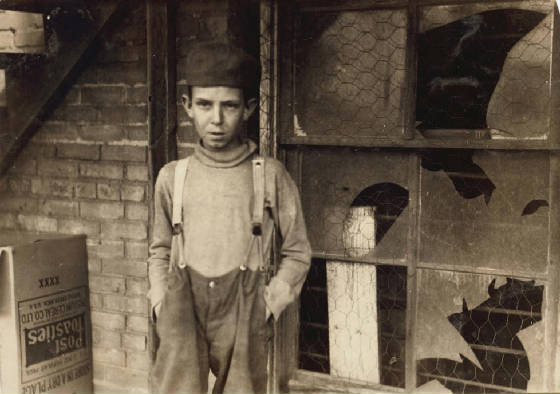 Lewis Hine caption: Eleven-year-old bakery worker Glenn Dungey. Ellis Report, L.W. Hine. Location: Oklahoma City, Oklahoma, April 1917.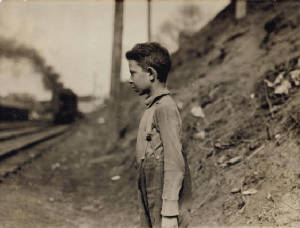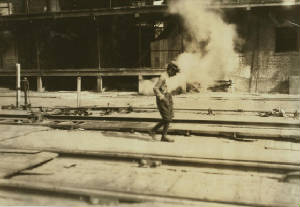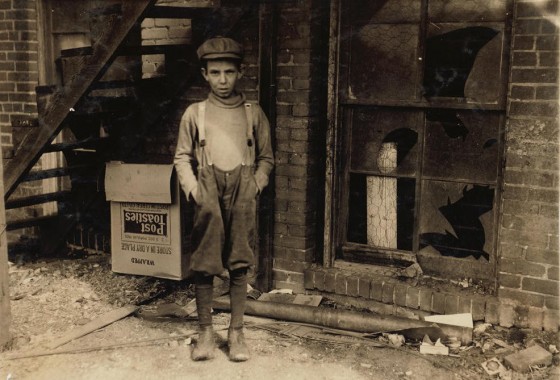 When I pick out a photograph to research, I never know what kind of a story I am going to uncover, and how it might differ from my assumptions about the subject based on my reaction to the photo and Hine's caption. That's one thing that makes this project so compelling. But equally compelling is how my research might affect the lives of the descendants I hope to contact. Almost all of those I have tracked down so far had no knowledge of the photo, and in many cases, no knowledge of the early lives of the parent, grandparent, aunt or uncle in the Hine photo. Providing them with this new information can bring up all sorts of family issues, or even reunite family members who have lost touch. Such was the case with Glen Dungey.
I first saw these photos in July of 2006, on the Library of Congress website. All had the same caption. I had just started my project, and I was still learning the search process. I was attracted to the apparent bleakness of this boy's world, and the weary, disengaged expression on his face. Census information indicated that his parents were Harry and Nellie Dungey, and he had at least three siblings: Dean, Earl, and Eathel (correct spelling). I eventually found his Social Security death record, which recorded his birth date as December 2, 1903, which means that he was 13 years old in the Hine photos. He died in Oklahoma City on September 15, 1967. The following is an excerpt from his brief obituary:
"Glen Dungey, 64, died Friday in Doctor's General Hospital. Services are pending with Smith & Kernke Funeral Home. Dungey was born in Winfield, Kan., and moved to Oklahoma City in 1910. He was the retired former owner of Melody Cleaners for 25 years. Survivors include a sister, Eathel Cary, Baldwin Park, California." (Note: He would have been 64 in December).
After obtaining Eathel's obituary (she died in 2002), I tracked down one of her children, Robert Cary, and sent him the photos of his uncle. He had never seen them before. He told me that he did not remember ever seeing his uncle, and that his mother and Glen did not get along very well. He told me that, as far as he knew, Glen never married. I could not locate any other relatives, so I gave up my search and posted on my website what little information I had.
In the summer of 2008, I received a surprising email:
"My name is Marilynn Cary Engerran. My son Rick Cary called and told me he saw Glen Dungey's information on the Internet. I was married to Ronald Eugene Cary. Glen Dungey was his uncle. Ron was the son of Glen's sister, Eathel Mae Dungey Cary, who was born in 1908. She died in 2002. Ron was born in 1932 and died in 2001. I just talked to his brother Robert, who told me about your contact with him."
"My husband and I had two children, Richard and Teresa. He also had two sons from a first marriage. He gave up custody of them, and I would like to find them. They were just toddlers when he last saw them. If you know of any way to locate them I'd appreciate your help. They are Ronald Eugene Cary Jr. and Thomas Kenneth Cary. They were born in California in the 1950s."
"In 1964, we moved from California to Oklahoma City where Ron found work with his uncle, Earl Dungey, who owned White Way Cleaners. Earl was Glen Dungey's brother. Glen worked for Melody Cleaners, also in the city. I think he was a leather-cleaning specialist."
"My mother-in-law Eathel told me about her childhood. She was the youngest of four children. Her daddy worked in a downtown Oklahoma City office building as a janitor, and her mother took in washing. Her daddy drank something she called 'jake,' which he got at the drugstore. He would walk home on payday "loop-legged." They were very poor. That explains why Glen was working at age 13. Eathel never liked her brothers. My husband said that all of them were thieves. Eathel joined the Salvation Army as a young girl, met her husband, had two sons and moved to California in 1939."
"While we lived in Oklahoma City, I met Glen Dungey for the first time. That was 1967. He was a loner who had had a girlfriend, but never married. We learned that he was in the county hospital. He had spent most of the last few years drinking wine and eating cans of beef stew, and living in a small rented house filled with empty wine bottles and trash. My husband went to see him, having seen him only once in his life. Soon after, Glen was placed in a nursing home, and my husband visited him and found deplorable conditions."
"Their standard procedure was to take these indigent people, catheterize them, and just keep them alive for a few months. He didn't need the catheter. It was just a convenience for the nursing home. He would have died there, so we took him home to our apartment. He had been almost starving to death. We gave him good wholesome food. One time, I sliced some home grown tomatoes, but when he ate them, he immediately got sick, because he wasn't used to them. He was quiet, but very pleasant to be around. He never asked for anything. He stayed with us for a year and never drank, and then collapsed one day and died from bleeding ulcers."
"When he lived with us, I had two small children. I took some pictures of them, but I didn't get them developed for a while. I finally did after Glen died, and the only picture that survived was one of him with my three-year-old daughter. I felt really strange finding this after he died, because it was the only picture we had of him. I don't know where that picture is now."
"I think the Lewis Hine photos sort of explained his life. From what I know of it, he had a really lonely childhood. Eathel told me that the children were pretty much left on their own, because the parents were trying to carve out an existence, just to stay alive. I felt sad that he was in this condition as a child. At his funeral, it was just his brother Earl and Earl's second wife and their children, and me and my husband and children. It was a very simple, quiet funeral. We enjoyed his company, and I felt good about giving him a family for his last year."
Several weeks later, Marilynn contacted me again:
"You have caused me to recall memories from many years ago, and it has been a very rewarding and stimulating experience. We located my late husband's two sons that he deserted in 1956. I just talked to Ron Jr. My son Rick found him through a genealogy search engine on the Internet, and I wrote him a letter explaining my relationship to his father and our two children. We had a wonderful conversation, and he is going to send me pictures of him and his family."
In several more weeks, I received this from her:
"Rick and his family are spending next week in a family cabin on the lake in Michigan. They will fly back stopping in Chicago where they will meet Rick's half-brother Ron and his family for the first time. I never expected to find any of these relatives. It has been so exciting. Sometimes I lay awake at night, too stimulated to sleep."
And finally this:
"Rick returned from Chicago this past weekend and told me about his visit with his newly found half-brother. Learning about the boys has brought me relief, closure, and peace of mind. Ron said he that he has always wanted to learn what happened to his dad. I am looking forward to being able to see all of the relatives in person as they said they will make an effort to visit us. My grandchildren are excited to learn of their relatives. My daughter is also excited and looking forward to talking to her half-brother and his family. You opened the door, and my children and I are now communicating and learning more about each other."
Marilynn also sent me three family photos.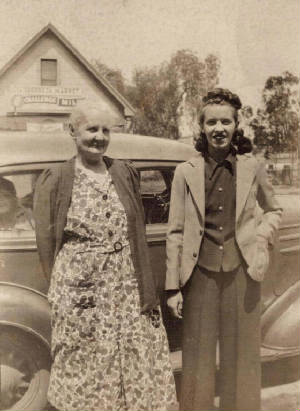 I found one more important piece of information. On a hunch, I called the city clerk's office in Oklahoma City and asked if there was a record of Glen Dungey getting married. There was. Glen married Ida Mae, the girlfriend mentioned above, on March 14, 1930. There was no record of her maiden name or if and when they divorced.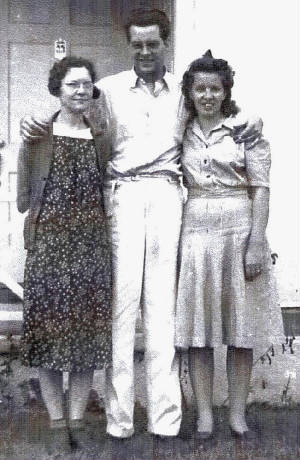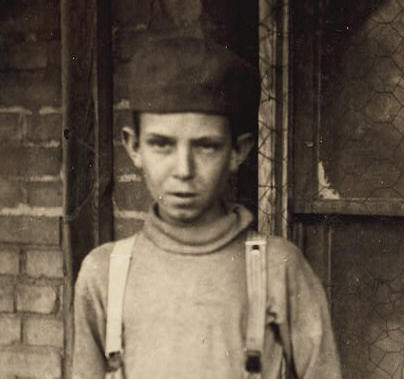 Glen Dungey: 1903 – 1967.
*Story published in 2009.