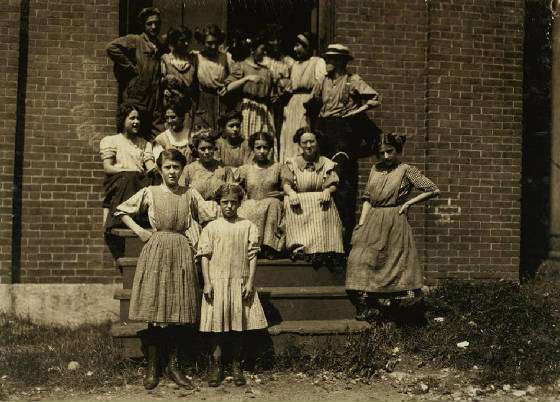 Lewis Hine caption: Group of workers in Glenallen Mill. Smallest girl helps her sister Dora Roberts in mill. Lives at 13 Woodlawn St., there are 13 in the family, five or six working. Apparently prosperous. In this group is also Corinne Cuillette. Location: Winchendon, Massachusetts, September 1911.
Lewis Hine identified fewer than half of the children in the more than 5,000 child labor photographs he took from 1908 to 1917. Some of the 40 he took in Winchendon in 1911 were like this one, a large group with only several children identified. Unfortunately, he chose to name two of the children without pointing out which ones they were, and referred to another as simply the sister of Dora Roberts. That presented a daunting task, one I had no reason to shy away from. In the years I've been engaged in this project, my research has turned up the identities of a number of children whose names were not given.
It didn't take me long to find out the name of Dora's sister, the small girl in front. I looked in the 1910 census, and Dora's only younger sister (nine) was Mary. I found one of Mary's daughters living in Gardner, sent her the photo, and she recognized both her mother and Dora right away. But that's another story on this site. The bigger mystery? Which child was Corinne Cuillette, the other girl that Hine named?
I found no one in Winchendon named Cuillette in the 1910 census, but there was one family named Guillette. They were Meril, his wife Rose, and 10 children, none named Corinne. The only daughter who was older than seven was Mary, who was 15. So among the many girls in the photo that have yet to be identified, it occurred to me that the one Hine called Corinne might actually have been Mary. Even if she was, that still doesn't tell me which one in the photo was her.
I found Meril (spelled Merille) in the 1891 Quebec census, with wife Cordelia and two children. I also found a record of the family entering the US from Quebec, through Swanton, Vermont, in 1909. By that time, Cordelia had died and Meril had married Rose. In the 1911 Canada census, likely enumerated late in that year, I was surprised to discover most of the family back in Quebec. So when Corinne was photographed, the Guillettes might have already been planning to leave Winchendon. Meril died in Quebec in 1940, according to Canada death records.
Having no information about Corinne to work with, I did the next best thing: I researched some of the other children. I tried the boy named Ovide, who was born about 1894, and located him in immigration records, re-entering the US in Derby, Vermont, in 1920. He was still there in the 1930 census, listed as a farmer, with a wife and three children. But I couldn't track down any of his descendants, so I tried researching Emile, another of the children.
That turned out to be a breakthrough. I found one of his grandsons, Michael, who lives in Colorado. After emailing the photo to him, he contacted Russell Guillette, his uncle, who is Emile's son. Russell emailed me lots of details about the family history, including the fact that the family did live briefly in Winchendon. Mike told me that there are some old photos of the family, and he would work on getting me copies. He commented, "Well, it sure seems like you stirred up the Guillette family!"
But still no one knew anything about Corinne. I got to thinking, and I came up with an intriguing possibility. One of Meril's sons in the 1910 census was named Irane. He was 20 years old. I found him in the Winchendon street directories from 1911 to 1913, his name spelled Irene, and later Rene. He married in Winchendon and had his first two children there. I followed him to Derby, Vermont, where he died in 1982. So what does this mean?
Look at the Hine photo above. There are two older boys in it. The one on the left looks about 20 years old. What if Hine asked him what his name was, and he told him it was Irene (the French pronunciation is Ear-en)? Hine would have been unfamiliar with French names, so he might have incorrectly written Corinne. It sort of sounds the same. In the caption, he does not say whether Corinne is a boy or a girl. So I put in a request to the library in Derby for Irene's (Rene's) obituary. Unfortunately, it wasn't available.
But I did find his wife's (Lea) obituary. She died in 1979. She was survived by her husband and two children. I tried to contact the children, hoping they might be able to identify their father in the Hine photograph, but one of them died in 2000, and I could not find the other.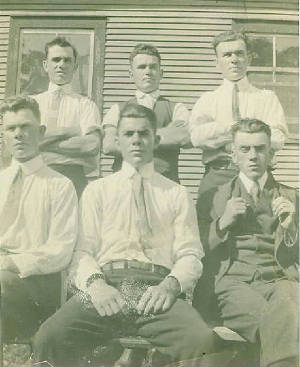 Finally, I received a marvelous photograph of six of the Guillette children, all of whom would have been among those who lived in Winchendon in 1911. One is Irene (Rene), but I can't tell if he's the boy in the Hine photo I suspected might be him. The family offered no further information, so the child identified by Hine as Corinne remains a mystery.
There is one more interesting piece of information. In a brief account of the Guillette family history sent to me by Mike Guillette, there is this quote:
"The Guillettes were well known for their musical ability, especially Wilfred Guillette (son of Euclide), who, for many years, won awards and trophies for his fiddling ability. Many holidays and weekends were spent dancing, singing and telling stories."
No doubt, the family's brief stay in Winchendon was the subject of some of those stories.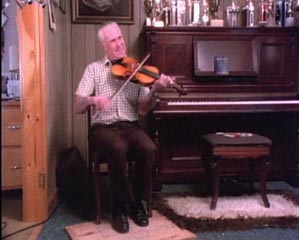 Listen to Wilfred Guillette play:
*Story published in 2009.