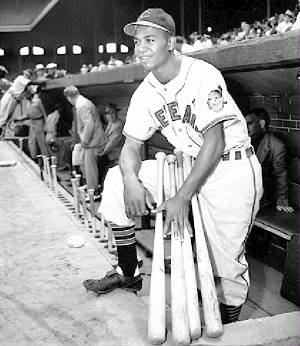 Larry Doby passed away in June at the age of 79. Casual baseball fans may not recognize the name. I met him at Williams College last year when he participated in a panel discussion about baseball. It was a thrill for me, because he was one of my heroes.
Doby played most of his career with the Cleveland Indians. He was an all-star center fielder from 1949-55. He led the American League in home runs in 1952 and 1954, and led the league in RBIs in 1954. In the 1948 World Series, he hit a game-winning home run against the Boston Braves that was instrumental in helping the Indians win their last world championship. In 1998, he was inducted into the National Baseball Hall of Fame.
Born in South Carolina, and reared in New Jersey, Doby attended Long Island University and Virginia Union, and served in the Navy during World War II. After his playing days were over, he managed the Chicago White Sox, and worked as a special advisor in the American League front office. He was married 55 years before he lost his wife to cancer two years ago. By all accounts, Doby was loved and admired on and off the field.
Nevertheless, when he joined the Indians as a rookie on July 5, 1947, most of his teammates refused to shake his hand. Why? Because Doby was the first African-American to play in the American League. Just 11 weeks after Jackie Robinson broke the color line with the Brooklyn Dodgers, Doby was faced with the same difficulties that confronted Robinson, but without the same media attention. For nearly 10 years, he was segregated from his teammates off the field, forcing him to eat alone in restaurants, and sleep alone in hotels.
As a young and devoted baseball fan growing up in the Maryland suburbs near Washington, I saw Doby play many times. My grandfather had frequent access to promotional tickets to the Washington Senators games at Griffith Stadium. I remember Doby breaking my heart by defeating my hometown team with late-inning home runs in both ends of a doubleheader.
Those were the days when Cleveland had a number of black players who followed quickly in Doby's footsteps, among them Luke Easter, "Suitcase" Simpson, and the legendary Satchel Paige. I don't think I knew a single black person then, but I think I must have sensed that something important was happening. I recall that my grandfather, who was a knowledgeable student of the game, told me about the great players in the Negro Leagues, and he seemed pleased that some of them were finally getting a chance to display their skills in the big time.
When my family moved to Southern Maryland in 1950, I attended segregated schools up through my senior year in high school in 1959. Even at my Catholic Church, blacks were expected to sit separately in the balcony. Nearly all my friends and classmates spoke negatively about black people. But my parents never displayed any racial bias, so I couldn't understand what all the fuss was about.
Doby must have put up with a lot of humiliation and grief, but he endured it with grace and dignity; and in the process, he quietly contributed immeasurably to the advancement of social justice in America.
When Cleveland Indians owner Bill Veeck signed Larry Doby, he told him, "You're going to be a part of history." Doby remembers, "I had no notions about that. I just wanted to play baseball."