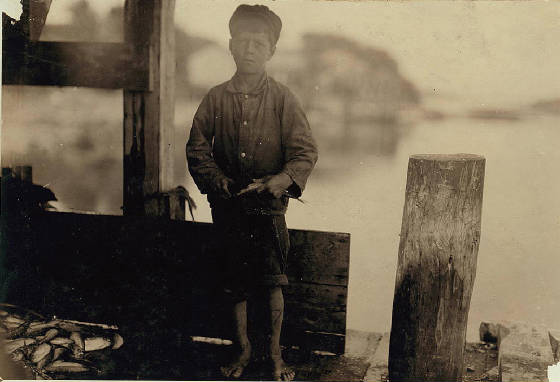 Lewis Hine caption: Hiram Pulk, 9 years old, cuts some in Seacoast Canning Co., Factory #1. "I ain't very fast–only about five boxes a day. They pay five cents a box." Location: Eastport, Maine, August 1911.
Among the many thousands of child labor photographs taken by Lewis Hine, this one is fairly ordinary. It appears to be poorly lit, the boy's face is not clear, and there is little detail. If I had not taken a special interest in Hine's 53 Eastport photos, little Hiram might have remained ignored and forgotten. Like many of the boys and girls that Hine depicted in Eastport, he was a fish cutter, a job that required him to use a butcher knife, a risky situation that frequently led to cut hands and fingers. See some of my other Eastport stories for details about the conditions of child labor in the canneries.
Right away, I got lucky in my search. I found a family history website that listed some descendants of William and Mary Pulk, one of them a son named Hiram Pulk, who was born on August 19, 1874, in Eastport, Maine. He was married twice, first to Mary Trott, in 1895, and later to Jeanette Houston, in 1899. Hiram and Jeanette had a son, also Hiram, born December 12, 1901. Almost 10 years later, he would be photographed by Lewis Hine. By the time he was 12 years old, his life had been turned upside down.
In the book Vinalhaven Island (Maine), by the Vinalhaven Historical Society, there is a 1912 photograph of students at the White School, the public school on the island. Among those pictured is Hiram, only a year after Hine encountered him in Eastport.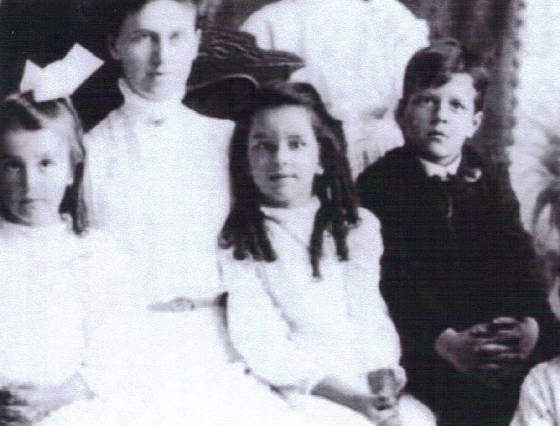 It is likely that his father, a fisherman, found work on the island, known for its fishing and canning industries. Unfortunately for the young boy, his father died on November 30, 1913, in Rockland, Maine; and his mother died in Eastport less than a year after, on September 14, 1914.
Hiram (now listed officially as Polk), married Lillian Parker on April 28, 1925. He was 23 years old, and she was only 15. They are listed in the 1930 census in Queens, New York, and have two children, three-year-old Mary, and one-year-old Hiram. I found the death record and obituary for Lillian, who died in Maine in 1984. That led me to daughter Mary (now Marshall), who lives in southern Maine. She was not sure of the date that her father died, but thought it was in Rhode Island in the 1950s. She was unable to find any photographs of him.
Edited interview with Mary Marshall (MM), daughter of Hiram Polk. Conducted by Joe Manning (JM), on January 16, 2008. Transcribed by Jennifer Suh and edited by Manning.
JM: What did you think when you saw the photograph?
MM: I couldn't see my father in it at all.
JM: You mean you weren't sure it looked like him?
MM: I never saw a picture of him when he was young. And he wore glasses when I remember him.
JM: Was it surprising to you that he was working in the fish factory.
MM: That's what all the young people did then.
JM: But your father was only nine at the time.
MM: Well, that's just mind boggling. I really don't know that much about my father growing up. He was an orphan. Both his parents died in some kind of epidemic. He had an older brother that relatives took in, but my father was put in an orphanage in Perry (Maine).
JM: How old would he have been when that happened?
MM: I honestly don't know. He just said he was there until he was 16, and then he ran away. I don't know when he worked in the factory. I know that he worked in gardens at the orphanage, because he talked about picking potatoes, but he never mentioned anything about a fish factory.
JM: Do you know what his parents' names were?
MM: I don't remember. I think I was named after my grandmother. My name is Mary Janette.
JM: This should be interesting to you. A year before the photograph was taken, in 1910, the US Census listed him as living in Knox, Maine. He's 8 years old and living with his mother and father, Hiram and Jenny. And he has a brother named William, who is two years older. So when he was photographed in 1911, he may have still been living with his parents.
MM: Really? My grandmother's name was Jenny.
JM: I also have the 1880 Census, which shows his father, 6 years old at the time, living in Eastport. His parents were named William and Mary Polk. In the 1930 census, your father is living in Queens, New York. He's married to Lillian.
MM: You say he was in New York then?
JM: Yes.
MM: I was born in 1927.
JM: You're in the 1930 census, too. It says, Mary Polk, three years old.
MM: At that time, he was a janitor in the building. I remember my parents telling me that.
JM: How did he wind up in Queens, New York?
MM: I don't know. I was born in Vinalhaven (Maine). As far as I know, he was still a fisherman then. We moved to New York for some reason. The only thing I can remember about New York at that age was that my little brother, Hiram Jr, was born there.
JM: You're right. He was one year old in 1930. Interestingly enough, in 1930, your father's occupation is listed as building superintendent.
MM: Well, he was a superintendent at an apartment building.
JM: I have his marriage record. He was married to Lillian on April 28, 1925, in Vinalhaven. Somebody named Woodsworth posted a website that lists some of your family history.
MM: I don't know anyone named Woodsworth.
JM: This is very interesting information. I am looking at it right now. You told me that your father was an orphan. According to this, Hiram Polk was born on August 19, 1874, in Eastport, Maine, and he died November 30, 1913, in Rockland, Maine. So your grandfather died in 1913. He was buried in Eastport.
MM: So Hiram was my grandfather's name, too.
JM: Yes. He married Jeanette Houston.
MM: So that's where my name comes from.
JM: She was born August 12, 1875, in Scotland.
MM: Right. I knew that one of my grandparents was from Scotland.
JM: She died September 14, 1914. So your father became an orphan in 1914, three years after the picture was taken. That's all the information that this family history shows about your family. It goes backward rather than forward. It also says that your grandfather married Mary Trott.
MM: So he was married twice then?
JM: Yes. He married Mary in 1895, and then he married Jeanette. When did you leave New York?
MM: I don't remember when, but we moved to Pownal (Maine), and then we moved to Portland (Maine).
JM: What did your father do there?
MM: As far as I know, he went to work at a shoe factory in Freeport (five miles from Pownal). My mother worked there, too.
JM: Did you know what his job at the factory was?
MM: Machinist.
JM: And your mother's job?
MM: I don't know.
JM: How long did you stay in Pownal?
MM: I don't remember. My brother Emery was born in Eastport, and my sister Miriam was born in Pownal. When my brother Hiram was about four years old, he died in a fire.
JM: What happened?
MM: They were burning the blueberry fields across from the farmhouse we lived in. My aunt was taking care of us, and Daddy was out there helping the people burn the land. Apparently, my brother decided he wanted Daddy, and he went looking for him. And by the time they found him, it was too late. Now whether he was burned or just overcome by smoke, I don't know.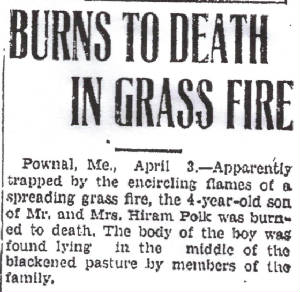 JM: What happened after that?
MM: Then Daddy got into some trouble. He spent some time in jail. And while he was in jail, my mother was doing a little bit of housekeeping for one of the neighbors down the road, when the farmhouse we were living in caught fire somehow. They figured it was some type of combustion in what they called the summer kitchen. And there was myself, my sister Jenny, my brother Edward, and the baby Miriam. There were no neighbors close by. We didn't know what to do. We just got out of the house and walked down to where my mother was working. It was in the winter.
JM: Did you lose the house?
MM: I think the house went completely, I'm not sure. That's too far back for me.
JM: How old would you have been then?
MM: I'm trying to think what grade I was in school. I really can't say.
JM: So your mother was supporting the family while your father was in jail, by working at the shoe factory. How long was your father in jail?
MM: It wasn't long.
JM: Is it okay to ask you why he was in jail?
MM: Him and some neighbor were peddling fish around the countryside, and they went in someone's house and took some stuff.
JM: When he got out, did he go back to work?
MM: I think that's when we moved to Eastport. I'm not sure. I think I was in the fourth grade then.
JM: When you moved to Eastport, what did your father do?
MM: He went into fishing with his uncle Will, who had a fishing boat.
JM: So they would sell their fish?
MM: Yes, to the fish markets.
JM: Did you go to high school in Eastport?
MM: I started high school, but my mother said that a girl didn't need a high school education. So I had to quit school and go to work in the fish factory, the Holmes Canning Company.
JM: What did you do at the fish factory?
MM: First, it was just putting the cans in the little packages and putting them in the box. And when I was older, I did the packing of the fish.
JM: Was that lousy work?
MM: Well, when I stop and think about it now, yes. But at that time, I didn't have a high school education, and I was earning a salary, which my mother was taking. At least, it was work. I also worked at a five and dime, and then I got married at the age of 18.
JM: Who did you marry?
MM: Leroy Marshall.
JM: And what did he do for a living?
MM: He was a woodsman and a carpenter in Dennysville (about 20 miles from Eastport).
JM: And did you continue to work?
MM: I started having children, and he didn't want me working, so I stayed home.
JM: How many kids did you have?
MM: Seven.
JM: And your father and mother stayed in Eastport?
MM: My father left my mother. He moved to Rhode Island. My mother was still in Eastport.
JM: Do you remember how old you were when your father left your mother?
MM: Seventeen.
JM: Did your mother remarry?
MM: No.
JM: And did you ever see your father after that?
MM: Once.
JM: Under what circumstances?
MM: Well, he was with some men who had driven to the area where we lived. They were looking to buy Christmas trees. He stopped and talked for a while. Then he drove off, and that was the last time I ever saw him. He died of cancer seven or eight years later.
JM: Do you remember when that was?
MM: My oldest daughter was born in '47, and I was pregnant with her when I saw him. When I got news that he had died, it must have been 1954 or 1955.
JM: Did he die in Rhode Island?
MM: Yes.
JM: Did you ever write letters to him or communicate with him in any way?
MM: Yes.
JM: Did you miss him?
MM: When he first went away, very much, because we were very close. But afterwards, you just get used to it.
JM: Did your mother continue to work?
MM: Oh, yes.
JM: What did she do? Did she keep working in the fish factory?
MM: She just worked in the fish factory.
JM: Did she do that until she was no longer able to work?
MM: Yes.
JM: And she kept doing pretty much the same kind of work in the factory?
MM: Yes.
JM: Did any of your brothers or sisters finish high school?
MM: No.
JM: Did any of your children go to college?
MM: No, but they finished high school.
JM: Can you tell me anything else about your father?
MM: One thing about my father. He loved the sea. He was a fisherman, every inch of him. That's what he loved, the water and the boats.
JM: He must have done that in Rhode Island, too.
MM: I don't know. The sea was his life. He took other jobs when he had to, but the water and fishing was his life, his love.
**************************
After I interviewed Mary, I called the Rhode Island State Archives and obtained her father's death certificate. He passed away of lung cancer in Providence, October 31, 1955, at the age of 53. He was living in Pawtucket at the time, with his second wife, named Eleanor. Hiram is buried at Moshassuck Cemetery in Central Falls, Rhode Island.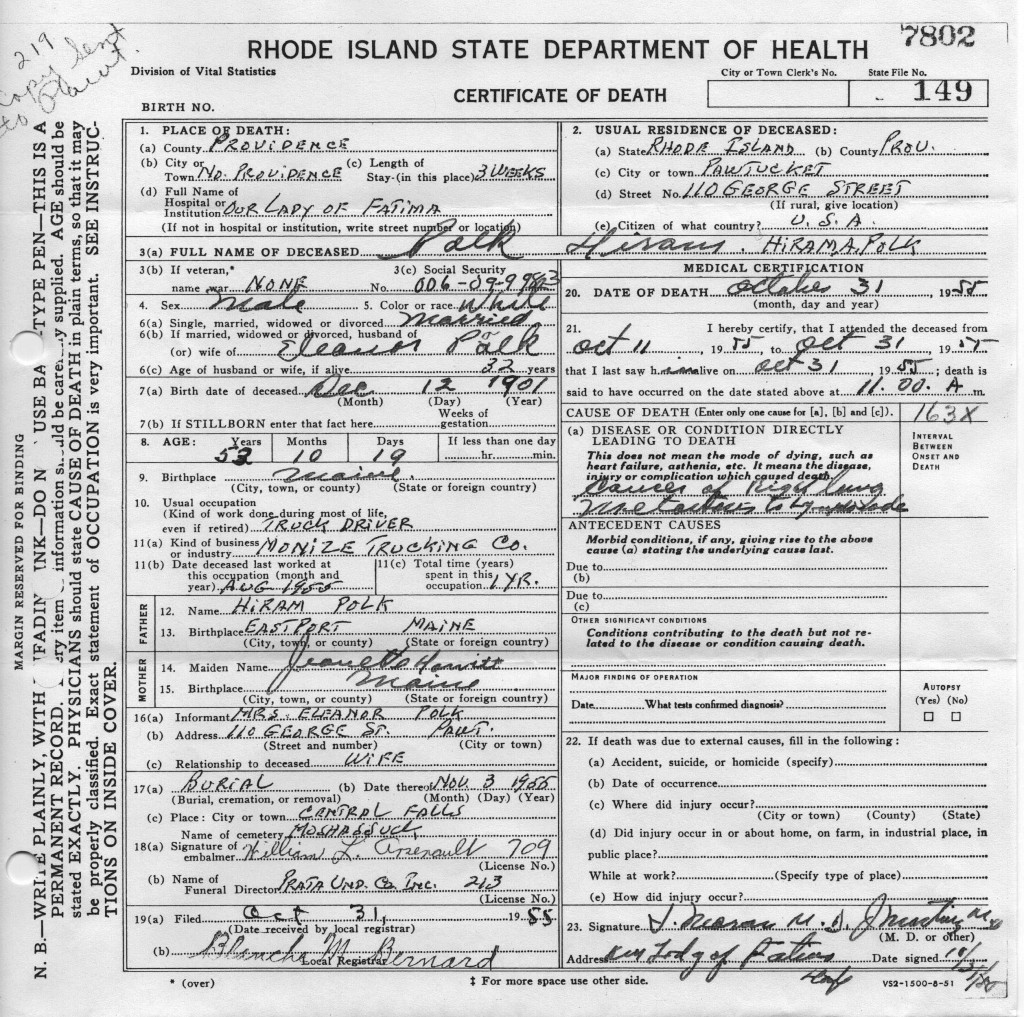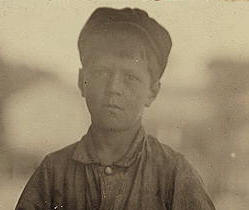 *Story published in 2009.