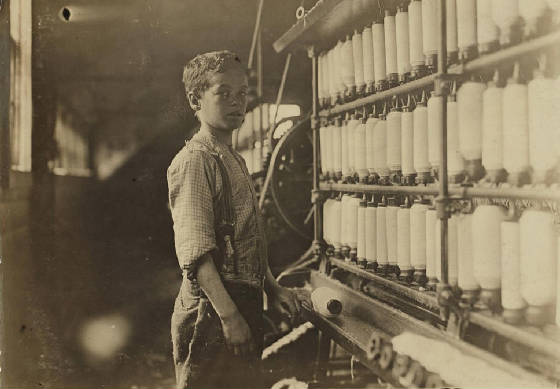 Lewis Hine caption: John Dempsey (looked 11 or 12) years old. Said he helped only on Saturdays. Jackson Mill, Fiskeville, R. I. (One of the B. B. and R. Knight mills). He was working faithfully in the mule-spinning room, a dangerous place for boys. I found no others below 14 in this mill. Location: Fiskeville, Rhode Island, April 1909.
"Officer Colvin captured two boys at the investigation of their parents who ran away from the Fiskeville Mill last Tuesday. They were thoroughly frightened and were ready to resume their work at the mill." -Pawtuxet Valley Daily Times, Jan 6, 1893
According to research posted on the Bryant College website, the Fiskeville Cotton Mill was founded in 1812, by Dr. Caleb Fiske. It was located in Scituate, Rhode Island, along the Pawtuxet River. It closed in 1900, but soon after was purchased by B.B. & R. Knight Company and became part of Jackson Mills. It closed permanently in 1929, and burned down in 1939.
The pictures of John, dwarfed by the spinning frames, were typical of Hine's work, but they were not easily earned. Most mill owners would have been wary of such intrusions, since the last thing they wanted was to have their child labor practices caught on camera. So Hine used a clever trick. He would tell the supervisors or other management staff that he was an industrial photographer taking pictures of machines. He would set up his camera, and at the last minute, ask if a child could stand near the machine to give a sense of scale, so people could tell how big the machines were.
It turns out that the weary-eyed boy that Hine said looked 11 or 12 had just turned 10 when he was photographed. I had very little trouble tracking down one of his sons, who still lives in Rhode Island. According to James Dempsey, his father was headed for a tough life.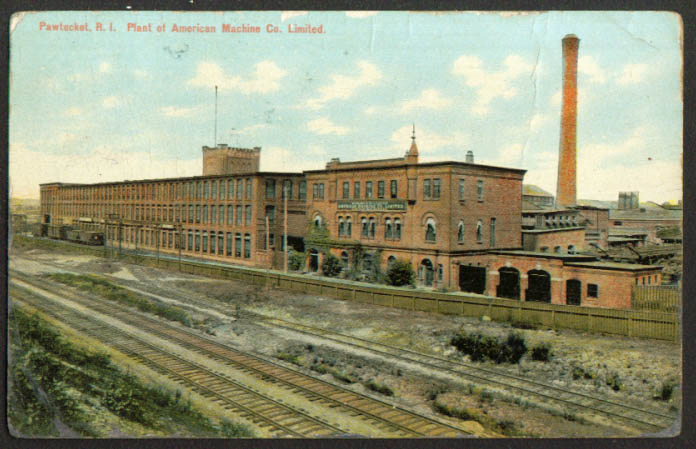 John was born in Rhode Island on February 17 (or 20), 1899, the son of Edward and Grace Dempsey, who were married about 1893. In the early 1900s, they lived at 98 Park St, in Pawtucket, and Edward worked as a dyer in a textile mill. By 1910, they had eight children. By 1930, Grace was a widow.
On his WWI draft registration card in 1918, John was listed as working as a timekeeper at the American Machine Company in Pawtucket. He married Evelyn in 1924, and in the 1930 census, they lived at 155 East St, Pawtucket, and had three children. John worked as a shipping clerk in a textile mill. He died in Pawtucket in February of 1970, at the age of 70 or 71.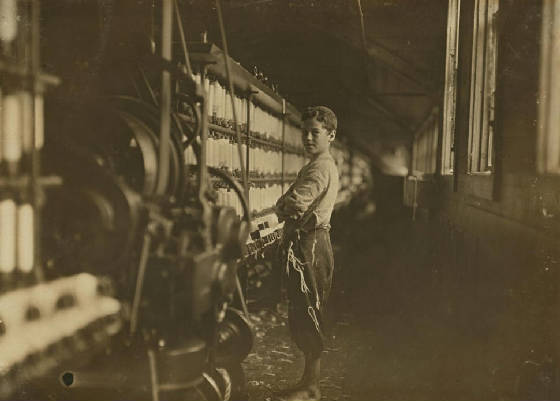 Interview with James Dempsey (JD), son of John Dempsey. Conducted by Joe Manning (JM), on May 20, 2008. Transcribed by Seunghee Cha and edited by Manning.
JM: What did you think of the picture?
JD: It was very interesting. I've never seen a picture of my father at a young age. I never knew much about my father's youth because he was so much older than I. You have no idea how many people I've shared this with. People at work, they're like astounded. They say, 'Your father worked in textiles in Rhode Island? And this is his picture?'
JM: How old are you?
JD: I'm 59. My mother was 48 when she had me. She already had four children, and the youngest one, Grace, was 17 when I was born.
JM: In the 1930 census, I have him living in Pawtucket. He's 31 years old, working at a textile mill. His wife is Evelyn. He's got three children listed, John, Edward, and Evelyn. He was married about 1924. I also found his 1918 WWI draft registration card.
JD: You'll probably tell me more than what I'm about to tell you.
JM: On his draft registration, he was listed as living on East Street in Pawtucket. He told the draft board that he was born February 20, 1899. His job was listed as a timekeeper working for the American Machine Company in Pawtucket. He listed his mother as Grace. Where were you living at the time you were born?
JD: Cottage Street in Pawtucket.
JM: What was your father doing for a living then?
JD: When I was born, I'm not sure. I remember him working at Chase Manufacturing, painting dummies they used for teaching nursing. That was right in downtown Pawtucket. I remember that he worked later as a custodian at the police station.
JM: Did your mother work too?
JD: She didn't work until she was about 54. She put herself through nursing school and became a licensed practicing nurse. She died in 1987, at the age of 86.
JM: How far did your father get in school?
JD: I never knew that.
JM: Did you know your father had worked as a child?
JD: No.
JM: Does it surprise you?
JD: No, because of the fact that I knew child labor in those days was prevalent.
JM: Did you live in the same place during the whole time you were growing up?
JD: I was born on the second floor of a tenement, at 495 Cottage Street, which was right across from the Cottage Street School that I attended until sixth grade. I lived there right through junior high school, and when I went to an all-boys Catholic high school, we moved to another apartment in Pawtucket.
JM: So when you were growing up, you never lived in a place that you owned?
JD: That's right.
JD: One of my aspirations when I went to school was having a lot of things my friends had. We always lived in tenements, and I had friends that lived in actual homes. That was a big deal to me. When I finally graduated from college and went on to get three master's degrees, I finally built my own home. That was a big thing for me. Finally, I sold it and bought the beach home where I'm sitting right now.
JM: How could you afford to go to college?
JD: I got the G.I. Bill.
JM: What branch of the service were you in?
JD: The Army. I was drafted in 1967. I had been thrown out of Bryant College. It was a business school. I didn't think I needed to open a book. My mother had taken out loans. I really don't know how she came up with all the money. When I left Bryant, I ended up getting a job with an electric company. It was a very substantial job, but I was 18 years old, and it wasn't something I was looking to do the rest of my life. My friend and I were hanging around. He had just been thrown out of college, too. He and I were having a few beers and decided to volunteer. It was during the Vietnam War, so we figured we were going there. But it worked out okay. They sent me to Korea. I ended up in the DMZ and the MDL and got shot at, but it wasn't Vietnam. I got out in 1969.
JM: Your father died the next year.
JD: I was 21. He died from emphysema.
JM: Was he a smoker?
JD: Yes, big time. And he was drunk every night of the week. He and I didn't have a very good relationship.
JM: When you were little, did you know he had a drinking problem?
JD: No, I really didn't. I wouldn't see him that much. My mother was always protective of me. My brothers were in the war. They got the hell out of the house as soon as they could. They didn't have a great relationship with him either. They were both lifers in the Navy.
JM: Was he abusive, if you don't mind my asking?
JD: He would be abusive psychologically. He would come home and his food had to be on the table. I can remember when I finally reached age 15 or 16, he was yelling at my mother, and I pinned him against the wall and said, 'Knock it off.' You reach a point where you know it's just gotta stop. I could never understand my mother not leaving. That used to drive me crazy. When my mother became a nurse, she got a license to drive, too. He resented it. He wanted her to be there just to cook for him.
JM: How did you find out that your father died?
JD: He had emphysema. He was in the hospital, and we'd visit him. We were never close, but I was the only one he allowed to shave him.
JM: Did your father ever talk about his childhood?
JD: Never. That's why this is so intriguing to me. I was thinking about where he worked as a child and the fact that he died of emphysema. There was dust flying around in those textile mills. I am curious whether that would have contributed in any way.
JM: Maybe, but one of my earliest successes was a girl working in a cotton mill in Vermont. She was an incredibly skinny, almost emaciated girl, standing barefoot in front of a spinning machine, and she lived to be 94. She died of lung cancer, but she was a smoker most of her life.
JD: Just about everybody at that time was a smoker.
JM: I would assume that for people who had more of a likelihood of acquiring lung disease, working in the mills would have sped up the process. Are you married?
JD: I came close a couple of times.
JM: What kind of work have you done?
JD: I got my first graduate degree at Boston University. Then I got a job in broadcasting and film. I was a TV producer and director and produced all kinds of commercials in the Providence area. I also did videotape training for the navy. I was on board submarines working on top secret stuff. But then I went off on my own. I freelanced for quite a while, but this was when Reagan was starting to cut government services, so I saw the writing on the wall and went back to school. Then I taught for awhile, and now I'm a special education administrator.
JM: Are your brothers and sisters as accomplished as you are?
JD: The only one that ever went to college was my brother John. He graduated from Bryant.
JM: Are any of your siblings still living?
JD: Just Evelyn.
JM: Do you ever get together with her and reminisce about growing up?
JD: She wasn't even home when I was growing up. I was like an only child. All my siblings had moved out.
JM: Do you ever talk to her about your father?
JD: Not at all.
JM: Now that you have seen the photographs of your father working in the mill, has that caused you to think differently about him?
JD: Oh, yes. It gave me some insight. Maybe there were a lot of reasons why he was the way he was. He had to work at that age, under conditions like that. They were very tough times. There was probably a lot going on in his day, especially if he had four kids. Trying to feed those mouths, I mean, I don't know how happy I would have been. Still, to this day, I resent the fact that he never came to any of my games. I was very good at sports. My mother and my sisters would come, but he never did.
JM: Did you ever do anything with your father?
JD: The only things that I can remember actually doing with him was on Sunday nights, sometimes he would make pancakes and bacon and we would watch Disney on TV. And on Friday nights, I would watch the fights with him sometimes.
JM: Do you ever go to Pawtucket?
JD: I go there a lot. I still have friends there.
JM: Do you ever go back to where your tenement was?
JD: I have a number of times. It's still there. I look up and think about it.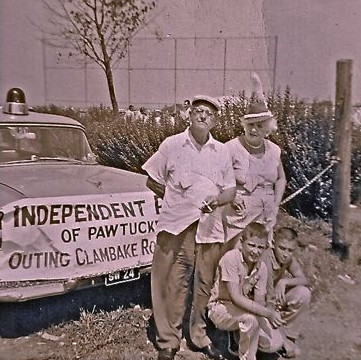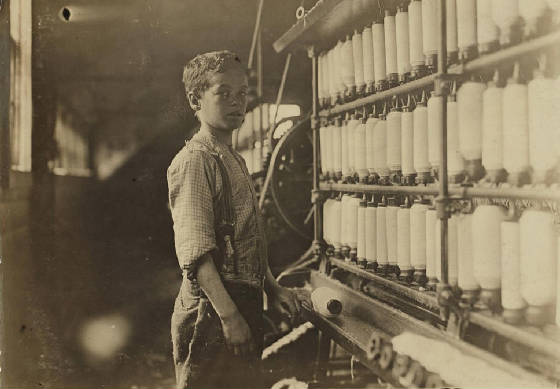 John Dempsey: 1899 – 1970.
*Story published in 2009.