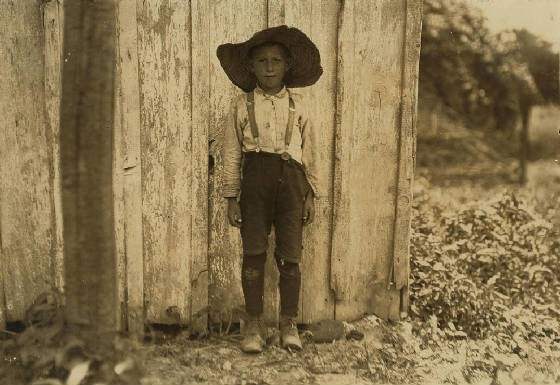 Lewis Hine caption: John Slebzak. Location: (near) Baltimore, Maryland, July 1909.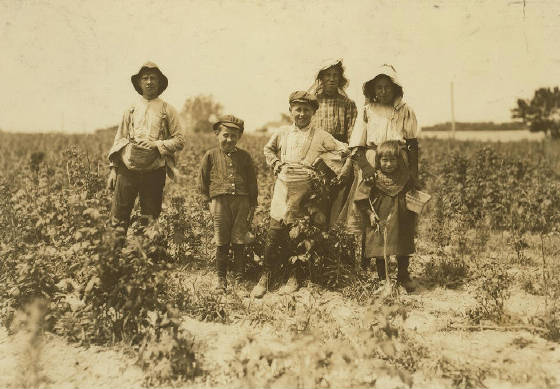 Lewis Hine caption: Slebzak family (Polish) working on Bot[t]omley farm, near Baltimore, Md. They have worked here 3 years and one winter at Avery Island, Louisiana. All work except the very smallest. She hangs around the fields. Begin work about 4 A.M. and sometimes works until sunset, July 1909, Lewis Hine.
"Having lost their slaves, farmers had trouble finding laborers, especially for picking strawberries. After changes in immigration laws allowed large numbers of Eastern Europeans to emigrate, Polish and Czechoslovakian families (in Baltimore, Maryland) filled this need. They lived on local farms for six or eight weeks each season and picked berries, peas, and beans. Because a farmer did not receive cash for his crop until it reached market, and because the pickers were not comfortable with written records, farmers paid them with brass checks bearing their initials and a numeral to represent the number of quarts or pecks that had been picked. Farmers redeemed these checks before the pickers returned home." -from Between Two Rivers, by Isabel Shipley Cunningham, Pasadena Business Association, used with permission.
In a brief phone conversation with the author, Ms. Cunningham told me that despite the difficult working conditions, many of the Polish families in Baltimore enjoyed getting out of the city in the summer and living on the farms. Some of them brought accordions, and it was common for them to sing and dance in the evenings.
Perhaps the Slebzak family was similar to those described above. But many of the Polish immigrants in Baltimore also migrated to the Gulf Coast to work in the seafood canneries in the winter. One of Hine's captions notes that the Slebzaks did this at least one year, having gone to Louisiana.
Bottomley's farm, where the Slebzaks worked, was located near Pasadena, Maryland, about 15 miles south of Baltimore. My research revealed that it was owned by Robert Bottomley, one of the investors in the Rock Creek Company, which ran ferries and steamers from Baltimore to the Pasadena Peninsula. In the early 1900s, he created a popular variety of green-meat cantaloupe. I contacted one of Mr. Bottomley's daughters, now in her nineties, and she confirmed this. She said that when she was a child, she remembered the farm workers coming in from Baltimore in the summer. The Compass Pointe Golf Course is located where Bottomley's farm used to be.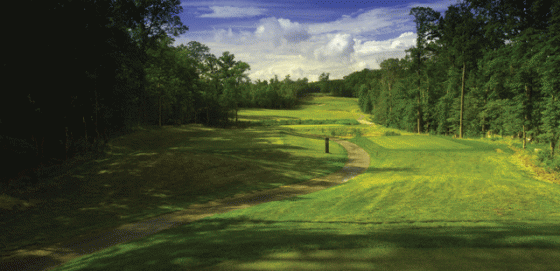 After almost 18 frustrating months of following up one scrap of information after another, mostly in vain, I finally found a living son of John Slebzak. I called him in May of 2008. He was 85 years old. He knew nothing about the Lewis Hine photos, and in fact, had never seen a photo of his father as a child. I mailed him copies of the photos, and interviewed him several weeks later. He asked me not to reveal his name or quote him directly.
John Michael Slebzak was born in Poland (or Russia) on February 17, 1898. According to the 1910 Census, he came to the US in 1905, settling in Baltimore with his parents, Andrew and Mary. Andrew's occupation was listed as farm laborer. They had five other children listed: Joe (18), Martha (14), James (10), Joseph (8), and Walter (infant). At the time, the family was living at 1609 S. Caton Ave, in the Halethorpe section of Baltimore.
John served in the Navy during World War I. For a while, he lived in Brooklyn, New York, where he married Helen in 1920. He returned to Baltimore with his family in 1929, after he got out of the Navy and worked some construction jobs in Staten Island. He continued to work in construction in Baltimore for most of his life. They had three children. Helen was deaf most of her life. In fact, in the 1930 Census, John's occupation is listed as "harbinger of deaf mutes." John and Helen divorced in the 1960s. John died in September of 1971, in Halethorpe. He was 73 years old. Helen passed away in 1982, at the age of 84.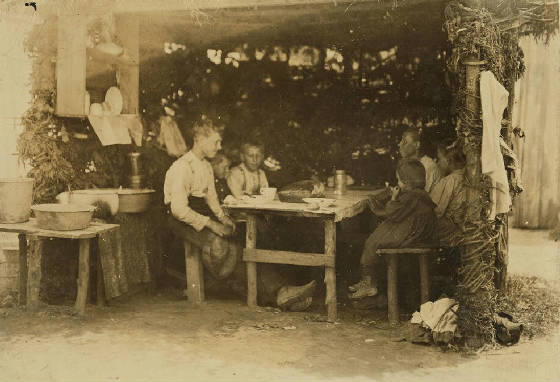 Lewis Hine caption: Noon hour on berry farm, Bottomley's near Baltimore, Md. The dining room, July 1909.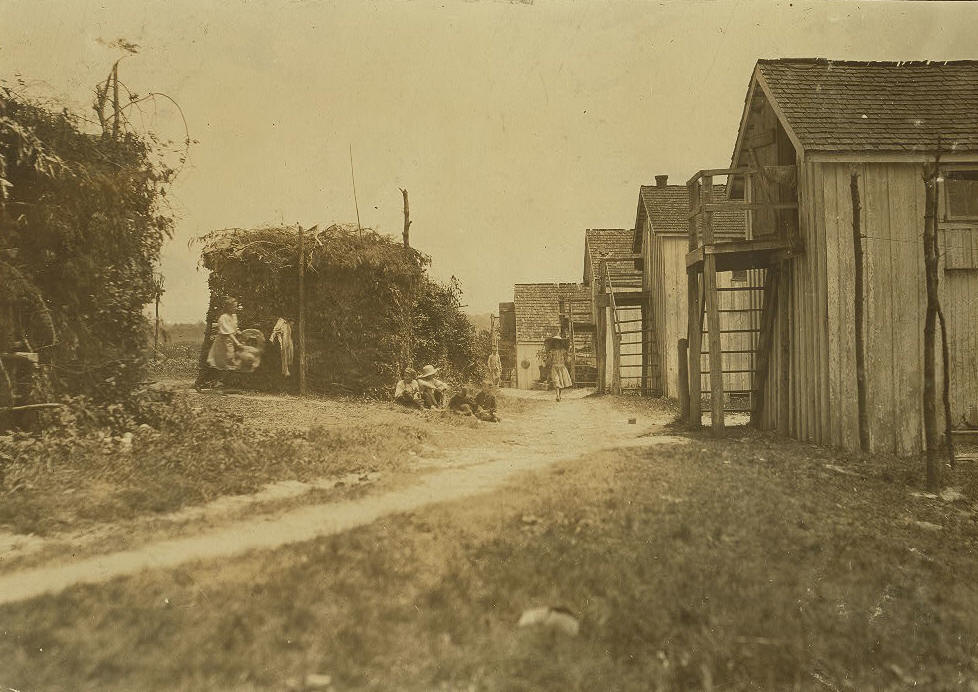 Lewis Hine caption: Shanties and cooking shacks on berry farm of Bottomley's, near Baltimore. Md. At times, four families live in one shanty: three families is the rule–two rooms, July 1909, Lewis Hine.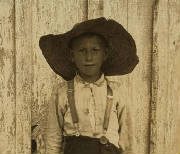 John Slebzak: 1898 – 1971
*Story published in 1909.