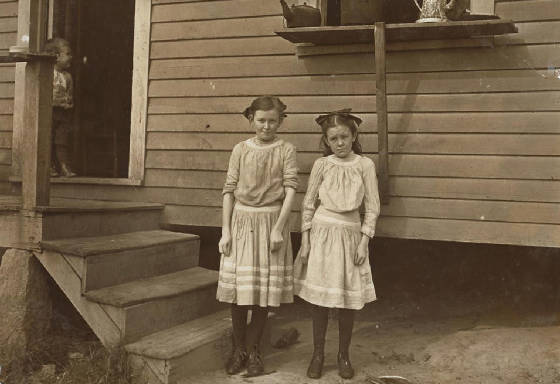 Lewis Hine caption: Lacy (12 yrs. old) and Savannah (11 yrs old) Have worked two years. Father said "The little one is a cracker jack on spinnin', at least so the boss says. She ain't satisfied unless in the mill. The oldest one isn't so good at it. Not as quick." (Note the tense, serious looks on the younger. Older one more like a real girl.) Location: Gastonia, North Carolina, November 1908.
"She (Lacy) was a wonderful grandmother. I used to stay at her house a lot and spend the night. She was a very good cook. I especially loved her potato salad." -Robert Ledwell, grandson of Lacy Ballard
"I remember my grandmother Savannah always having her head cocked to the right, just like in the picture." -Jim Jarvis, grandson of Savannah Ballard
"My mother was the sweetest woman that walked." -Beatrice Gross, daughter of Savannah Ballard
On the Library of Congress website, there are 45 child labor photos taken in Gastonia in 1908, about half of which identify children who were working at the Loray Mill. At one time, it was the largest cotton mill under one roof in the United States (six stories and 600,000 square feet). The other photos identify children at other mills, or in cases such as this one, a specific mill is not named. For obvious reasons, Hine would not have been welcome in the mills and other workplaces, although he often found ways to do it. Only one of the Loray mill photos shows children working inside the mill. For several photos that he took of children on their lunch hour, Hine notes, "The Superintendent was much disturbed over the photos."
I find this picture very precious. The girls have that typical dour look associated with photographs in this era. They might not have even known what a camera was. By the time they are toddlers, children today have seen countless photos of other children smiling and mugging for the camera, so they know what to do when we point it at them. Hine would have wanted us to believe that Lacy and Savannah had nothing much to smile about, and it's easy to make that conclusion, given the context.
The caption, as recorded by the Library of Congress, does not give the last name of the children. I tried to find two sisters named Lacy and Savannah living together in the North Carolina census, but that didn't happen. But I did find 12-year-old Lacy Taylor in the 1910 Gastonia census, living with 11-year-old sister Densey Taylor. I spent several weeks trying to track down descendants of Lacy Taylor (married name Rhinehart), eventually contacting a son. But he convinced me I had the wrong Lacy. He had never heard of sister Savannah, and he said the Lacy in the photo looked nothing like his late mother. So I suspended the search, planning to return to it in a few months, but it would be more than a year before I did.
In August of 2008, I searched for the girls on Google and found that the Hine photo was also posted on the website of the National Archives, which displays only a few child labor photos. At the beginning of the otherwise identical caption, I was stunned to read, "Lacy (12 years old) and Savannah (11 years old) Ballard. I wondered where they found the last name, and if it was correct.
I immediately searched all the Ballards in the 1910 Gastonia census and found two sisters, 14-year-old Lues and 12-year-old Suda. I also found the same family in the 1900 census, living in Sherril's Ford, Catawba County, North Carolina. In that listing, the two sisters were listed as Lucy and Sadie. Then I found 32-year-old Savannah Rimmer, married and living in Mountain Creek, North Carolina, in the 1930 census. Next, I found the North Carolina death certificate for Sudie Savannah Rimmer, maiden name Ballard. Within hours, I found her daughter, Beatrice Gross, called her and sent her the photo. At last, I had the correct family.
Curious about which mill the girls were working at, I went back to the 1910 census, two years after the photo was taken, and the Ballards were listed as living at 401 N. Pine Street. That was several miles from the mill village around the Loray Mill, so it is not clear what mill they worked at. According to a recent posting on Realtor.com, the former Ballard residence still exists, was built in 1904, and is a one-story, two-family house.
According to their death records, Lucy Lacy Ballard was born on March 17, 1896; and Sudie Savannah Ballard was born on April 26, 1897. Their parents were Edward Ballard and Meter Moss. They were married about 1892, and had at least 10 children, two of which died before 1910. Edward was a mill hand and a carder at the cotton mill. Records indicate that the little boy in the photograph was Lonnie Little Ballard. He was born in 1905, and died in 1984, at the age of 79. Edward died in 1955, at the age of 83; and wife Meter died in 1945, at the age of 69.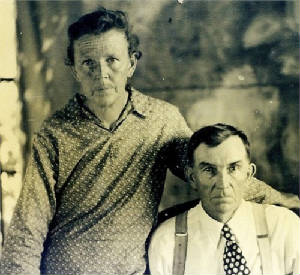 Savannah Ballard married James Oscar Rimmer about 1916. They had about 10 children, five who died very young or at birth. Oscar, as he was called, passed away on September 10, 1973, at the age of 79. Savannah passed away on February 8, 1975, at the age 77.
Edited interview with Beatrice Gross (BG), daughter of Savannah Ballard. Interview conducted by Joe Manning (JM) on August 27, 2008.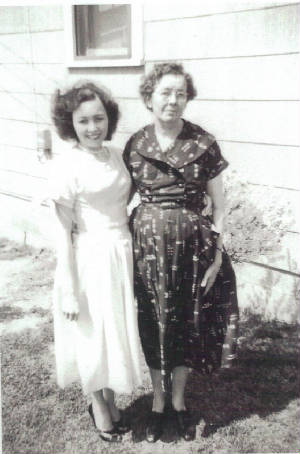 JM: What did you think of the photo of your mother, and did you know she worked in a cotton mill at that age?
BG: The picture was beautiful. I didn't recognize her at first, but my daughter did, and that's strange. She said to me, "Mother, she looks just like you." I never knew she worked in a cotton mill at that age.
JM: It appears she was photographed in front of her home, probably a mill house near the Loray Mill.
BG: I don't remember that house.
JM: What was her mother's name?
BG: I don't know her real first name, but they called her Koot.
JM: My records indicate that her name was Meter Moss, and her father's name was Edward F. Ballard. Your mother's birth date is given as April 26, 1897. So she was 11 years old in the picture. When I talked to Jim Jarvis, your late sister's son, the first thing he said about the picture was, "I remember my grandmother Savannah always having her head cocked to the right, just like in the picture."
BG: That's true.
JM: When were you born?
BG: 1926.
JM: Where was your family living at that time?
BG: I don't remember living anywhere except in the country, in Iredell County, North Carolina, until we moved to the city, to Statesville, North Carolina.
JM: When you lived in the country, were you living on a farm?
BG: Yes. We were sharecroppers.
JM: How old were you when you moved to Statesville?
BG: We moved there when I was in the fourth grade, about 1935.
JM: Do you remember working on the farm?
BG: Yes, I remember picking cotton. My whole family did. We were cotton farmers. I used to ride with my father to the gin. I got to ride back home on the cotton seed.
JM: Did you like doing that?
BG: Oh, yea. I got a penny when I went with him.
JM: Why did you move to Statesville?
BG: My father couldn't make it on the farm. He got a job in the Bloomfield cotton mill (officially called Bloomfield Manufacturing Co.). My mother worked there sometimes when she filled in for someone else.
JM: How many children did your parents have?
BG: I think she had ten altogether, but only five of them lived, four girls and one boy. I was the fourth child.
JM: Did you work as a child?
BG: Oh, no. I went to school, but I quit in the seventh grade. None of us finished. My daddy let me quit, so I helped my mother in the house. My father kept working at the mill, and my parents never moved out of Statesville.
JM: When your mother died, was she still living at the same house you grew up in?
BG: No. When we first moved to Statesville, we lived on what they called the Bloomfield Mill Hill. Then we moved a little ways from that, but Daddy still worked at the mill. Then we moved back to the first house again. When my mother died, she was living in the house that we liked the most, up on another mill hill.
JM: Was it a bigger house?
BG: It was just five rooms, but all of the children were married and gone by then.
JM: On the death certificate, it gives her last address as 916 Knox Avenue.
BG: That's right; that's the one.
JM: You live in Florida now. When was the last time you were in Statesville?
BG: It's been some time ago.
JM: Do you know if the house is still there?
BG: No, I don't, but I'd like to go back and find out. Nobody ever goes up that way anymore. The last I heard, the family that lived there had cut down the two beautiful trees we had in the front yard.
JM: What was your mother like?
BG: My mother was the sweetest woman that walked. She never got mad or said bad things. She always treated us children alike. She didn't have any special ones. She was always there when she was needed, and you could always depend on her. And I loved her with all my heart. She was a good Christian woman. The Baptist church she went to, my father helped to build. As far as I know, my Aunt Lacy was a good woman, too. She was married and had one child, a boy.
JM: Did Lacy and your mother remain close?
BG: Well, she and her husband lived in Gastonia. We never did visit very much, but we wrote each other and kept in contact. We didn't have any way of traveling, except by wagon.
JM: How do feel about your mother working at a cotton mill at that young age?
BG: I feel kind of bad, but I guess that if they had to do it, they had to do it. I had to work when I was living on the farm. I guess I figure that all children did that back then.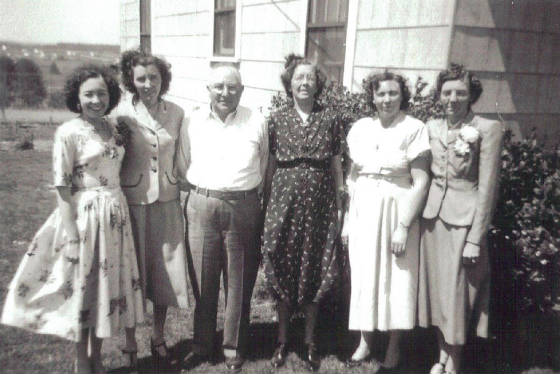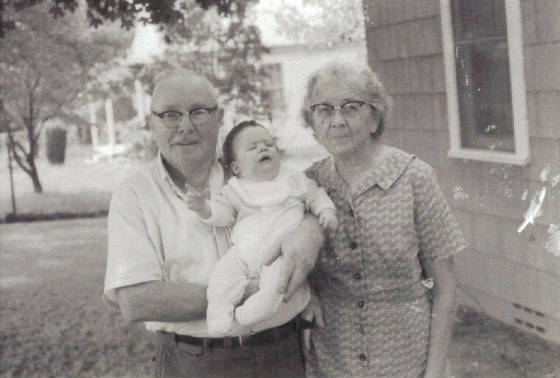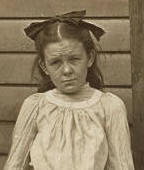 Sudie Savannah Ballard Rimmer: 1897 – 1975
**************************
Lucy Lacy Ballard married Grover Ledwell about 1920. She had one son, Alton Lee Ledwell, who was born about 1921, and died in 1987. Lucy (also known as Lacy) passed away on March 11, 1969, at the age of 72.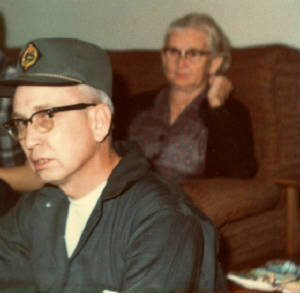 Edited interview with Robert Ledwell (RL), grandson of Lucy Lacy Ballard. Interview conducted by Joe Manning (JM) on January 15, 2009.
JM: What did you think of the photograph?
RL: I was very pleased to get it. I'm glad that I had a chance to see it.
JM: Had you ever seen a picture of your grandmother as a little girl?
RL: Never. My grandmother passed away when I was 18.
JM: Did you know that she had worked at that age?
RL: No. I knew that she was employed in textiles. When I was young, she worked in the weaving room at the Cannon Mills when she lived in Concord (North Carolina).
JM: Did it surprise you that she was that young when was working?
RL: It didn't surprise me, but I had questions about whether she was attending school then. I've heard that children worked at a young age in textiles, but I didn't know that my grandmother was part of it.
JM: Back then, it was common for children under the age of 12 to be working in the mills in North Carolina. The textile industry was quite dependent on child labor. Lewis Hine took a lot of pictures of child laborers in North Carolina.
RL: I'm sure glad he took one of my grandmother.
JM: Mr. Hine was taking these photos to convince people that there should be laws to prohibit child labor and keep them in school. What do you think about that?
RL: I agree. I don't really know what kind of education my grandmother had.
JM: Did you know her sister Savannah?
RL: No, but I remember hearing of her at some point.
JM: Did your grandmother ever talk to you about growing up in Gastonia?
RL: I remember her telling me and my sister about growing up in Gastonia, and about some of her relatives that lived over near the mills. But that's all I remember about it.
JM: What did you call her?
RL: Nanny. It's funny, but I remember her being called Lacy sometimes, and Lucy at other times. That always confused me.
JM: So she was your father's mother, right?
RL: Yes. My father's name was Alton Ledwell. I'm Robert Alton Ledwell.
JM: What did your father do for a living?
RL: He was a truck driver. My mother graduated from high school, but I don't believe he did.
JM: Did you go to college?
RL: When I got out of high school, I went to college for a short time, and then I joined the service. I'm in textiles also. I work for a company that makes sports-related t-shirts for companies like Nike and Reebok. I travel down to Mexico and Central America a lot. Most of the t-shirts are manufactured down there. I'm a maintenance director. I take care of the maintenance on the sewing machines.
JM: What was your grandmother like?
RL: She was a very easygoing person. She was very lovable, a real good human being. I never heard her say anything bad about anybody. She was a wonderful grandmother. I used to stay at her house a lot and spend the night. She was a very good cook. I especially loved her potato salad.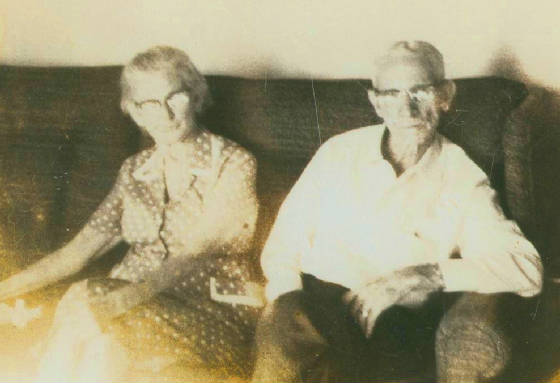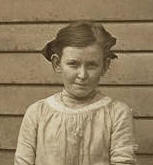 Lucy Lacy Ballard Ledwell: 1896 – 1969
*Story published in 2009.