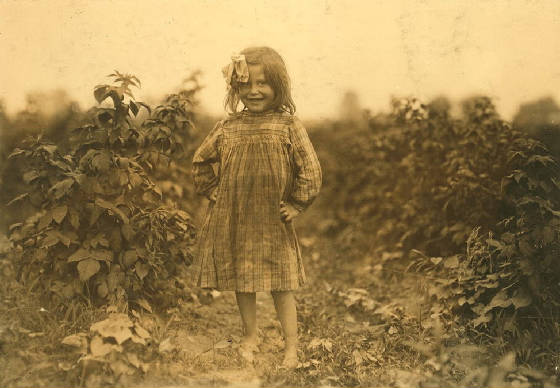 Lewis Hine caption: Laura Petty, a 6 year old berry picker on Jenkins farm, Rock Creek near Baltimore, Md. "I'm just beginnin'. Picked two boxes yesterday. (2 cents a box). July 8, 1909. Location: Baltimore, Maryland.
This photo is precious, and is one of the most popular in Lewis Hine's child labor collection. But my research on her was disappointing. Girls are harder to trace than boys, because in most cases, you have to determine a married name before you can find the death record. A couple of lucky breaks revealed her married name.
I found her in the 1910 census right away. She was living in Baltimore with her parents, Charles F. and Minnie Petty. Charles, who was born in Mississippi, was working at a lumber mill. Minnie, who was born in Germany, came to the US in 1893. They were married about 1901. Two other children were in the home. Laura was the oldest, having been born in 1903. In 1920, Charles was a deputy sheriff, and he and Minnie had three more children. Laura, now 16, is working in an undetermined job.
Laura married Herman Schmaus about 1926. He was born in Maryland in 1902, of German immigrants, and was working as a pipe fitter for a shipyard. They had one child, Doris, born about 1928. I quickly found both Laura and Herman in the Social Security Death Index, and later, their obituaries. That led me to Doris, the older of two children, and the only one currently living. She resides in the Baltimore area.
She knew about the photo, having run across it a few years ago. But she politely declined to be interviewed, and I was left wondering what her mother's life was like.
The Jenkins farm where Laura worked was located in Anne Arundel County, about 15 miles south of Baltimore. My research indicates that the farm was owned by several generations of the James Jenkins family. At that time, this part of Maryland was populated by many vegetable and berry farms. The area is now called Riviera Beach, a residential community within the town of Pasadena. Lewis Hine took a number of photos of children and families working for both the Jenkins farm and the nearby Bottomley farm.
I talked to the 97-year-old daughter of the owner of the Bottomley farm. She told me that it was common for Baltimore families to come in the summer months and pick berries and melons. Laura was photographed in July, so apparently she was among those people. I grew up near Baltimore, and I know how hot and humid it got in the summer, so I do not envy Laura's long days in the sun. Judging by her winsome smile, she must have been a hopeful and courageous little girl.
Herman Schmaus died in Baltimore on December 17, 1981, at the age 79. Laura passed away almost nine years later, on April 11, 1991, also in Baltimore. She was one month short of her 88th birthday. They are buried at Parkwood Cemetery, in Baltimore.
*Story published in 2008.