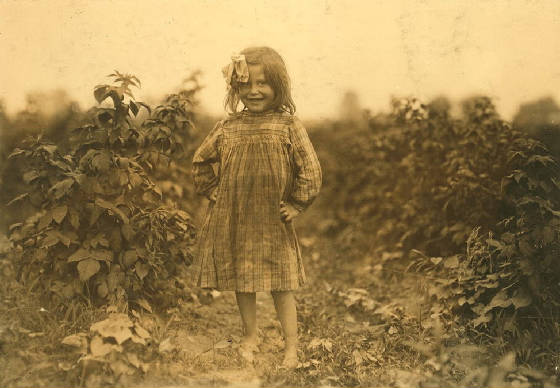 Lewis Hine caption: Laura Petty, a 6 year old berry picker on Jenkins farm, Rock Creek near Baltimore, Md. "I'm just beginnin'. Picked two boxes yesterday. (2 cents a box). July 8, 1909. Location: Baltimore, Maryland. (See my report July 10, 1909.)
This photo is little Laura is precious. But the words of Lewis Hine, written two days later, cast a dark shadow.
"In the fields, children are employed as a matter of course. I investigated a number of farms and am convinced that we have been too lenient with the agricultural pursuits. In the first place, the long hours these children work in the hot sun and in company, too often, with foul-mouthed negroes and whites more than compensates many times over for the boasted advantages of fresh air and country life. The living conditions in the shacks they occupy are not only harmful in physical ways, but the total lack of privacy where several families live in one room is extremely bad. One mother told me, "It is bad for the children. They get to know too much." There is little rest for children in these crowded shacks. There were, on these farms, children from four years of age upward, helping and then working regularly."–excerpt from "Child Labor in the Canning Industry of Maryland," July 10, 1909, Lewis W. Hine
Similar reports indicate that children, such as Laura, were transported in trucks from Baltimore to the fields of Anne Arundel County, and lived for periods of time in shacks, such as those referred to in Hine's report. The Jenkins farm where Laura worked was about 15 miles south of Baltimore. My research indicates that the farm was owned by several generations of the James Jenkins family. At that time, this part of Maryland was populated by many vegetable and berry farms. The area is now called Riviera Beach, a residential community within the town of Pasadena. I grew up near Baltimore, and I know how hot and humid it gets there in the summer, so I do not envy Laura's long days in the sun.
I found Laura in the 1910 census right away. She was living in Baltimore with her parents, Charles F. and Minnie Petty. Charles, who was born in Mississippi, was working at a lumber mill. Minnie, who was born in Germany, came to the US in 1893. They were married about 1901. Two other children were in the home. Laura was the oldest, having been born in about 1903 (verified later as May 8, 1903). The house, which they owned, was located at 819 Grove Street.
According to the 1920 census, they were living at 802 Kenwood Ave, a house which they also owned. Charles was a deputy sheriff, and he and Minnie had three more children. Laura, then 16, was working in a cannery.
Laura married Herman Schmauss in about 1926. He was born in Maryland in 1902, of German immigrant parents. According to the 1930 census, they were living in a rented house at 507 Belnord Avenue, in Baltimore. Herman was working as a pipe fitter for a shipyard. They had one child, Doris, born about 1928. They had one other child, Herman Schmauss, Jr, who was born in 1940, and died in 2002. The family did not appear in the 1940 census, an omission that was not unusual. Laura's father died in 1946, and her mother died a year later.
I found both Laura and Herman in the Social Security Death Index, and later, obtained their newspaper obituaries. That led me to daughter Doris. She resides in the Baltimore area. I called her. She told me that she had seen Laura's photo a few years back. But she politely declined to be interviewed, and I was left wondering what Laura was like, and how her life turned out.
Herman Schmauss died in Baltimore on December 17, 1981, at the age 79. Laura passed away almost nine years later, on April 11, 1991, also in Baltimore. She was one month short of her 88th birthday. They are buried at Parkwood Cemetery, in Baltimore.
In July of 2017, nine years after I wrote this story, I received the following email:
"I was doing some family research when I found your 2008 article about Laura Petty, and I want to know more about how you found the photo, as I am her paternal granddaughter. Doris (Laura's daughter) shared a copy of the photo with me a few years ago and I believe she even mentioned someone contacted her for additional details—must have been you!"
"Doris had a brother (my father) who was born in 1940 and died in 2002. He moved to Alabama a few years after his time in the Army, got married, found work, and had kids. If you have anything else on the Schmauss family you would be willing to share, I'd love to see it. Thank you for taking the time to write the article. It's a delight to learn new things about my family. Regards, (Ms.) Devon Schmauss."
I quickly replied:
"I am excited to hear from you. When I decided to write the story about Laura, I found Doris and talked to her. She was aware of the photo. But she was not interested in being interviewed, so I kindly respected her wishes and ended my research. That is why my story was so short. I was very disappointed. But your email gives me the opportunity to finally write a good story about Laura. If you knew her and remember what she was like, I would like to interview you."
She replied:
"Unfortunately, I didn't see my grandmother often, and she passed away when I was 10 years old. But I'd be more than happy to answer questions and share what I can remember of her."
We talked, and it was decided that her mother (Laura's daughter-in-law) was the best person to interview. Although the interview was fairly brief, I am no longer "left wondering what Laura was like, and how her life turned out."
Edited interview with Sandra Schmauss, daughter-in-law of Laura Petty. Interview conducted by Joe Manning on November 11, 2017.
Schmauss: Laura was my mother-in-law. I married her son Herman in 1965. He had gone to Johns Hopkins University to study communications, but he didn't like it, so after two semesters, he enlisted in the service and got into communications. At one point he was listening in on Russian conversations. Then he was assigned to duty in Japan. After that he left the service and worked at an aluminum plant.
Manning: When you met Laura, how did she impress you?
Schmauss: When I met her, she was already in her sixties. She was very authoritative. She knew what she wanted to say. She was kind of intimidating, and very boisterous. She said things in sort of a loud manner. I was very timid then, so I had to back off from her some. She was like that with everyone. But people got used to her and liked her anyway, and so did I eventually. She was a very dear person. She was always looking out for other people, always trying to help them. She had a bubbly personality and a good sense of humor. She helped my husband and me financially when we first got married, and again when we bought a house. She was a good cook. She introduced me to sauerkraut. She lived in a row house in Baltimore.
Manning: What was Laura's husband like?
Schmauss: He had sort of a stiff upper lip. He wasn't very sociable. He was quite strict. I think I managed to bring out some laughter in him. They were married 37 years. He worked in the shipyards.
Manning: What did you think of the child labor photo of her?
Schmauss: Laura knew about it, and so did her daughter Doris. They saw it in the National Archives in Washington. Later she gave me a copy of it. It might have been from the newspaper. I think she was proud of it. It's funny, because she couldn't stand for anyone to take her picture. I tried many times to take her picture, but she always refused.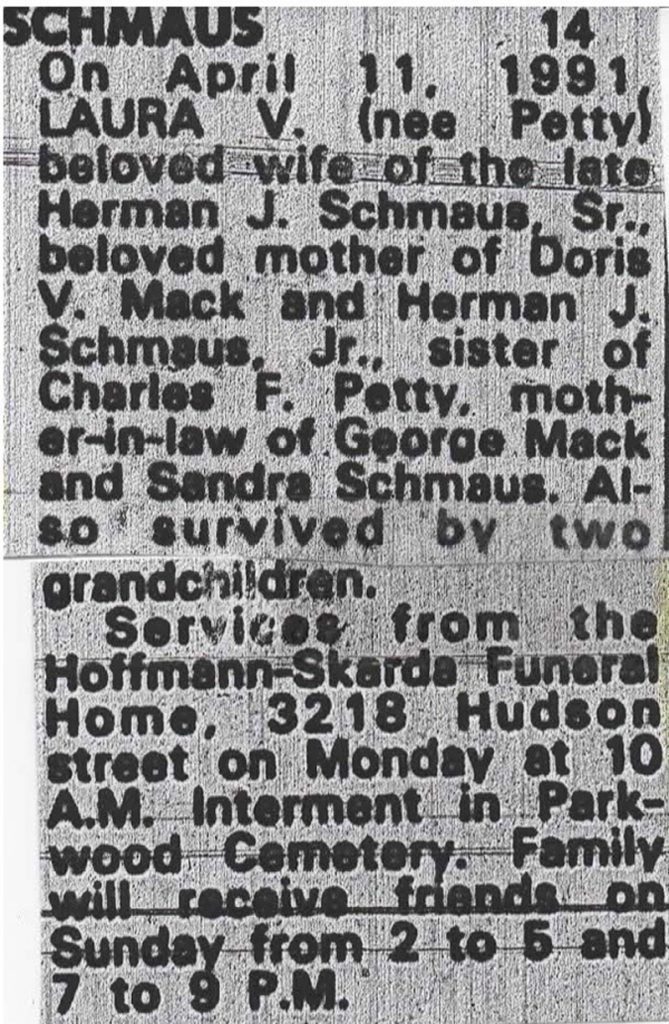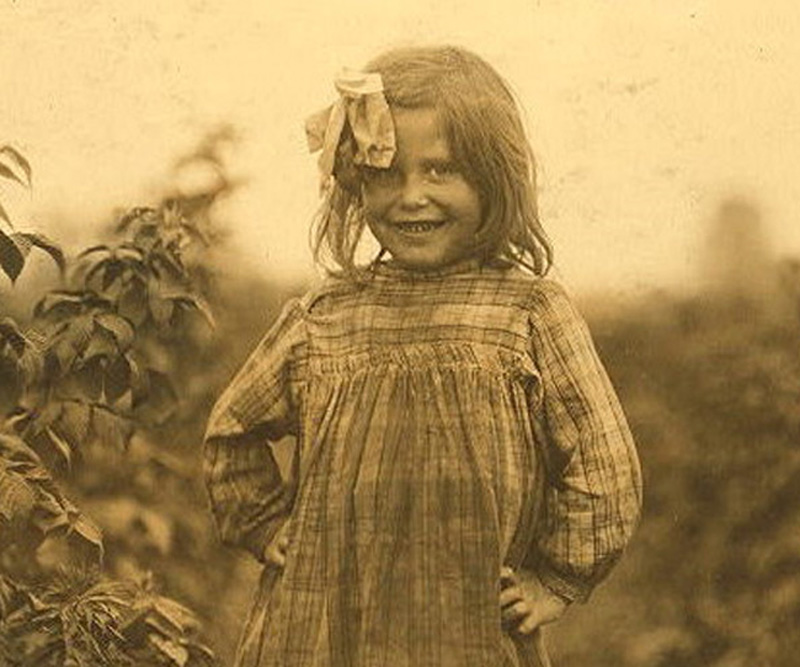 **************************
You may have noticed that two spellings of Laura's married name appear in her public records. The most notable example is Schmaus in her obituary, but Schmauss on her headstone. Using Newspapers.com, I searched the archives of Baltimore newspapers (mostly the Baltimore Sun) from 1900 to the present. Schmaus appeared 475 times, and Schmauss appeared only 67 times. Laura's husband Herman spelled it Schmaus, but her son Herman Jr. spelled it Schmauss later in life, and so do his widow and children. It appears to me that Schmaus was the common spelling for German immigrants in the early 1900s, but Schmauss was somewhat common later on. Of course, spellings of surnames often change from generation to generation. I have elected to use Schmauss.
*Story published in 2008, and revised in 2018.