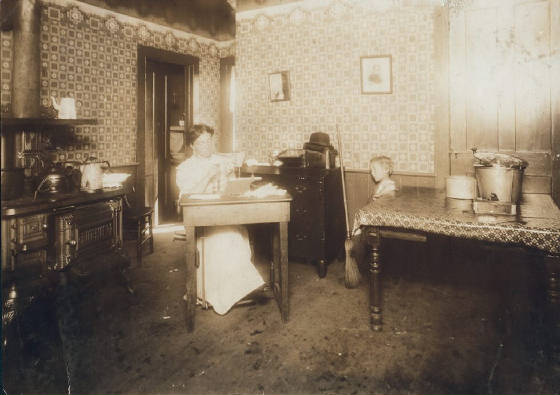 Lewis Hine caption: Mrs. Helems, Leeds, Mass., putting bristles into tooth brushes in an untidy kitchen. She makes about $4.65 a week usually. The sanitary conditions in most of these homes are pretty good, but some times filthy rooms are found and often tuberculosis with the work still going on. The company really seems to be trying to reduce the amount of home work. Location: Leeds, Massachusetts, September 1912.
Most of Lewis Hine's child labor photographs depicted children, but some were of women working at home, since many companies farmed out work so that mothers did not have to bring small children to the mill. And because some states had established limited child labor regulations, companies could easily bypass them by claiming that children found working at home were simply helping their mothers. The Pro-Brush Company, of Florence, Massachusetts, established in 1866, was one of the companies that engaged in this practice. I happen to live in Florence. Both Leeds and Florence are distinct villages in Northampton.
I had already researched a photo in Leeds, nearly identical to the one above (see Lucy Lampron). It may have been taken on the same day. After a quick check of the census, I identified the woman as Lena Helems, and the boy as her son Leonard. In the city directories at the library, I determined that the house was at 6 Warner Row, a street off Florence Street in Leeds. I headed over there with the photo and my camera and found a dead-end street lined with what appeared to be mill houses.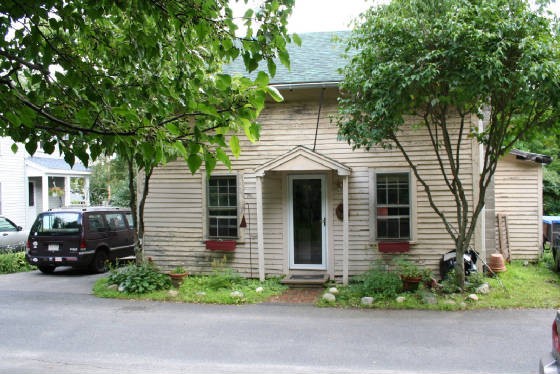 I knocked, and a woman came to the door. I introduced myself and showed her the photo, explaining its significance. She was immediately interested and invited me in. Right away, with my camera, I was able to figure out exactly where Hine would have been standing when he took the picture, despite some remodeling that had taken place. It was quite a strange moment, knowing Hine had been there 95 years before.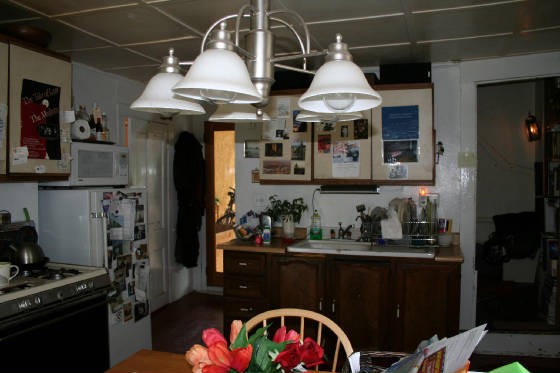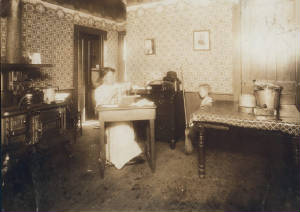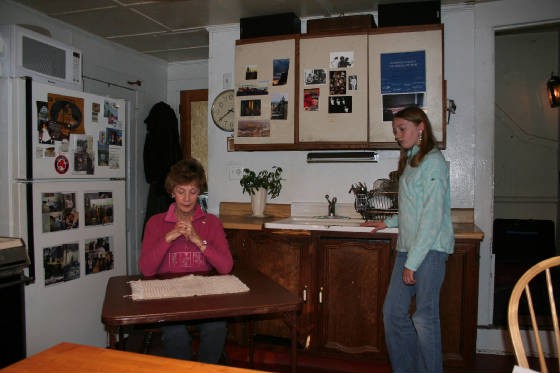 The next day, I located several of Lena's descendants, and personally delivered a copy of the photo to granddaughter Patricia Tanguay, in the company of her own daughter and granddaughter. They were stunned.
Lena Mongeon was born in Leeds in 1883. In the 1900 census, she was living with her parents, Ubar and Mary, at 76 Water Street in Leeds (the house is still there). Her father's occupation was listed as "life insurance." She married John Helems about 1901. They had at least seven children, one of whom died very young. John, a native of Plattsburg, New York, worked mostly as a farmer, perhaps for the Warner farm that used to be located behind their house. They lived the rest of their lives in several of the houses on Warner Row. John died in 1933, at the age of 52. Lena worked for 27 years as a seamstress at the Veterans Hospital in Leeds.
Marlene Childs, also of Leeds, has fond memories of her grandmother Lena, and was only too happy to tell me about them. When she looked at the Hine photo and read the caption, she laughed at his "untidy kitchen" observation.
"Untidy kitchen? Gram Helems was spotless. You could eat off her floor."
She was surprised to learn of Lena's early job, putting bristles on toothbrushes, but then said, "She was a very dedicated, hard working woman, and I think she always did something to help her family."
The daughter of Lena's son Raymond, Childs grew up on Warner Row, which at one time was inhabited almost entirely by the Helems family.
"I used to run over and see Gram. She always told me I was a talker. 'You can sure talk,' she would say. I was good at mimicking radio commercials. I would sing them for her, and she would laugh. I'd run over to her and say, 'Gram, I just learned the new Duz song. And then I'd sing it.' And she'd say, 'Oh, you are something.' She would tell my father, 'She can charm the birds right out of the trees.' That was one of her favorite sayings."
"Gram worked as a seamstress at the VA. She was a very conscientious worker. She would even eat her lunch while working at the sewing machine. I remember her walking down the road from work, and she was so tired. You could see it in her stooped shoulders."
"I was about nine years old when Gram died. I'll never forget it. I was coming down the hill from school, skipping and laughing, and my mother grabbed me and said, 'Shhh, your grandmother just died.' My cousin Peggy was with me. I remember her running down the road and screaming, 'Gram, Gram.' She died from a strangulated hernia."
On one of my many recent walks around Leeds, I ran into Northampton City Councilor Ray LaBarge, who is well into his eighties. I told him about the Hine photos, and when I mentioned Lena Helems, he said, "I remember Lena. I used to drive her to work in the morning. In fact, I gave her a ride the day she retired. It was only a few days later that she died."
Lena Helems died on Sept 12, 1951, 39 years after Lewis Hine caught her on camera. She was about 66 years old. According to her obituary, she was survived by six children, sixteen grandchildren, and seven great-grandchildren. She is buried at St. Mary's Cemetery in nearby Haydenville.
"Everybody loved Gram," said Childs. "She was a lovely woman, very kind and gentle. My Aunt Millie (Lena's daughter) lived with her. Millie was ill, and Gram took care of her. When Gram died, it was a big impact on Aunt Millie. She stayed in the house, and I think she got some kind of job, but her family still helped her out."
Childs also worked at the VA, starting out in the dietetic department, and retiring 10 years ago, after a few years in the finance department.
"It's been a family tradition at the VA. There was Gram, then her daughter, Irene Rogers. She put in about 20 years. I put in 31 years, and now my daughter Laurie works there. That's four generations. And my Dad was on the construction crew that built it."
"When I started there, I used to run down to get a uniform and people remembered Gram. They would say things like, 'Your grandmother, what a lovely lady. She was the best worker we ever had.' She was the first seamstress for the VA."
No one in the family that I talked to had any photos of Lena.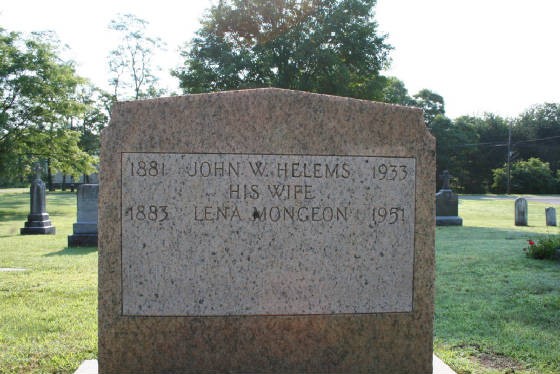 *Story published in 2008.