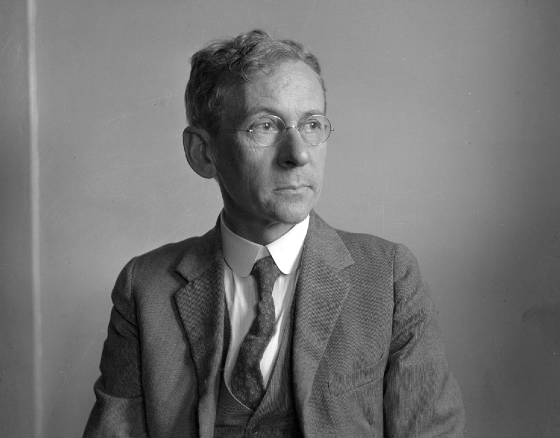 Lewis Wickes Hine, courtesy of George Eastman House, International Museum of Photography and Film.
Lewis Wickes Hine was born in Oshkosh, Wisconsin, on September 26, 1874, to Douglas Hull Hine and Sarah Hayes Hine. His father died in an accident in 1892, when Lewis was 18, forcing him to postpone further schooling, so that he could work to support his family. He was employed for a while at a furniture factory, and also worked as a janitor and bank cashier.
In 1900, he enrolled at the University of Chicago, where he studied sociology and childhood education. A year later, he was hired as a teacher at the Ethical Culture School in New York City, a progressive elementary school founded by social reformer Felix Adler. At the same time, Hine continued his studies at New York University and Columbia University. He married Sara Ann Rich in 1904.
That same year, at the urging of the school, Hine learned to use a camera, and took students on field trips to the countryside to photograph nature, and to city streets to document poverty. His interest in social reform led him to Ellis Island, where he took respectful and sympathetic pictures (now famous) of immigrants arriving from Europe. In 1907, Hine was hired by the Russell Sage Foundation to take photographs for the Pittsburgh Survey, a study of labor and industry in the steel manufacturing city.
In 1908, he took a job as an investigator and photographer for the National Child Labor Committee, a private organization founded in New York City in 1904. Hine traveled the country for 10 years and took over 5,000 pictures of child laborers, and in most cases, recorded the names and ages of the children. His work contributed immeasurably to the growing movement to establish effective laws to limit child labor.
In 1918, Hine worked for the Red Cross, documenting the lives of French and Belgian citizens suffering from the impact of World War I. In the 1920s, he used his camera to campaign for better and safer working conditions in the US. In the 1930s, he recorded the construction of the Empire State Building, which required him, at age 57, to photograph from the high beams, 70 and 80 stories up. Many of these photos, along with others of working men, were published in a celebrated book called Men at Work (1932).
He also photographed the building of dams in the South, for the Tennessee Valley Authority, and he worked briefly for the WPA. But his career took a downward spiral during the Depression years. Soon after his wife died in 1939, he lost his home in Hastings-On-The-Hudson, New York, because he couldn't keep up his mortgage payments.
Lewis Wickes Hine died on November 3, 1940, due to complications following surgery. After his death, his son Corydon donated his father's prints and negatives to the Photo League, which was dismantled 11 years later. Most of his work is now archived at the George Eastman House, Rochester, New York; the Library of Congress; and at the Albin O. Kuhn Library & Gallery, at the University of Maryland Baltimore County.