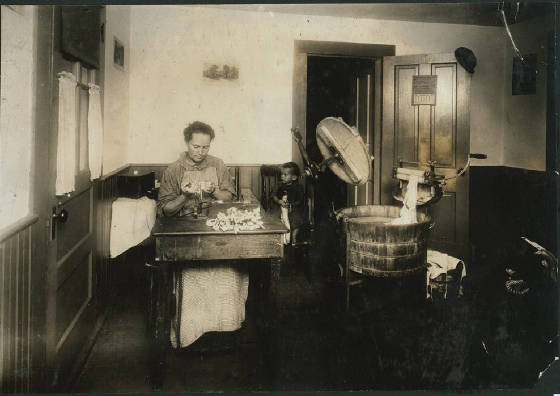 Lewis Hine caption: Mrs. Eugene Lampron, Reservoir Street, Leeds, Mass., putting the bristles into tooth brushes in the kitchen of her home. She has been doing it for 9 years, and showed the effect of it. Location: Leeds, Massachusetts, September 1912.
It was raining in the Pioneer Valley of Massachusetts on the morning of May 16, 1874. Williamsburg residents Peter and Leocadie Gagnon were anxiously awaiting the birth of their seventh child, who was due any day. Suddenly, a dam holding the Williamsburg Reservoir gave way, and a 300-foot-wide wall of water rushed downstream. In no more than an hour, four villages along the Mill River were virtually leveled, and 139 people lost their lives. Somehow the Gagnons survived, and daughter Lucy Elizabeth was born the next day.
Thirty-eight years later, in September of 1912, Lucy, now married to Eugene Lampron, received a strange visitor to her home in nearby Leeds, which is a distinct village in Northampton. He was short and wiry, and he carried a large camera and tripod. He asked if he could take some pictures of her. Lucy was busy in the kitchen putting bristles on toothbrushes, probably for the Pro-Brush Company, of Florence (also a village in Northampton), while her little son played and watched. She consented, and a few minutes later, the man gathered his equipment and left.
Most of Hine's child labor photographs depicted children, but some were of women working at home, since many companies farmed out work so that mothers did not have to bring small children to the mill. And because some states had established limited child labor regulations, companies could easily bypass them by claiming that children found working at home were simply helping their mothers. The Pro-Brush Company, established in 1866, was one of many companies that engaged in this practice. I happen to live in Florence, where some of the Pro-Brush buildings still stand.
In the summer of 2007, I noticed a few photos Hine had taken in the area, three of which were of women working at home (see stories about Lena Helems and Nellie Weeks). One of those women was referred to only as Mrs. Eugene Lampron. After a quick look at the census, I identified the woman as Lucy, and the little boy in the kitchen as her son Earl. A trip to the library to look at the city directories revealed that she was living at 65 Reservoir Road at that time. So I drove over there and found the house, remodeled somewhat, but still there. It was a weird feeling.
I met Karen Lynds, who lives in the house behind it. I showed her the photo, and she said, "My God, that's my grandmother's kitchen." She told me that her grandparents, Arthur and Annie Gilbert, lived in Lucy's house as early as 1921, and that she grew up in the house next door on the same property. "When we were kids," she continued, "my grandmother had an outhouse, and they raised chickens. She told me that she used to have a huge flower garden on the side of the house. One day, Grace Coolidge (widow of former president Calvin Coolidge, who lived in Northampton drove by, got out of the car, and looked at the flowers. So my grandmother gave her a big bouquet, and a picture of her flower garden wound up in the Daily Hampshire Gazette."
I continued my research on Lucy Lampron and was stunned to learn that she died of a heart attack four years after the photo was taken, only 18 days after the birth of her daughter, Marguerite. She was 42 years old. In a few more days, I had tracked down all three of Marguerite's children: Robert, Sandra and Gail. None knew of the Hine photo, and of course, they never knew Grandmother Lucy.
When I showed the Hine photo to grandson Robert Edmunds, of Northampton, he said, "She looks like my kid sister Sandra." He dug up some wonderful photos of Lucy, one taken of her and Eugene on their wedding day in 1893. In a nostalgic conversation, he remembered, "I had seen pictures of Grandma Lucy when I was a kid. Mom always said she was a beautiful woman. She always had that wedding picture on the mantle."
Eugene married again, this time to Clara, and worked many years as a meat cutter in a store on Market Street. "I knew him when I was a little boy," Edmunds said. "He was old and had a heart condition and didn't get around that well. I have a picture of him holding up this huge sturgeon down at the dock. He had a garden down in the Meadows section of the city. He'd go there with his friends and pitch a tent and fish and get stuff out of the garden and bring it back home, and Grandma (Clara) would can them."
Gail Newton, another grandchild, who lives in North Carolina, told me that when her mother Marguerite was just a young teenager, she was a personal maid to "Mama" Wiggins, who owned Wiggins Tavern. The famous tavern still operates in the city's fanciest hotel.
"Right after grandmother Lucy died, my grandfather Eugene had trouble getting babysitters. He said that one time, my mother, still just a little child, came running into church completely undressed except for a T-shirt, and she was terribly dirty. So he ended up taking the children to Brightside (Catholic orphange in Holyoke). She was there with her brothers. Brightside thought my grandfather was wealthy. I don't know how often he got there to see them, but every time he did, the staff would tell him the children needed new shoes. My mother got married in Northampton in 1943. After my father died, she sold her house and moved in with me. She died in 1997."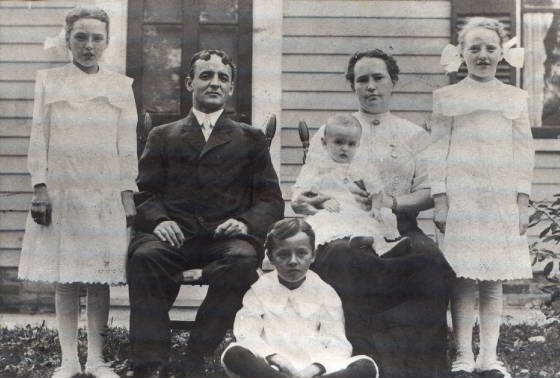 Lucy Lampron is buried at St. Mary's Cemetery in the Florence section of Northampton, along with her husband, who died in 1950. She had at least six children, Marguerite being the last one to die. Her parents are buried at St. Brigid's Cemetery in nearby Easthampton. In her obituary in the Gazette, it says in part: "All who knew her were impressed by her great love of children. Although she was devoted to her home, she was always ready to go to all who were in trouble or sorrow." And now we can add, "A photo of her is in the Library of Congress."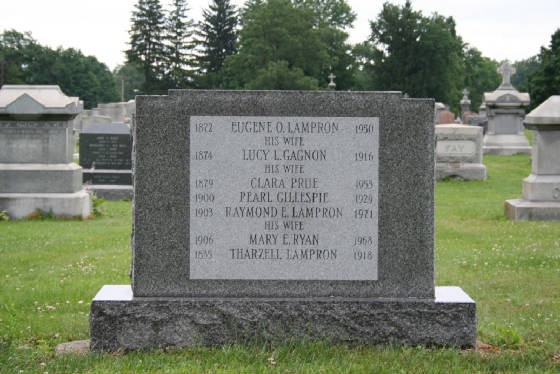 *Story published in 2008.