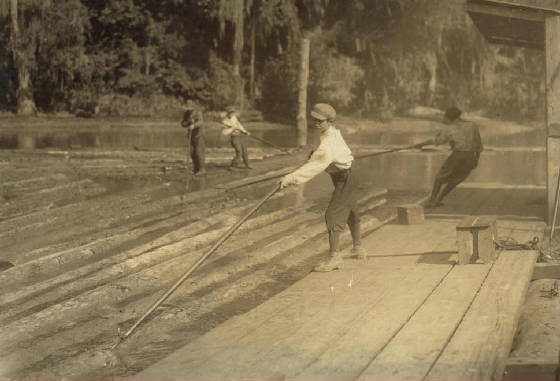 Lewis Hine caption: Hard work and dangerous. This "river-boy" Lyman Frugia. Poles the heavy logs into the incline that takes them up to the mill. It is not only hard work, but he is exposed to all kinds of weather and is dangerous too. Said he is 14 years old, has worked here several months, gets one dollar a day. Miller & Vidor Lumber Company. This is the only mill I found around Beaumont that employed boys – likely because they are located some distance from town. Location: Beaumont, Texas, November 1913.
"My father grew up doing hard work and did it all of his life. That was the way of the times. He was just trying to survive." -Lyman Frugia, Jr
The following is from Industrial relations: Final report and testimony, by United States Commission on Industrial Relations, Basil Maxwell Manly, 1916:
"IX. Lumber mills.-November 6 to 10, 1913, in the lumber mills at Doucette and Nacogdoches-Frost-Johnson Lumber Co. (large mills), and Millard Lumber Co. I found no young boys. Then I went through the following mills in Beaumont and found no young boys: Kirby Lumber Co., Neches Lumber Co., Beaumont Shingle & Lumber Co., Georges Lumber Co. I talked with the superintendent of the Beaumont Shingle & Lumber Co., who said, 'We used to use some young boys in the shingle mill, but a Government inspector came along and said that, while he wouldn't do anything this time, he would advise us to get those boys out of the mill just as fast as we could. It cost us a hundred dollars a day, I think. Boys don't pay around this work anyway.'"
"After finding all these good conditions I was greatly surprised to find three violations of the law in the Miller & Vidor Lumber Co., one of 12 years, and two of 14 years, all working more or less around dangerous machinery. This mill is located some distance from town, and that may account for the liberties they take with the law."
"At Orange I found one boy who said he was 13, and one boy who appeared to be 14, working in the Miller-Link Lumber Co., and a 14-year old boy at the Lutcher, Moore Lumber Co., and several who might be under 15."
"In other mills more remotely situated there are surely other violations of the law to be found. Fifteen years is too young for such boys to be working near and at dangerous machinery. Age should be raised."
**************************
Charles Shelton Vidor acquired the Beaumont Sawmill Company in 1902, and soon established the Miller-Vidor Lumber Company. Its headquarters was in Galveston, and the company owned land, mills and lumber railroads in parts of East Texas. The towns of Vidor and Milvid are named for him. His son, King Vidor, became an award-winning film director, known for such movies as Stella Dallas, Duel in the Sun, and The Fountainhead.
According to the Vidor Chamber of Commerce website, the city is located about six miles east of Beaumont. The area had heavy lumbering activities with the construction of the Texarkana and Fort Smith Railroad in 1898. In 1913, a company tram road was built. It was known locally as the Peach Line, and it opened thousands of acres of virgin timber to loggers. Almost all Vidor residents worked for the company. In 1924 the Miller-Vidor Lumber Company moved to Lakeview because local timber stands were depleted, but a small settlement remained, and the Miller-Vidor subdivision was laid out in 1929. Rice, cotton, and cattle were developed into important local industries.
**************************
As soon as I saw Lyman's photos, I thought of Life on the Mississippi, by Mark Twain. But the caption betrays the romantic image of the "river boy." This was serious business for 14-year-old Lyman, and I immediately wanted to know how things turned out for him. It didn't take me long, perhaps about an hour at the most. His unusual name was a big help.
He turned up in the 1930 census, as Lyman Fregia, married to Sadie, and working as a building contractor. They had two children, including son Lyman, Jr. Then I found him in the Social Security Death Index, as Lyman Frugia. He died in Beaumont in 1980. I went right to the Internet white pages and found a Lyman Frugia, Jr living in Vidor, Texas, so I called him. He was the son, and he was very surprised about the photos. They went out in the mail the next day.
Lyman Frugia was born in Beaumont on May 11, 1899, the youngest of three children born to Pierre Virgil Frugia and Lidia Cuniff, who married in 1891. Pierre had been married once before, to Mary Bowes, and they had seven children. By the time Lyman was born, Pierre was already 62 years old. He died in 1910. I could find no record of Lidia's death. Most of the information up to this point had come from a family history website.
In the 1900 census, Lyman's father was listed as a "river boy man." In the 1910 census, Lyman was living with relatives, though it is not clear how he was related. In 1920, he was living with his sister and her husband, and his occupation was listed as boiler maker in a shipyard. According to Lyman, Jr, his father married Sadie Ray Boudreaux on May 10, 1921. He was 22, and she was 13.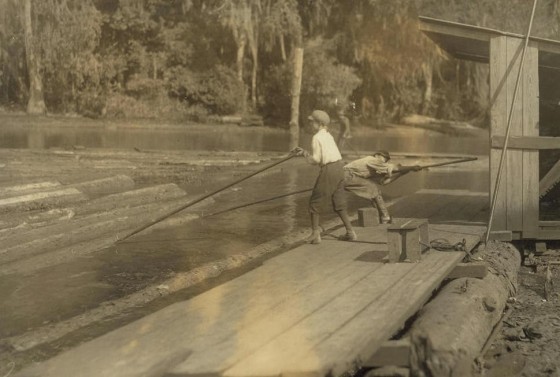 Edited interview with Lyman Frugia Jr (LF), son of Lyman Frugia. Interview conducted by Joe Manning (JM) on September 8, 2008.

JM: What did you think of the photographs of your father?
LF: I was thrilled to get them. I don't have any pictures of him when he was young.
JM: Did the boy look like your father?
LF: Yes, pretty much.
JM: Did you know that he was working as a so-called river boy when he was that young?
LF: Yes. He told me about it. He had worked for a lumber company when he was a young boy.
JM: What did he say about it?
LF: He said he needed the money. His parents died when he was about 12. He and his sister Goldie were living with  kinfolk. I don't know which ones, but he was living in Beaumont. He first started selling newspapers, and then he went to work with the lumber company.
JM: In the caption for the photo, Lewis Hine writes, 'It is not only hard work, but he's exposed to all kinds of weather and it's dangerous, too.'
LF: It was dangerous work. He was telling me about how they used to work the logs on the river and all when he was a young boy. In later years, he worked on a tow boat that towed logs down the river. I don't know how long he worked for the lumber company.
JM: What did he do when he grew up?
LF: When he grew up, he worked some tank building jobs, and then later, he worked on some construction jobs. Then he worked on the city docks in Beaumont and eventually became a foreman. His workers were loading ships. And that's where he retired from. During WWII, when they weren't shipping out of the port here, he worked for Consolidated Steel, which was building ships in Orange (Texas).
JM: When were you born?
LF: October 28, 1923.
JM: Did you grow up in Beaumont?
LF: We moved to Vidor when I was about five years old. I graduated from Vidor High School in 1941.
JM: What kind of a house did your parents have?
LF: First, he built one in front of the school, but he sold it because there was some flooding around there and he didn't like the water coming up. So he bought a house over on the south side of Vidor. Then he sold it and moved to Beaumont.
JM: How many children did your parents have?
LF: I have one sister, Lillian. That's all.
JM: In the 1930 census, your family is listed as living in Precinct Four, in Orange.
LF: That's in the Vidor area. That was when we were living in front of the school.
JM: Is your sister still living?
LF: Yes, in Beaumont. I made a copy of the pictures for her and she was happy to get them.
JM: How big was your father?
LF: He was about 5′ 11″, I guess, and about 160 pounds.
JM: He must have been pretty strong, with the kind of work he was doing.
LF: Oh, he was. He was still real strong when he retired. I worked down at the city docks with him a short while. That was after I came back from the service in '46. I was waiting around to go to Lamar College. I took a two-year machinist course there and graduated from it. And then I went to work at a machine shop in Beaumont, and worked there about 18 months. Then I worked 36 years for the Pure Oil Company, which later sold out to Union 76. I retired from there at age 62. I do woodturning now. I don't go into any furniture building and anything like that. I do strictly woodturning.
JM: How did you acquire that skill?
LF: Well, I went to some seminars and some instruction here and there, and just kept working at it.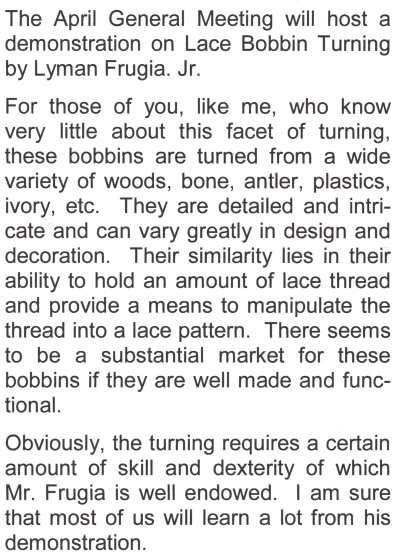 JM: What was your father like?
LF: I thought he had a good personality. I know the fellows who worked for him liked him.
JM: What did he like to do when he wasn't working?
LF: He loved to hunt. He liked to fish some, too.
JM: Did you hunt with him?
LF: I wasn't much of a hunter, but I went with him a number of times. We fished together a good bit.
JM: When you fished with him, what did you talk about?
LF: Usually about work, or about people we knew.
JM: Did he talk much about his life when he was young?
LF: No.
JM: He died on June 29, 1980, at the age of 81. Was he in good health up until then?
LF: He had some heart problems after he retired. He died of a heart attack.
JM: Did your father graduate from high school?
LF: No, but he could read and write. He was pretty good at figuring. He kept records of his workers' hours and wages.
JM: The census says your mother's name was Sadie? Was that a nickname?
LF: No, that was her real name. She was from Beaumont.
JM: Did she work outside the home when you were growing up?
LF: No.
JM: When did she die?
LF: On September 12, 1990.
JM: What kind of a name is Frugia?
LF: French. It's the original spelling.
JM: Was your mother also French?
LF: Yes. Her maiden name was Boudreaux.
JM: Looking back on it, now that you have seen the photographs, what do think about the fact that your father was working when he was a young boy, instead of going to school?
LF: Well, my father he grew up doing hard work and did it all of his life. That was the way of the times. He was just trying to survive.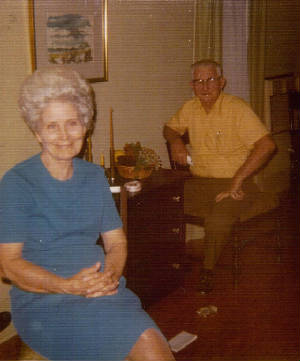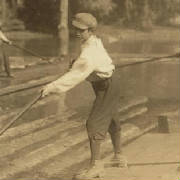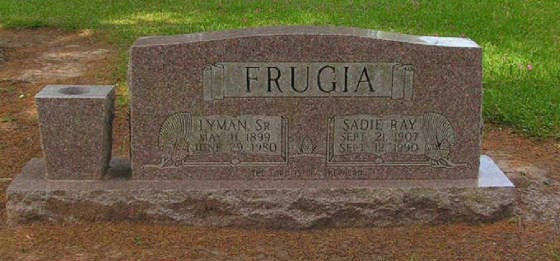 *Story published in 2009.