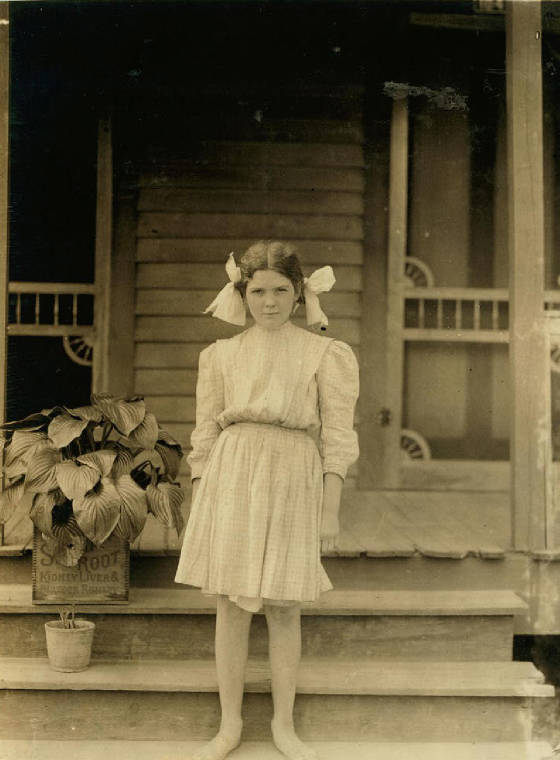 Lewis Hine caption: Myrtle Bagwell, one of the youngest of the spinners in Spartan Mills, Spartenberg [sic], S.C. Lives 104 Duncan Street. Been working nearly 2 years. Older sister said she could not find the family bible. Location: Spartanburg, South Carolina, May 1912.
This photograph is a dramatic example of the great instincts of Lewis Hine. He depicts the scene as almost idyllic. The cute little girl is probably getting ready for church, wearing her prettiest dress, and bows in her hair. Our reaction is to smile and feel affection for her. But then, in the caption, he tells us the real story, that Myrtle is "one of the youngest of the spinners in Spartan Mills," and that she has "been working nearly two years." This may be a nice Sunday for her, but most likely, she will be working tomorrow and the rest of the week.
At the time, the child labor law in South Carolina set the minimum age at 12, with exceptions for orphans and children of dependent parents, who could work at an even younger age. Children were allowed to work as many as 60 hours per week.
According to a report in Child Labor in the Carolinas, a mill overseer in Chester, South Carolina said that manufacturers all over the South evaded the child labor law by letting youngsters who are under age help older brothers and sisters, and that the names of the younger ones did not appear on the company books, the pay going to the older child who is above twelve. -National Child Labor Committee, Publication 092
I found several sources, including the census, which established that Myrtle was about 12 when this photo was taken; thus, she would have started working at the mill when she was about 10. She was born in South Carolina about 1899, the daughter of John J. and Anna Bagwell. In the 1900 census, both parents and at least two of their children worked in a cotton mill, probably Spartan Mills. Somehow, the family did not appear in the 1910 census.
In 1911, Myrtle's mother died of pellagra, a vitamin deficiency disease that spread through the South in epidemic proportions in the early 1900s. In fact, the nation's first hospital dedicated to discovering the cause of this disease was established in Spartanburg in 1914. Myrtle married Henry Steading, also a cotton mill worker, about 1920. By that time, her father had remarried, to Mittle (or Mittie). Mr. Bagwell died in 1926, at the age of 65. At that time, he was a night watchman at Spartan Mills. His second wife would die 11 years later.
By 1934, Myrtle and Henry had four children, including four-year-old Iva Jean, who would lose her mother before the year ended. According to her death certificate, Myrtle died of a cerebral embolism on November 24, 1934, at the age of 34.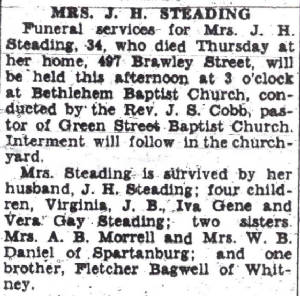 Myrtle's obituary led me to daughter Iva Jean Puckett, still living in Spartanburg. Not only was she unaware of the famous photo of her mother, she had only one photo of her, which was taken about 1930. She knew almost nothing about her mother. She told me that her father remarried in 1940, and had additional children. After interviewing her, I talked to John Steading, one of Iva Jean's step-brothers.
John recalled that his father told him that Myrtle had been having severe headaches, and that someone would tie a band tightly around her head to relieve the pain. After she died, her oldest child, Virginia, who was about 13, had to take almost full responsibility for the care of the other three children. She later moved to California, where she died in 1987, according to the California Death Index.
The following are excerpts from my September 2008 interview with Iva Jean Puckett, the only surviving child of Myrtle Bagwell.

The picture is wonderful. I was really surprised. I didn't have any pictures of her except one head shot, which was taken not too long before she died.
I was four years old when she died. I don't even remember when she died. All I can remember is that she was in bed a lot. She was having headaches. I remember going to the bed, and my mother putting her arm around me. That's about it. My oldest sister, Virginia, was about 14 when my mother died, so she took care of us, along with help from our neighbors.
I was about 11 years old when my father remarried. He married Eva Wallace. She was a good bit younger than Dad. He worked in the textile mill, so we didn't have a lot. My stepmother started making us clothes and really took care of us. My father and stepmother had four boys. Virginia got married during the war and moved to California.
I finished high school and then took a job sewing sheets and pillows for a company in Spartanburg. I did that maybe eight or nine years. I married Thomas Franklin Puckett in 1952, and didn't work much while my children were growing up. Later, I worked in a factory that made ladies' blouses. My husband worked for the railroad.
My father worked for the Spartan Mill until the '50s, and then he worked for an outdoor advertisement company, putting up billboards. He died in 1988. I never talked to my father about my mother, and I wish now that I had.
*Story published in 2009.