"Thank you so much for your presentation about the Lewis Hine mill children. The stories you tell and the photos you share are captivating, and bring history, genealogy and family to life. The work you are doing is so important and valuable not only to the families you touch, but to our cultural heritage. I can truly appreciate the amount of work and effort it takes to do this kind of research. Thanks for helping to make our lecture series a success." -Penni Martorell, Curator, Wistariahurst Museum, Holyoke, Massachusetts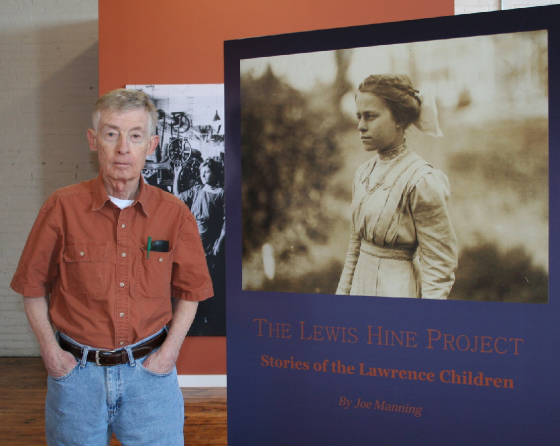 CURRENT, UPCOMING & PREVIOUS EXHIBITS
Exhibit at Museum L-A, in Lewiston, Maine
My Lewis Hine Project, including stories I wrote about child laborers photographed by Hine in Eastport, Maine, is part of an exhibit called All Work and No Play. It will be shown from Jan 30, 2020, until mid-June 2020. Call 207-333-3881, or see their website Here.
Exhibit at Winchendon History & Cultural Center, Winchendon, Massachusetts
The exhibit features my stories about the child laborers that Lewis Hine photographed in Winchendon in 1911. The museum is located at 151 Front Street, in Winchendon. For hours and other information, call 978-297-2421.
Exhibit at Lawrence History Center, Lawrence, Massachusetts  
This exhibit displays 10 of my stories about child laborers photographed in Lawrence by Lewis Hine in 1910 and 1911, and is installed at the Everett Mill in Lawrence for the foreseeable future. From time to time, it is temporarily moved to various venues, such as Lawrence-area schools and libraries. For locations and times, call the Lawrence History Center at 978-686-9230. For information about the grand opening in 2011, go to www.lawrencehistory.org/node/19749.
Exhibit at Georgia Museum of Agriculture & Historic Village, Tifton, Georgia
Exhibit of my story about the Catherine Young family, photographed by Lewis Hine in Tifton in 1909. For details, call 229-391-5205, or go to: www.abac.edu/museum.
The Mill Children
The Mill Children traveling exhibit is based in North Adams, Massachusetts. It includes my stories of child laborers photographed by Lewis Hine in North Adams, in 1911; and also includes additional child labor stories depending on the location of the exhibit. Stay tuned for announcement of next location.
Previous locations have been the Eclipse Mill in North Adams (2011); the Bennington Museum in Bennington, Vermont (2012); the Charles River Museum of Industry and Innovation in Waltham, Massachusetts (2012); the Cherry & Webb Gallery in Fall River, Massachusetts (2013); and the former Waverly Mill in Adams, Massachusetts (2014).
The Way We Worked
From January to March 2014, the Lewis Hine Project was included in the Smithsonian traveling exhibit called "The Way We Worked." It appeared at the Warner Theatre in Torrington, Connecticut.
UPCOMING PRESENTATIONS
None scheduled at this time.
PREVIOUS PRESENTATIONS
September 2019: Two presentations in Winooski, Vermont, on same day: One at Heritage Winooski Mill Museum, and one at Saint Michael's College
April 2019: Forbes Library (for Historic Northampton), Northampton, Massachusetts
November 2018: Easthampton High School, Easthampton, Massachusetts
September 2017: Southington Genealogical Society, Southington, Connecticut
June 2017: Winchendon History & Cultural Center, Winchendon, Masschusetts
October 2016: University of Massachusetts Lowell
April 2016: Crossroads Academy, an independent day school, Lyme, New Hampshire
April 2016: White Square Books, Easthampton, Massachusetts
December 2015: Smith College Campus School, Northampton, Massachusetts
October 2015: University of Massachusetts Lowell
June 2015: Maine State Museum, Augusta, Maine
May 2015: Crossroads Academy, an independent day school, Lyme, New Hampshire
December 2014: Smith College Campus School, Northampton, Massachusetts
October 2014: Fourth-grade classes at Brayton Elementary School, North Adams, Massachusetts
October 2014: Polish Genealogical Society of Massachusetts, Chicopee, Massachusetts
October 2014: Four ninth-grade classes at Drury High School, North Adams, Massachusetts
September 2014: E3 Academy, Drury High School, North Adams, Massachusetts
September 2014: Classes at University of Massachusetts Lowell
July 2014: Swift River Valley Historical Society, New Salem, Massachusetts
April 2014: Wistariahurst Museum, Holyoke, Massachusetts
April 2014: Cape Cod Genealogical Society, Brewster Ladies Library, Brewster, Massachusetts
April 2014: Hartford Public Library, Hartford, Connecticut
March 2014: Georgia Museum of Agriculture & Historic Village, Tifton, Georgia
March 2014: Torrington Library, Torrington, Connecticut
February 2014: Nevins Library, Methuen, Massachusetts
February 2014: Torrington Middle School, Torrington, Connecticut
February 2014: Warner Theatre, Torrington, Connecticut, at Smithsonian "The Way We Worked" exbibit
December 2013: Smith College Campus School, Northampton, Massachusetts
November 2013: Classes at University of Massachusetts Lowell
October 2013: Five 9th grade classes at Drury High School, North Adams, Massachusetts
October 2013: Easthampton Historical Society, Easthampton, Massachusetts
September 2013: Annual meeting of the American-Canadian Genealogical Society, Manchester, New Hampshire
September 2013: South Hadley Historical Society, South Hadley, Massachusetts
June 2013: New England Historic and Genealogical Society, Boston, Massachusetts
March 2013: Simsbury Historical Society, Simsbury, Connecticut
February 2013: Phillips Academy, Andover, Massachusetts
November 2012: Abraham Lincoln Elementary School, Oak Park, Illinois (via Skype, audio only)
November 2012: University of Massachusetts Lowell
November 2012: Smith College Campus School, Northampton, Massachusetts
November 2012: Loomis Village retirement community, South Hadley, Massachusetts
November 2012: Annual meeting of the Massachusetts Society of Genealogists, Lawrence, Massachusetts
October 2012: Drury High School, North Adams, Massachusetts
July 2012: Holyoke Heritage Museum, Holyoke, Massachusetts
April 2012: Weston Middle School, Weston, Massachusetts
April 2012: Gallery at the Everett Mill, for the Lawrence History Center, Lawrence, Massachusetts
April 2012: Wistariahurst Museum, Holyoke, Massachusetts
December 2011: Smith College Campus School, Northampton, Massachusetts
November 2011: Lowell National Historical Park, for a group of history teachers, Lowell, Massachusetts
November 2011: Lowell National Historical Park, for the Moses Parker Lecture Series, Lowell, Massachusetts
October 2011: Town Hall auditorium, Montgomery, Massachusetts
October 2011: Three one-hour presentations at senior housing facilities, Lowell, Massachusetts
September 2011: Drury High School, North Adams, Massachusetts
August 2011: Museum L-A, Lewiston, Maine
June 2011: Old Murdock School auditorium, for the Winchendon Historical Society, Winchendon, Massachusetts
June 2011: Kemp-McCarthy Museum, Rowe, Massachusetts
January 2011: Westhampton Memorial Library, Westhampton, Massachusetts
December 2010: Smith College Campus School, Northampton, Massachusetts
November 2010: North Adams Public Library
October 2010: North Adams Museum of History and Science, North Adams, Massachusetts
August 2010: Peavey Library, Eastport, Maine
March 2010: Hillsboro-Deering Middle School, Hillsboro, New Hampshire
March 2010: Teaching American History Program Conference, Fitchburg State College, Massachusetts
December 2009: Hillsboro-Deering Middle School, Hillsboro, New Hampshire
August 2009: Hillsboro-Deering Middle School, Hillsboro, New Hampshire
June 2009: Annual meeting of the Hastings Historical Society, Hastings-On-Hudson, New York (where Lewis Hine lived for most of his adult life)
May and June 2009: Seven fifth-grade classes (over a period of two weeks) at North Adams Public Schools, North Adams, Massachusetts
April 2009: Gallery 51, North Adams, Massachusetts
February 2009: Greenfield Community College, Greenfield, Massachusetts
December 2008: Smith College Campus School, Northampton, Massachusetts
September 2008: Springfield Museums, Springfield, Massachusetts
April 2008: Endicott College, Beverly, Massachusetts
April 2008: Mosier Elementary School, South Hadley, Massachusetts
March 2008: Henry Sheldon Museum, Middlebury, Vermont
March 2008: Hampshire College, Amherst, Massachusetts
February 2008: Chesterfield Historical Society, Chesterfield, Massachusetts
January 2008: Forbes Library, Northampton, Massachusetts
December 2007: Smith College Campus School, Northampton, Massachusetts
November 2007: Holyoke Heritage Museum, Holyoke, Massachusetts
November 2007: Bent-Northrop Memorial Library, Fairfield, Vermont
June 2007: Rockridge Retirement Community, Northampton, Massachusetts
May 2007: Mt. Anthony Union High School, Bennington, Vermont
April 2007: Pownal Historical Society, Pownal, Vermont
February 2007: Lenox Library, Lenox, Massachusetts
October 2006: Worcester State College, Worcester, Massachusetts