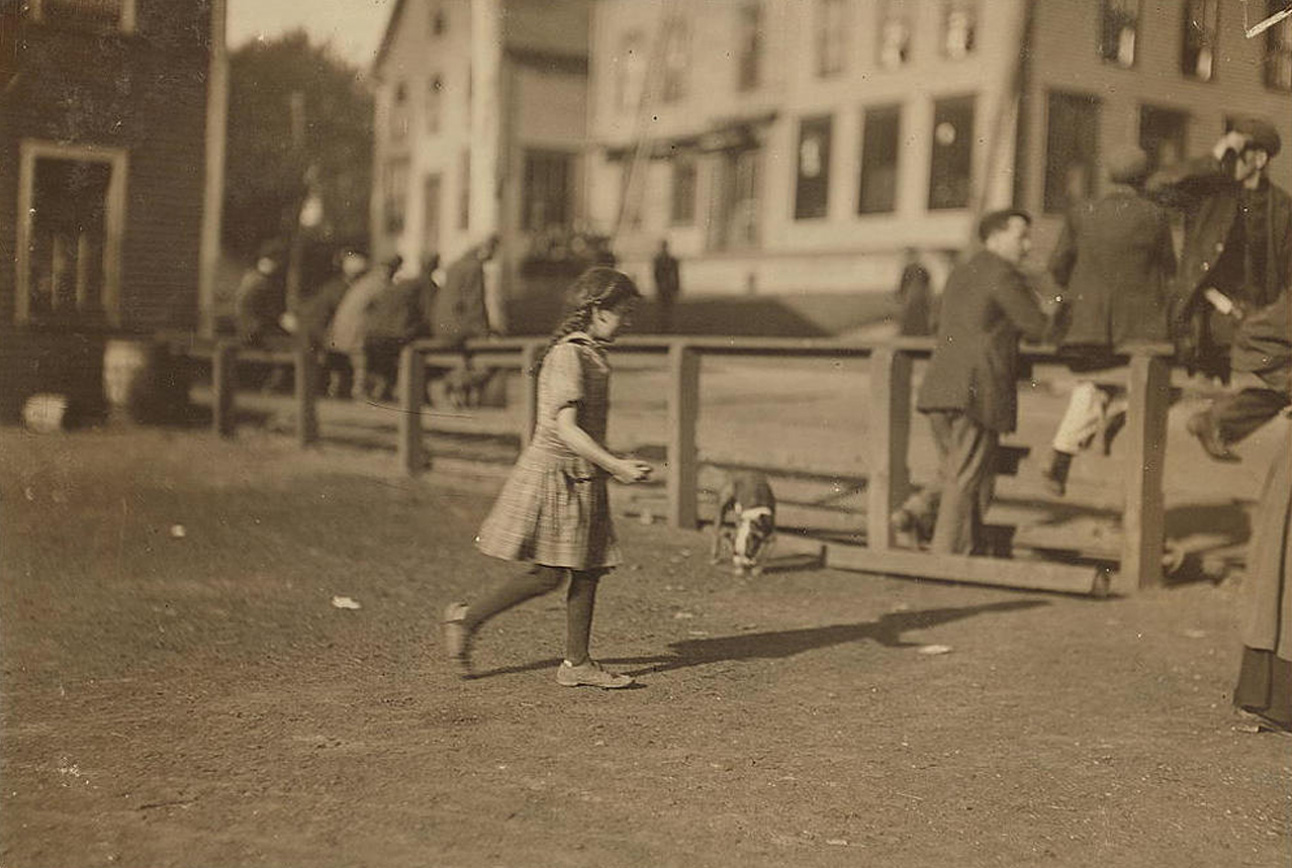 Lewis Hine caption: Eight year old Syrian girl, Pheobe [i.e. Phoebe] Thomas, going to work at 6 a.m., August 14, with great butcher knife, to cut sardines in Seacoast Canning Co. Factory #4, Eastport Me. Said she was a cutter, and I saw her working later. (See photos of her accident, #2444, #2445, #2449.) Location: Eastport, Maine.
There are a number of Lewis Hine photos taken in Eastport that show young boys using a large knife to cut fish. Some show them with cut fingers. But this one is different and much more disturbing, partly because the child is an 8-year-old girl instead of a boy, but mostly because of the ominous notation in Hine's caption: "See photos of her accident, #2444, #2445, #2449." When I saw this, I was afraid to look at the other photos. Together, the four pictures construct a drama, unlike any other photos in Hine's vast catalog. That drama ends on an alarming note, as you will see below.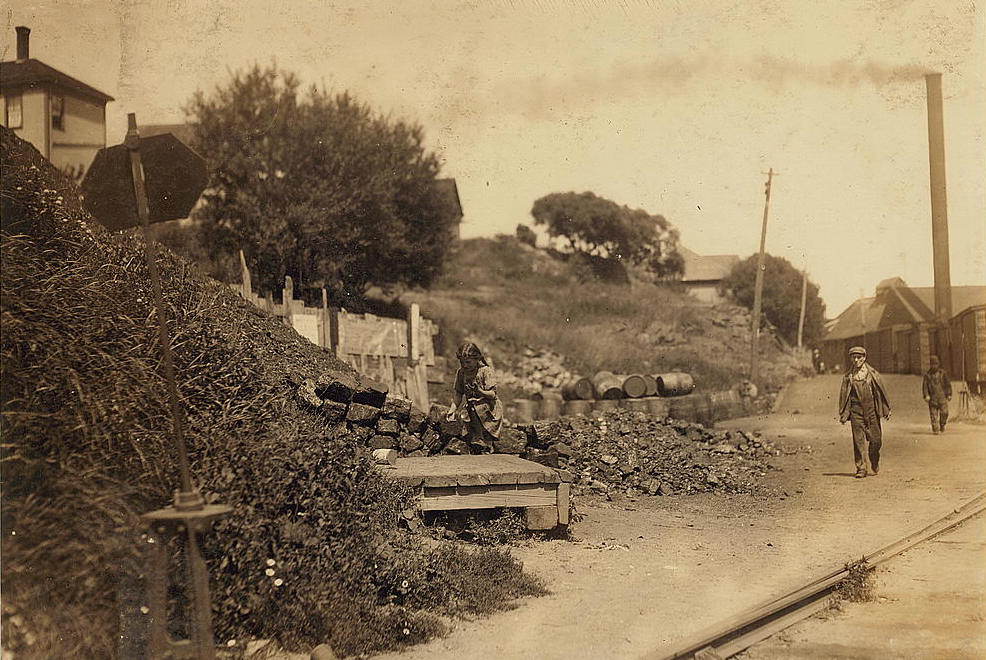 Lewis Hine caption: In center of the picture is Phoebe Thomas, 8 year old Syrian girl, running home from the factory all alone, her hand and arm bathed with blood, crying at the top of her voice. She had cut the end of her thumb nearly off, cutting sardines in the factory, and was sent home alone, her mother being busy. The loss of blood was considerable, and might have been serious. Location: Eastport, Maine, August 1911.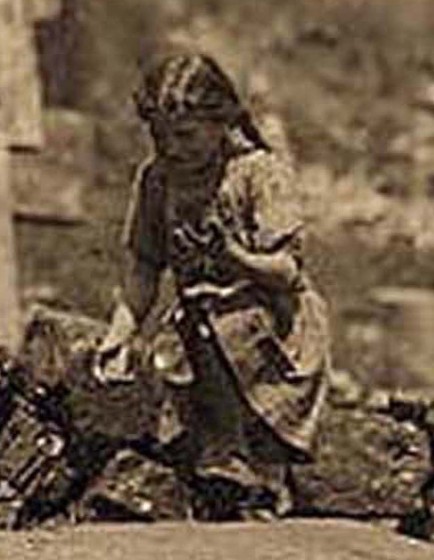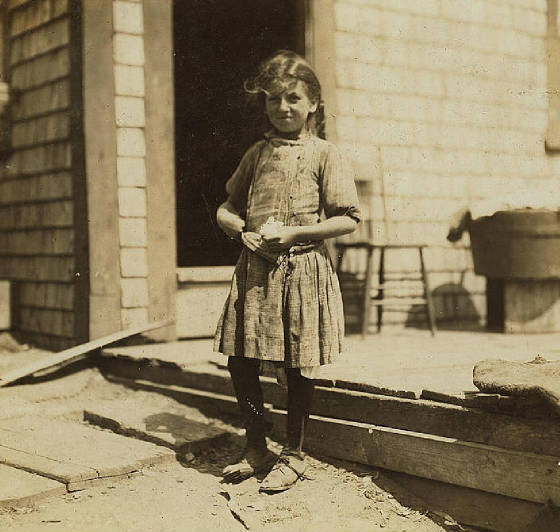 Lewis Hine caption: Phoebe [Thomas], a little while after the accident. Location: Eastport, Maine, August 1911.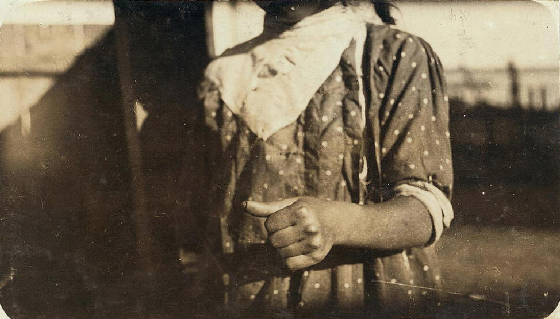 Lewis Hine caption: Phoebe's thumb [Phoebe Thomas], a week after the accident. She was back at the factory that day, using the same big knife. Location: Eastport, Maine, August 1911.
*All photos provided by Thomas family, except where noted.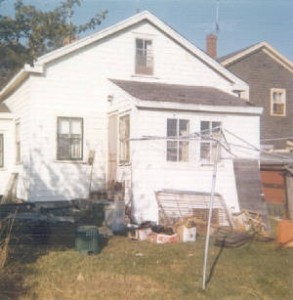 Starting in the summer of 2006, I searched off and on for Phoebe's story for three years, each time reaching a dead end and vowing to give up. I had found Phoebe in the 1910 and 1920 censuses, both times in Eastport, living with her parents, Charles and Mabel Thomas. But in the 1930 census, I could find only Charles and Mabel and some of Phoebe's siblings, this time living in Boston. But that was as far as I could go. I could find no further information on any member of the family. I even contributed an article, with Phoebe's picture, to an Eastport-area historical society newsletter, hoping someone would recognize her or remember her family, but that turned up nothing.
In the summer of 2009, there was a breakthrough. I stumbled upon a family history website that included a valuable scrap of information: the dates of death, in Boston, for Charles and Mabel. I obtained their newspaper obituaries from the Boston Public Library, and some of their children were listed as survivors, including a daughter named Phoebe Bodi. With her married name, and the names of several other surviving children, I tracked down two descendants in the Boston area.
One was Evelyn DiBiasie, Phoebe's youngest sister, 94 years old, and the only Thomas child still living. I found her in the phone book, took a chance and called her, and told her about the pictures. She was astounded, and we talked for 15 or 20 minutes. She was delightful. I mailed her the photos right away. Evelyn gave me the phone number of her daughter, Barbara Geagan (Phoebe's niece), and I called her right away. She knew nothing about the photos either. Sadly, Evelyn passed away several months later; thankfully, she had seen the photos I sent her.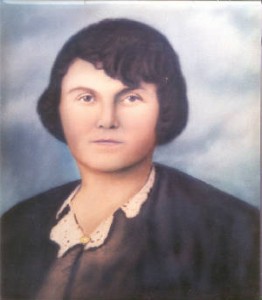 Phoebe's story begins in Lebanon, where her parents were born. I found valuable information in As the Cedars Grow, a recent book by Peter D. Murphy and Brenda Peters McDermott. It chronicles the history of Lebanese immigration to Saint John, New Brunswick, Canada, in the late 1800s. Charles and Mabel Thomas are mentioned, their brief biographies based on information provided by the family. Other information I used comes from the census and other official documents, and from the family history website I had found. As is usually the case with genealogical research, some of the data is approximate and is based on sources that are often unreliable.
Charles, born Masaad Tannous Abu-Rishdan, about 1882, immigrated to Saint John, through Ellis Island, New York, in about 1898. In about 1901, he married Mabel Joseph, born Shamsha "Frangi" Mitlig, in about 1888. She came to the US, also through Ellis Island, about 1901. She would have been about 13 years old when they married. They lived in Saint John for a few years, where Charles made his living as a peddler and merchant. In 1903, they had what appears to be the first of nine children, Phoebe Mary Thomas.
Sometime before 1910, they moved to Eastport, Maine, where Charles operated a general store, and was also a trader, often going back and forth to New Brunswick. They lived in Eastport until at least 1920. Then they moved to Macon, Georgia, where they operated a restaurant for several years. When the restaurant closed, they left and settled in Boston, where Charles established a moving and trucking business. Charles died in 1947, and Mabel died in 1961.
Phoebe (also known as Mary) married Peter Bodi, an auto mechanic who was born in Italy. They married in about 1949, shortly after the death of Peter's first wife, Agnes. Peter and Agnes had married in about 1919, and had no children, but Agnes had already had five children from a previous marriage. Peter and Phoebe lived in Dedham, Massachusetts, but were married for only about two years, since Peter died on November 15, 1951. They had no children. Phoebe did not remarry, and died on December 2, 1969, at the age of 66.
As you will note in the following interview, Barbara and Tom Geagan did not know some of the information that I would uncover later, especially some of the details surrounding Phoebe's marriage. As often happens in my project, I wind up giving as much information to the family as they give me.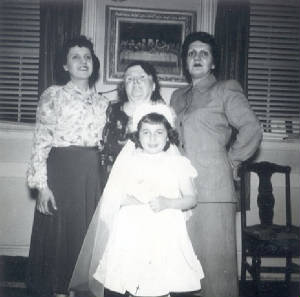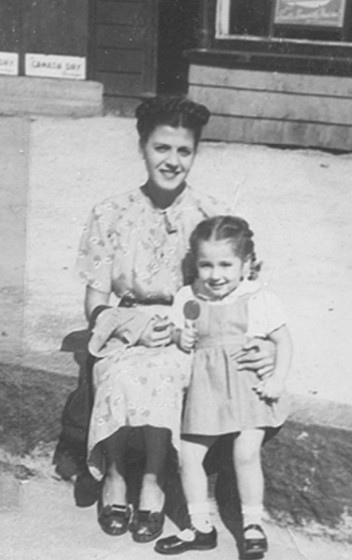 Edited interview with Barbara Geagan, niece of Phoebe Thomas, and Barbara's husband Tom. Interview conducted by Joe Manning (JM) on September 30, 2009.
JM: What year were you born, Barbara?
Barbara: 1944. My mother was Evelyn, Phoebe's youngest sister.
JM: What did you think of the pictures?
Barbara: My first reaction was that I couldn't believe it was Phoebe. But then, as I looked at her face, I could see somewhat of a resemblance. Then I remembered my grandmother talking about the factory they worked at.
JM: As you know, about two months before your mother passed away, I sent her the pictures of Phoebe. What did she think of them?
Barbara: She had never seen a picture of Phoebe that young. In that photo of her looking at the photographer, my mother thought she looked beautiful. She said, 'Wasn't she cute.' She told me that Phoebe had blondish hair. We think my grandmother – Phoebe's mother – was a blonde as a young girl. She was either German or French, as well as Lebanese.
JM: By taking these photos, Hine was saying that children should not be subjected to working in the cannery and other factories, and that there should be laws to prohibit it.
Barbara: Well, it's good that Phoebe ended up being a poster child for the attempt to pass child labor laws, but you have to remember that this was not illegal then. So for these people, they didn't see anything wrong with it.
JM: You are correct. The laws in Maine at that time allowed children under 15 to work, but only if they attended at least 16 weeks of school a year. Most of the New England states had already limited child labor to age 14 or older, though enforcement was spotty. Phoebe was only eight years old when she was photographed.
Barbara: I think you might be a little surprised, but Phoebe had special needs. Phoebe wasn't able to go to school. That may be a reason why she was working at such a young age.
JM: What made her a special needs child?
Barbara: She was delayed. I don't think they would have accepted her in school. All the children in the family went to school except Phoebe. But she was not so far removed that she couldn't live on her own and work when she was an adult. She married, but she was definitely slow.
JM: Would her condition be called retardation now, or just a learning disability?
Barbara: A learning disability, I would think. In those days, the schools didn't know what to do with them. They just rejected them.
Tom: If it was any retardation, it was very mild.
JM: Tell me about your grandparents, Phoebe's parents.
Barbara: Her father, Charles, was born in Lebanon, and then went to New Brunswick, Canada. Mabel was sent from Lebanon to marry him. She landed in Boston, and he met her there and took her to Canada. She was only about 14 when she arrived.
JM: When they lived in Eastport, what was Charles doing for a living?
Barbara: He was a merchant and a trader, which was common for people coming from Lebanon. He worked over the border in Canada. He was always traveling. Mabel probably did some of that, too, but she was mostly busy having kids.
Tom: She had a very good mind for business. One of the stories we remember was that when they were living in Boston, she was looking for a loan, about $4,000, to buy a rooming house. She went to a local bank and they asked her what she had for collateral. She just pointed to her face, saying, 'My face is the collateral.'
Barbara: They gave her the loan. That was her second rooming house.
JM: Did they go directly to Boston when they finally left Eastport?
Barbara: No, they went to Macon, Georgia. They opened a restaurant there. It was American style, and my grandmother learned to make Boston cream pie and lemon meringue pie. My mother had a nanny, named Lottie, while she lived there. The kids worked in the restaurant. But the restaurant ended up failing, so they didn't live very long in Macon.
Tom: So they went to Boston, and Phoebe's father obtained an ICC license to operate a moving company. It was called Thomas Trucking. Eventually he lost the business.
Barbara: But he continued to be a salesman. Then he died of tuberculosis (1947). When they came to Boston, my grandmother bought her first lodging house, which was on Newbury Street. Somehow, my grandfather had the money for it. So they started taking in roomers. My grandmother was a real entrepreneur. She enjoyed it. All of her children, including my mother and Phoebe lived there. And then they bought the second house. But the third house is the one I remember. It was at 14 Garland Street. It was taken over by eminent domain later and demolished. My grandmother owned one more house, at 9 Upton Street. By then, my grandmother was a widow and much older and not up to owning a home. That's when Bob, her roomer, bought it from her.
JM: Your grandfather's WWII draft registration in 1942 states that his place of employment was at 200 Shawmut Avenue.
Barbara: He had a little storefront. I once saw a picture of him sitting on a wooden chair in front of the store, and he had a big handlebar mustache.
JM: Let's get back to Phoebe. You said she was slow. Could she speak well and carry on a conversation?
Tom: She spoke pretty well, but she had trouble understanding things.
JM: What are some of the things she couldn't do that most people can do easily?
Tom: She couldn't do math, and she couldn't read and write. If you were talking with her, you would eventually realize you were talking to someone that had some limitations.
Barbara: She never drove. She didn't have a license.
JM: Did she cook?
Barbara: Yes. My grandmother taught her to cook. She was one of the older children, and my mom was the baby. She remembers Phoebe taking care of the little ones.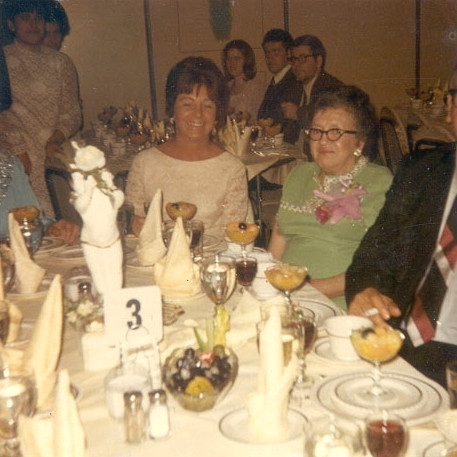 JM: When did Phoebe get married?
Barbara: I don't know exactly. I think she was older. She married Peter Bodi.
JM: What did Peter do for a living?
Barbara: I don't have a clue. I just remember that he was Italian and had an accent. They owned a house in East Dedham. He was a gardener and made wine in the basement. They didn't have any children.
JM: Since Phoebe was Lebanese, was it a shock to the family that she married an Italian?
Barbara: No. Not in my mother's family. They married everything. It was accepted that they could marry whoever they wanted. Peter died sometime before Phoebe did.
JM: Did Phoebe work as an adult?
Barbara: She worked for the Statler Hotel in Boston her entire adult life, until she retired. She was a presser (ironed bed linens). She got up at five in the morning, and went to work at six. When she retired, they had a big party for her. I remember going in and visiting her, and you could tell that everybody loved her. Phoebe was very happy-go-lucky, and a good worker. She showed up every day on time. It was not an easy job. She loved what she did. The sardine factory must have given her a good work ethic.
JM: Did she socialize a lot?
Barbara: Yes. She was very social, very likeable. Everybody loved Phoebe.
Tom: She liked me, because when she came to our house for dinner, I would make sure that she had a glass of wine. She would try to butter me up for a second glass. We used to tease her about that.
JM: What kind of house did she live in when she was married?
Barbara: The house was nice. They were on a private lane in Dedham, which is a nice community. It was at the end of a dead end. When she inherited the house after her husband died, my mother was the executor. The family set up a trust for her and put the money away. Then they moved her into Boston to be close to the Statler. Bob, the man who bought my grandmother's house, checked on Phoebe all the time and would report to the family if she needed anything. She seemed to get along pretty well. My mother and her sister Marion were the main caretakers. They took her to the doctor, took her shopping and helped buy her clothes.
Tom: And if she didn't report for work, we would hear from the Statler.
Barbara: But she almost always went to work. She was very reliable.
JM: You were 25 when Phoebe died. Did you spend a lot of time with her?
Barbara: No, not a lot, but I remember that when Tom and I lived in our first apartment, we had her over for Thanksgiving dinner.
JM: Where is she buried?
Barbara: In Mount St. Benedict Cemetery, in West Roxbury, next to my grandmother.
JM: What were Phoebe's brothers and sisters like, including your mother, Evelyn?
Barbara: They were dynamic.
JM: What do you mean?
Tom: Fighting, arguing, not angrily, just sibling rivalry. One time, we had Marion and Ethel, both in wheelchairs, out in the backyard. We had to ask them to tone it down because they were arguing over who was sicker. They had very forceful personalities.
Barbara: Marion was an amazing woman, a very bright lady.
Tom: Her husband owned a jewelry business in Manchester, New Hampshire, and a restaurant in Boston, right next to the Coconut Grove. They were near the Coconut Grove the night of the fire. It was very traumatic. They were bystanders trying to help, but they couldn't get the doors open. (The historic fire occurred in 1942, and 492 people died.)
Barbara: My mother taught herself how to play the piano, and she did oil painting. She was also a basketball player, and a coach. When she got older, she was a physical education teacher and a nursery school teacher.
Tom: Her first husband, Barbara's father, died when he was 49. She married a second time when she was 60 years old. She married Carl DiBiase. He was 17 years younger than her. On her marriage certificate, she put down that she was 50 years old.
Barbara: She didn't look like the average older woman. She always looked much younger than she was.
Tom: Phoebe's brother Frank came to Evelyn's house in Brookline shortly after Barbara and I were married. He was a character. I had an old car, and he asked me if he could borrow it for an hour. I got the car back three days later.
Barbara: Uncle Frank was in the movies when he lived in California. He played himself in a film that starred Ben Gazzara. ("The Killing of a Chinese Bookie," directed by John Cassavetes, released in 1976.)
JM: Let's go back to the child labor photos once more. What sets the photos of Phoebe apart from other Lewis Hine photos is the drama that is played out by the four pictures. In the first photo, she is going to work carrying a large knife. In the second photo, Hine apparently just happened upon her running home with a cut thumb, and she looks very upset. Then we see her with the bandaged thumb. In the final photo, a week later, Hine tells us she is back at work cutting fish with the same knife. When I show these pictures in a public presentation, there are a lot of gasps from the audience when they learn she has gone back to work under the same conditions.
Barbara: I think, for his own purposes, Hine tried to dramatize the events. Knowing my Aunt Phoebe, I know she didn't lose a finger. She had nice hands and all 10 of her fingers. So it wasn't as dramatic for me. And knowing that she was a special needs person, she probably got very excited and did not know what she should do. So the first thing she thought of was to run home. She could have asked an adult for help at the factory, but she probably didn't think of that. She just got frightened and bolted out the door and ran home to her mother.
JM: But in Hine's caption, he writes, 'She had cut the end of her thumb nearly off, cutting sardines in the factory, and was sent home alone, her mother being busy.' Presumably, her mother was at the factory.
Barbara: But there still would have been some adults at the factory that could have helped. I don't buy that.
Tom: If her mother was at work, why wouldn't she have just run to her mother?
Barbara: And knowing my grandmother, and the kind of mother she was, her kids were her life. She would have watched out for her.
JM: Do you remember Phoebe and her brothers and sisters talking about working at the cannery?
Barbara: Phoebe didn't talk about it, but her brothers and sisters did, and they laughed about working there. In hindsight, they looked at it like, 'Isn't it funny that we did that when we were kids.' To them, it wasn't anything bad, it was like an adventure.
Tom: I never remember them dwelling on it as a bad time in their lives.
Barbara: I think they felt it was a fun adventure, and something that everybody did. My grandmother felt anything in this country had to be good. It was an opportunity. I think that's how my grandmother learned to speak English. She came here not speaking the language at all. For them, I think that it was a learning experience, at least for her.
They were probably taken advantage of, because my grandmother didn't speak the language. I think they do that with immigrants coming to this country, no matter when. I know a woman that I admire who came from Vietnam. She does my nails. She told me recently that when she first came to this country, not speaking any English, everyone in her family was subjected to the same thing. Trucks would pick them up and take them into the factories to work, and that's how she learned English. She didn't think it was a bad thing. Now she owns a beautiful salon and has her whole family working there. She's very successful, and she's only been in this country for about 15 years. It amazes me that people can come and pick up the language and end up owning their own business so quickly. I think that working in the factories was a stepping stone for a lot of them, learning a little about the culture, learning the language; and as far as the kids, it was a place to keep an eye on them. The parents knew they weren't running around.
The one thing that shocked me about Phoebe's pictures was that she looked so normal. As she aged, she didn't really look normal in comparison to her siblings. What happens with children with special needs like that, when they are small, you don't notice it as much, but as they get older, they don't catch up with the others her age.
JM: Did your grandparents treat Phoebe differently because of her limitations?
Barbara: I think they protected her. They didn't want people to think she was different. I know that it was a stigma in those days to say you had a child that had a problem. Today, it's more likely to be out in the open. We are really very proud of how far Phoebe came, considering all her limitations. I think a lot of that came from my grandmother and the confidence that she had in her children, and in this country.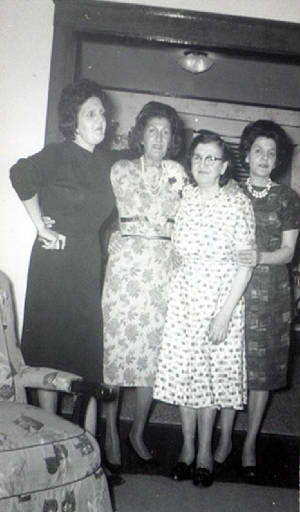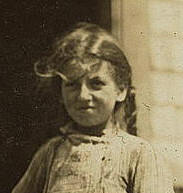 Where was Phoebe photographed?
I wanted to know exactly where Phoebe was when she was photographed running home. I used Google Maps to pinpoint the location as Sea Street, just south of where the mill was located. Phoebe lived on Eagle Street at the time, later on nearby Water Street. She would have been running from the mill, down Sea Street, and probably was about to take a shortcut up to her house on Eagle Street. I found photographer Don Dunbar after searching on the Internet for photos of Eastport. He confirmed that I had found the correct location, and offered to take the photo. He pointed out that he had an aerial photo of Sea Street on his website.