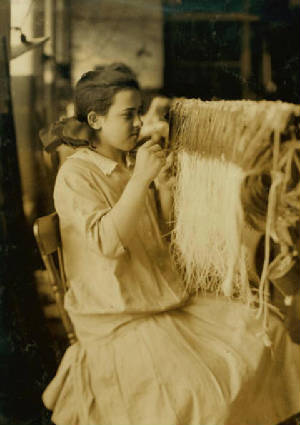 Lewis Hine caption: Rhea Quintin – 14 years old. Hand drawing in on Webb frame. Been at it about 3 months. Requires great deal of mental application and accuracy and good oversight. Takes over a year to learn. Seemed very young in certificate office. Miss Smith thought she was a little school girl coming for some other purpose. Location: Fall River, Massachusetts.
Lewis Hine took four photos of Rhea Quintin, all nearly identical, with the same captions.
Rhea's story turned out to be curious, if not very detailed. My sources included the census, obituaries, death records and limited information on an online posting of the Quintin family tree. I was unable to locate any living relatives, except for a cousin who had nothing to add.
Marie Rhea Quintin was born in Fall River on September 7, 1901. She was one of five daughters of Cyrille and Marie (Boulay or Boule) Quintin, also known as Cordelia. They had no sons. Both parents were born in French Canada. Rhea died in Fall River on February 13, 1998, at the age of 96. The following is from her obituary:
"She worked in the textile industry for most of her life. She was a communicant of St. Anne's parish all her life and a member of its Children of Mary Society. She is survived by two sisters: Yvonne and Irene Quintin, both of Fall River."
Her other two sisters were Alexina (1899-1992) and Anita (1904-1963). Irene died in 2000, at the age of 90, and Yvonne died in 2003, at the age of 103. All five women worked at one time or another at the mill.
None of the five sisters married, four of them lived to be older than 90, and all of them died in Fall River. I yearn to know more of what must have been a very interesting story.
*Story published in 2009.