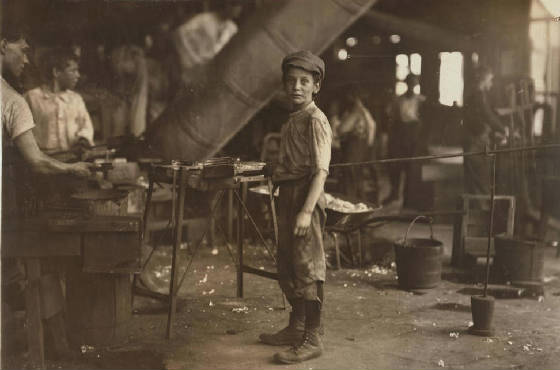 Lewis Hine caption: "Carrying-in" boy in Alexandria Glass Factory, Alexandria, Va. Works on day shift one week and night shift next week. Location: Alexandria, Virginia, June 1911.
I've seen this popular Hine photo many times, and every time I do, I can't stop staring at it. The boy looks so sad and weary. Because Hine didn't give him a name in the caption, I have been hesitant to try any research, though I have been successful for a few other unidentified children. But several months ago (October 2008), the photo popped up on Shorpy.com, my favorite photo blog. In December, there was a startling comment from a reader: "There's a note that says on the back of the caption card someone has written "Rob Kidd?".
I went to the Library of Congress website, and down near the bottom of the cataloguing information, I found this: "Penciled annotation on caption card by Prints and Photographs Division staff person: "Rob Kidd?". I had never noticed this, obviously. Perhaps someone at the library had recognized him.
I looked up Robert Kidd in the 1910 census, and there he was, in Alexandria, his father and several brothers listed as working in a glass factory. Pretty soon, I was in contact with Amy Bertsch, at the Office of Historic Alexandria. She was familiar with the photo, and intrigued by my call. Within days, she had sent me a lot of birth and death records on the family. Thanks to her, I was able to track down Robert's daughter, Catherine Dicks, who lives in Florida.
I sent her the photo and called her up two weeks later. She said that she recognized her father right away, and she also mentioned that her mother, Robert's widow, lives next to her, and that she is 101 years old. What a stunner that was.
In Child Labor: An American History (M.E. Sharpe, 2002), author Hugh D. Hindman includes excerpts from investigative reports about working conditions for children in glass factories (not in Alexandria) in the early 1900s. After reading some of them below, you will see that Robert would have had reasons to feel sad and weary.
The different jobs done by boys in the glass factories each have a distinctive name. In the blown-ware factories at the side of the blowers and gatherer stands the little "cracker-off" boy who breaks the cooling, wax-like glass from the end of the blowpipe after the chimney or bottle has been left in the mold; sitting at the feet of the blower is the "holding-mold" boy, who opens and shuts the molds; then the "sticker-up" or "warming-in" boy, who takes a ware from the mold and holds it to the "glory-hole," reheating the mouth that it may be shaped by the gaffer, or finisher; from the finisher the "carry-in" boy takes the ware to the lehr (oven), where it is properly tempered and made ready for packing." -Herschel H. Jones, National Child Labor Committee (NCLC) Investigation Report 321, p. 8
The shop boys get into the regular swing or "gait"…and when these semi-automatic movements are once acquired the boys can pass each other to and fro in an extremely small space, and even regularly jostle their bodies against each other without much danger of striking one another with hot tools or hot glass. The constant changing of "small help," however, is continuously thrusting green boys into the shop, in which case there is real danger until all engaged in the "team" work get into a harmonious swing. -U.S. Bureau of Labor, Glass, p. 83
At least a dozen of the carrying-in boys were probably under 16. Boys were working fast and too busy to talk with. These little boys did not look healthy, many of them, not fit to do their all-night in the intense heat and hurry. They are on the walk all the time for ten hours and must travel many miles. Timed one boy and paced the distance; at his rate he walked a little over 20 miles per night. -Charles L. Chute, NCLC Investigation Report 314, p. 15
There is something very weird and uncanny about a glass house at night. To get the full effect of this, one must visit it at twelve or one o'clock or later when streets are deserted and everyone else is in bed. The yelling of the boys as they run back and forth to the lehrs; the popping of glass bubbles as the blower draws his pipe up from the mould; the swish of the wind and the clank of moulds; all these sounds break upon the stillness of the night before you reach the factory. The glass men often tell how the boys in their factories are so happy that they sing while they work. But it isn't singing, it is the monotonous yelling that the boys keep up, not exactly to keep them awake as a resident of the glass house town outside Pittsburgh seemed to think, but to counteract the dullness of their work. The boys must always be alert to keep up with the blower or presser. -Herschel H. Jones, NCLC Investigation Report 321, p. 20
According to his 1918 draft registration card, Robert Ellis Kidd was born September 29, 1898. In the 1900 census, he was living in Arlington, Virginia, with his parents, Joseph and Ada Kidd, and five older siblings. He was born in Virginia. In 1910, his father, then a widow, worked in a glass factory, along with two of his sons (Robert's older brothers). But in 1920, the family lived in Baltimore, and all of them worked in a shipyard. Robert married Eleanor about 1923. In 1930, Robert, Eleanor, and their four children, including daughter Catherine, were living back in Alexandria, and he was employed as a car repairman for the railroad. Robert died in Alexandria on May 30, 1960, at the age of 62, and is buried at Bethel Cemetery in his hometown.
Edited interview with Catherine Dicks (CD), daughter of Robert Kidd, conducted by Joe Manning (JM), on January 13, 2009.
JM: What did you think of the photo?
CD: I loved it. I sure appreciate you sending it to us. I was so glad to get it because we didn't have a picture of my father when he was a young boy. Everybody is excited over it, even the grandchildren. We're having copies made for all of them.
JM: Did you recognize him right away?
CD: Oh, yes. His looks didn't change at all. He always looked that way. And he was always slim. He was about 5′ 6″ when I knew him.
JM: Did you have any idea that he was working in a glass factory when he was a boy?
CD: That was the first I heard of it. I don't know much about my father as a young boy. My parents didn't tell us much back then.
JM: When were you born?
CD: 1924. I was born on Duke Street in Alexandria. I had one brother then, Robert Sidney Kidd. He was 11 months and two weeks older than me.
JM: What did your father do for a living when you were growing up?
CD: The only thing I remember is that he worked for the railroad, first for Fruit Growers Express, and then the Southern Railroad. He was what they called a car repairer.
JM: Did your mother work?
CD: Not till we got older, and then she did some waitress work.
JM: Did you know your father's parents?
CD: I didn't know my grandmother. She died before I was born. I vaguely remember my grandfather. I think they had eight children: Earl, Luther, Bradley, my father, Martin and Stanley, who were twins, an older one I can't remember, and a girl who died young.
JM: In the 1920 census, your father was living in Baltimore with his father and some brothers. They were all working in the shipyards.
CD: That's the first time I've heard of that. But I remember that a couple of his brothers worked in a shipyard.
JM: In the 1930 census, you and your parents were living with your father's brother Stanley, and his wife Grace.
CD: Oh, yeah, I remember that we lived with them. That was also on Duke Street.
JM: Were there any things your father liked to do for recreation?
CD: He liked to play baseball with the local teams when he was younger. He also liked to sing Irish songs, mostly with Mom and the family.
JM: Did your father live the rest of his life in Alexandria?
CD: Yes, but my mother and father separated when I was about 13. I think he was about nine years older than my mother. They had seven children in 10 years.
JM: How did your mother support her family after the separation?
CD: My two sisters and I went to live with my grandparents (mother's parents) on Franklin Street. That was Rufus and Ethel Mitchell. And the boys went to live with my Aunt Grace and Uncle Stanley. My brother Robert went into the service and died in an accident when he was 28.
JM: After the separation, did you continue to see your father?
CD: Not very much. He was an alcoholic, but I loved my father. He wasn't mean. He was a good father, other than the sickness he had with alcohol. He was always good to us. I remember one time when I was sick, and he brought me some oranges. He loved his children. He was always concerned about us. He really didn't help much financially, though. My mother really had to push him sometimes to get a little help. I got married in 1942. My husband's parents lived in Florida, so we moved down there. So after that, I didn't get to see my family much except when we went back to visit.
JM: When you were in Florida, did you continue to correspond with your father?
CD: Yes, he would write to me. I remember that he had beautiful penmanship. My mother and father never got divorced. She moved to Washington, then to Rockville, Maryland, and then to Florida to be near me. I was living in Jacksonville when my father died of a heart attack. We came up for the funeral.
JM: In the photo, your father looks rather sad.
CD: He always looked that way. He always had that expression. I take after him, because everybody tells me I look the same way, sad all the time.
JM: So maybe he wasn't sad in that photograph; it was just the way he looked.
CD: Well, he might not have liked working there. He probably had to work back then for the family to make ends meet.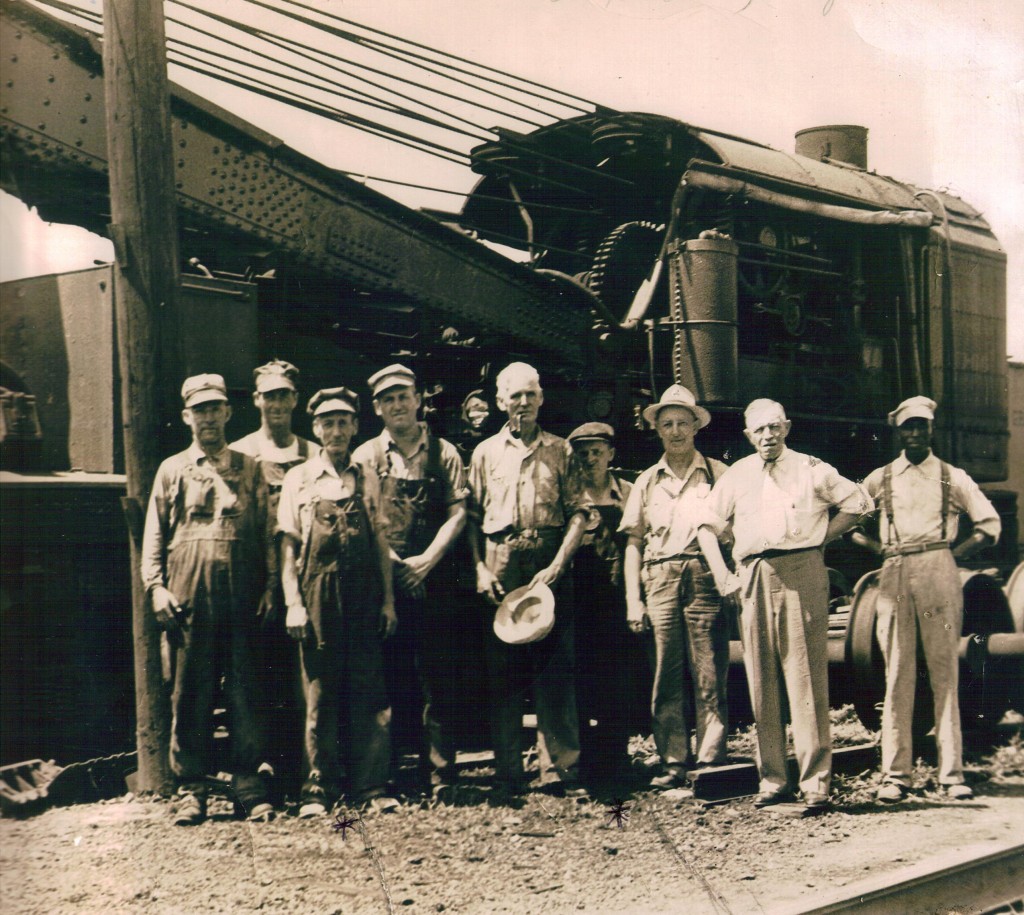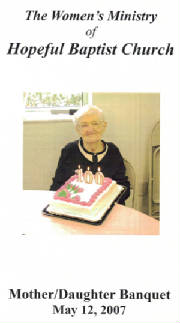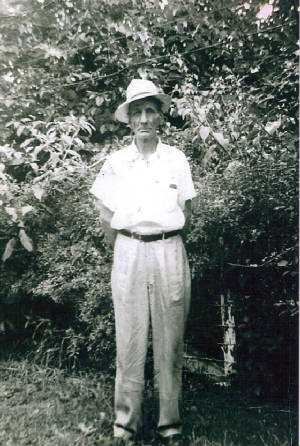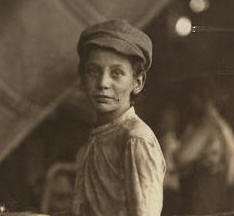 *Story published in 2009.